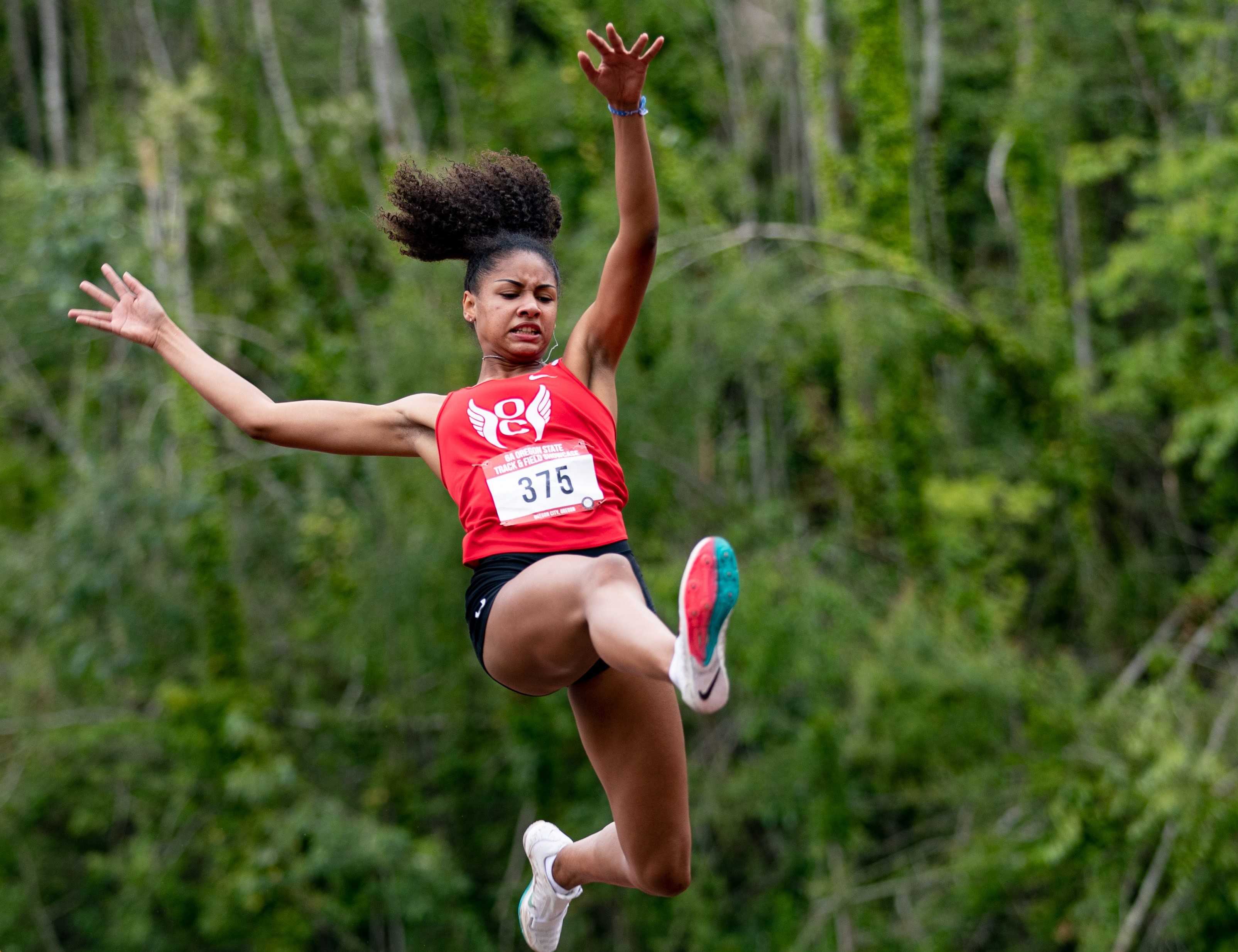 It's been nearly 10 months since Oregon City's girls track team capped the COVID-shortened season with the championship of the 6A Showcase meet at its own stadium.
Still, the energy from that achievement continues to resonate within the Pioneers, who haven't won an official state championship since a co-title in 1989.
"I think it's a vibe. It's a little contagious," coach Kristin Mull said. "It does carry over. You walk into practice and it's fun to be there. People want to be there."
With the top scorers from last year's team back, Oregon City is in position to go after the coveted blue trophy in the 6A meet May 20-21 at Hayward Field. The opportunity is right in front of the Pioneers, but as they ramp up for the start of their season, they are keeping their heads down.
"They're not really thinking about what's going to happen in May," Mull said. "To me, I don't really want them thinking about that. I want them thinking about the process."
Oregon City is loaded with high-end talent.
Junior Sophia Beckmon set the state long-jump record last summer in The Outdoor Nationals at Hayward Field, soaring 19 feet, 10 ¼ inches to beat a mark that had stood since 1987 (19-10, Michelle Reynolds, Churchill). That came after she won the long jump, finished second in the 200 meters and third in the 100 at the 6A Showcase.
Senior Harley Daniel also piled up points in the 6A Showcase, crushing the field in both hurdles races and placing third in the long jump. Senior Grace Leasure finished third in the triple jump and fourth in the high jump. Beckmon, Daniel and Leasure combined with sophomore Samara Lugo to take second in the 4x400 relay.
Add it all up, and it was enough to outscore traditional power Summit 90-79 for first place at the meet, which included all but six 6A schools.
"For them to stick with it through COVID and come out there and perform like that was just huge," Mull said. "It was cool to see them perform at the level they could."
The performances have raised expectations for this season.
"They don't need anybody to tell them, as far as goals," Mull said. "They're very driven and they know what they want to do. They're their worst critics. They want it, so we just need to support them."
Beckmon is coming off an impressive showing at Nike Indoor Nationals in New York last weekend. She placed third in both the long jump (19-5 ¾) and the 60 (7.81) and fifth in the 200 (24.28).
Daniel also competed during the indoor season. Leasure and Lugo are getting back into the flow after playing basketball during the winter.
"They've all been super active," Mull said.
The group already has made its mark in the school record book with Beckmon first in the long jump, Daniel on top in 100 hurdles (14.19) and 300 hurdles (43.32) and Leasure at No. 2 in the triple jump (37-10 ½ and high jump (5-6).
In the team's season-opening meet Wednesday, Beckmon ran the 400 in a personal-best 58.74, second on the school's all-time list behind Lily Bartell (58.23, 2019). The 4x100 relay from last year also stands No. 2.
"I would like for them to break as many records as they can," Mull said. "They deserve it. They should go out as they best athletes ever. So we're maybe going to play a little bit and give them an opportunity to do that."
Daniel's best times in the hurdles last year were about a full second faster than anyone else in the state. She still is a ways off from the state records of 13.57 (Bianca Mathabane, Lincoln, 2006) and 42.58 (Janelle Joy, Milwaukie, 2001).
"She's a self-driven kid, she'll get after it," Mull said of Daniel, who has signed with Utah. "Last year she proved it."
Mull said that the team's elite athletes are "process-oriented."
"They're able to recognize when they're doing something incorrectly and they correct it," Mull said. "They're all very intelligent athletes."
Given what the Pioneers accomplished in a short season, the prospects for a full season are intriguing.
"I think it's going to be fabulous," Mull said.