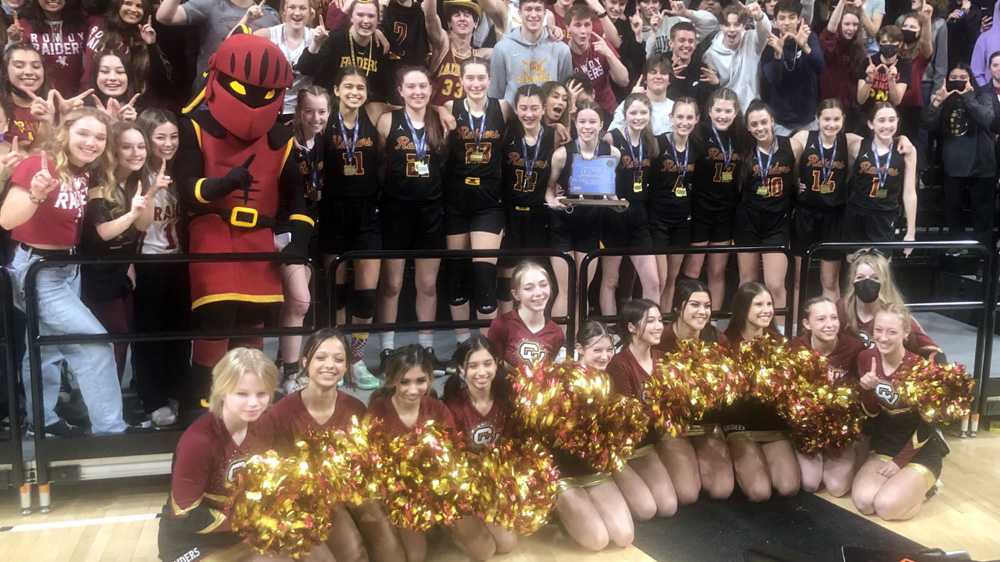 The ball didn't just go through the hoop. It never came close to touching the rim.
Again and again and again.
That's the only way to describe the shooting night Crescent Valley junior Gabby Bland had in the 5A final versus Springfield Saturday night at Gill Coliseum at the OSAA / OnPoint Community Credit Union Girls Basketball State Championships. CV won, 50-39, to claim its first state title since 1978.
Bland, a wispy 5-7 guard, missed her first shot, a three pointer 18 seconds into the game. She made nine of her last 11 from the floor, including seven triples; and went 6-for-6 from the free throw line in crunch time to help the Raiders clinch their first girls basketball title since her grandmother, Joni, was the star of the team 44 years ago.
Bland's 31-point night was unexpected, not because she wasn't capable, but because Springfield's 1-3-1 zone defense had been shutting teams down all season long.
One night before, the Millers' held Putnam's potent offense to just 34 points and 26 percent shooting in a semifinal win. In Thursday's quarterfinal versus second-seeded Silverton, Springfield limited the Foxes to just 20 points on 12 percent shooting.
They expected to do that again against a young Crescent Valley team that started two juniors, two freshmen and a sophomore and surprised in getting to the final as the tournament's No. 9 seed.
CV had other ideas, however.
"We just didn't want to settle for threes," said Raider coach Eric Gower. "We wanted to work inside-out, look for the diagonals and move the ball. It helps when Gabby gets hot. That makes things a lot easier. I'm so happy for her to have that game on this stage."
Crescent Valley had a lot of success throwing the ball over the top of Springfield's zone. The Raiders are a smart team and moved the ball quickly while exercising patience searching for the right shot.
"They're a pretty disciplined, fundamental team," noted Springfield coach Joe Williamson. "We needed to put more pressure on the ball. We made it too easy to see the passes over the top. Credit to them. They were very disciplined and played a very good game."
Springfield (21-8), seeking to win its first title since 2012, got on the board first when its sensational sophomore point guard, Danaeja Romero-Ah Sam penetrated the lane and finished. The Millers' 2-0 lead lasted all of 17 seconds before Bland, foreshadowing the kind of night she was about to have, took a pass from Charlotte Patel and drained her first three. Kylie Rankins answered with a lay-in 20 seconds later for Springfield, the start of a fun, end-to-end quarter in which no team led by more than two points.
Rankins finished the first eight minutes with six points for Springfield, which led, 14-13. Romero-Ah Sam and smooth freshman post Juju Henderson had four apiece. Bland scored eight for Crescent Valley, scoring her last two buckets of the quarter off of assists from high-energy guard Nicole Huang.
Henderson scored on a free throw line jumper to start the second quarter, which gave Springfield its first largest lead of the game at 16-13. Determined to score inside, Bland found talented freshman post Taelyn Bentley on the block for a bucket, which cut the lead back to one. She then swished a corner three to give the Raiders their first lead.
Romero-Ah Sam found an opening for a deuce to tie but Huang answered 25 seconds later with perhaps the most consequential points of the game, a banked thee pointer that gave CV the lead for good. Bland followed with a wing triple that doubled the Raider lead to six. She scored five more points, giving her 19 for the half; and Molly Campbell tossed one in inside, off of a Haley Bland pass, to extend the Raider lead to 11 just before halftime.
Kenzi Phillips drilled Springfield's only three-pointer of the half with 14 seconds left in the second to break Crescent Valley's 7-0 run and give the Millers life going to the locker room, down just eight at 31-23.
Springfield adjusted its zone defense in the second half to trap in the corner and pressure the ball more. It worked, as Crescent Valley, which had only three turnovers in the first half, gave up the ball five times in the first two and one-half minutes of the third quarter without putting up a shot!
Meanwhile, Springfield was pulling ever closer. Alexi Morgan, a tall, talented junior who was invisible in the first half, hit a couple of free throws being fouled after a steal and Romero-Ah Sam scored off of a steal herself, pulling the Millers within four, 31-27.
Crescent Valley needed an answer. The Raiders found it in the form of -- guess who? – Gabby Bland. Her sister, Haley, found Gabby alone in the corner. Gabby Bland found the bottom of the net once again to get the lead back to seven. Grandma Joni had told Gabby and Haley that they were going to do great things. Could she have imagined this???
Crescent Valley (22-7) scored seven more points in the quarter, a top of the key three from Gabby Bland and two buckets from Campbell, who was so effective down low and in the mid-range game; to get to 41-29 with just seconds remaining in the quarter. There was no time to celebrate, however, as Morgan followed up a miss with a bucket and Romero-Ah Sam, who'd delivered a nifty wrap around pass to Henderson earlier in the quarter, stole the ensuing inbounds pass, scored and was fouled. She converted the free throw to make the CV lead just seven, 41-34, going to the fourth!
Springfield started trapping everywhere in the fourth quarter but could never get closer than five. Crescent Valley did a nice job of moving the ball around and was never flustered enough to give up a run of points to the Millers.
"We were close on some stuff but they just escaped through and we had to start fouling," Williamson said.
The only problem was, Springfield entered the fourth quarter with no team fouls. The Millers had to foul, a lot, to put Crescent Valley on the line.
CV missed some at the line, giving Springfield hope. The Raiders, wisely, made sure that Gabby Bland had the ball in her hands at the end. Gabby Bland went 8-for-8 from the line on Friday preserving CV's semifinal win over Ridgeview and she went 6-for-6, all swishes, one day later to clinch the state title.
"We made a run in that second half with the adjustments, Williamson said. "They just held on."
Crescent Valley, as it turned out, won state the hardest way possible. The Raiders upset Wilsonville, No. 4 in the final OSAAtoday Coaches Poll, in the first round, then defeated the No. 1 overall seed Willamette in the quarters and beat the teams that finished third and second, respectively, the next two nights.
"We did not expect that," Gabby Bland admitted. "We were just trying to win our first playoff game. We were like, 'Can we beat Willamette the No. 1 seed?' And then we were like, 'If we can do this we can beat everyone.'"
"I think we wanted to give 100 percent and leave it all on the court," Huang said. "Everybody gave their all. They were all really great teams and challenged us to elevate our game. I'm really proud of the effort we put in and how hard we played."
Crescent Valley won while taking just 10 shots the entire second half. The Raiders made five. They shot 46 percent from the field for the game, including an astounding 57 percent from beyond the arc.
Everyone who played more than a minute contributed to the win. It's too easy just to point to Gabby Bland's mastery and conclude that she was solely responsible. Campbell was amazing in the post, but so, too, were Bentley and freshman Kamden Mitchell, with their tenacity and athleticism. Patel, the lefty, used her length to pass over the defense and made it hard for Springfield to find consistent room to score. Haley Bland did not score but she had three assists and displayed great composure for a freshman against Springfield's unrelenting defense. Finally there was Huang, the perpetual motion player, making things happen with the ball ever in her hands. She finished with six assists.
"I'm feeling good," Huang said. "I'm really proud of how we played and how much effort we gave."
Asked when she thought winning state was possible, she said, "I didn't really think about it honestly. I was just trying to take it one game at a time. I was just focusing on the next opponent."
Coach Gower appeared dazed after the winning and confirmed as much in the postgame interview.
"It's just special and doesn't seem real," he said.
"I'm just proud of these girls and this ride that they've taken us on," he added. "They are great kids each and every one of them."
Romero-Ah Sam scored 11, with four steals and three assists, to pace Springfield. Gabby Bland's game was loud for Crescent Valley, but Romero-Ah Sam's was almost as loud. She and Henderson, who scored 10 with seven rebounds, will be pillars to build around for years to come.
Indeed, Springfield, with four underclass starters, and Crescent Valley, with five, could put on another 5A show one year from now.
"I think we'll play again," Williamson said. "Kudos to them. What a great team! Kudos to my team. I love my team and what we did. We just came up a little bit short today."
In the girls 3rd/5th game:
Ridgeview 58, Putnam 43:
Kyrah Daniels put on a show to spark Ridgeview past Putnam in a contest that teetered like a seesaw for much of it.
The 5-11 junior, a late-season move-in from Australia, scored 31 points -- more than half of the Ravens' total – and also contributed six rebounds, seven steals and four assists. She was one of the tallest players on the floor, certainly the fastest and arguably the most skilled. She simply could not be slowed or stopped.
Putnam started hot and led 9-3 in the first quarter before a Daniels-inspired 15-2 rally turned things around. Ridgeview won the first eight minutes, 18-11, then scored early in the second quarter to increase its lead.
After that, however, it was all Putnam going into the break. And the Kingsmen made their run without superstar guard Maddie Olma on the court, as the crafty senior was sidelined and testing a right leg injury. Putnam surged thanks to strong work from Rylee Lemen, whose three pointer put the Kingsmen ahead 21-20. Olma returned to the game noticeably favoring her leg late in the second quarter, and managed to hit two jumpers, including the go-ahead bucket that made it 27-25 at the half.
Putnam continued to lead in the third quarter, as Lemen and Riley Greenleaf were effective down low. Olma, clearly diminished, went down with 5:20 remaining in the period and Daniels took over. She scored on a drive to the hoop, hit a three-pointer to tie, then stole the ball and went coast-to-coast to put Ridgeview ahead by two. It was all Ridgeview after that. The Ravens outscored Putnam, 17-6, in the fourth to clinch the third-place trophy.
Jenna Albrecht complemented Daniels' monster game with 10 points and three assists for Ridgeview (21-7) before leaving in the fourth quarter with her own injury.
Lemen and Greenleaf combined for 25 points for Putnam (20-8) in the loss. Olma was held to six points and one assist in 18 minutes of play.
In the girls 4th/6th game:
Willamette 61, Crook County 54: A fast start propelled top-seeded Willamette past Crook County for fourth place. The Wolverines led 20-7 after one and stretched their advantage to 44-28 on a Brynn Smith three pointer midway through the third quarter. Third-seeded Crook County rallied to within 56-52 on a Josie Kasberger bucket with less than two minutes remaining, but that was as close as the Cowgirls would get.
Emma Bales had a monster game in the loss for Crook County (22-5). The senior post finished with 19 points, 14 rebounds and four assists. Kasberger had 13 points and 10 boards. Katelynn Weaver and Grace Brooks combined for 18 more points.
Smith, one of five impact freshmen for Willamette (27-2), stuffed the stat sheet for the Wolverines. She had 19 points, four rebounds, four blocks, three steals and two assists. Fellow freshman Victoria Nguyen impressed with 15 points, six assists and five steals. Sophomore Kayla Morris contributed 15 points and six steals.
Sportsmanship Trophy: Crook County
All-Tournament First Team:
Danaeja Romero-Ah Sam, Springfield (Unanimous)
Gabby Bland, Crescent Valley
Brynn Smith, Willamette
Kyrah Daniels, Ridgeview
Maddi Olma, Putnam
All-Tournament Second Team:
Taelyn Bentley, Crescent Valley
Nicole Huang, Crescent Valley
Emma Bales, Crook County
Kyleigh Brown, Silverton
Juju Henderson, Springfield