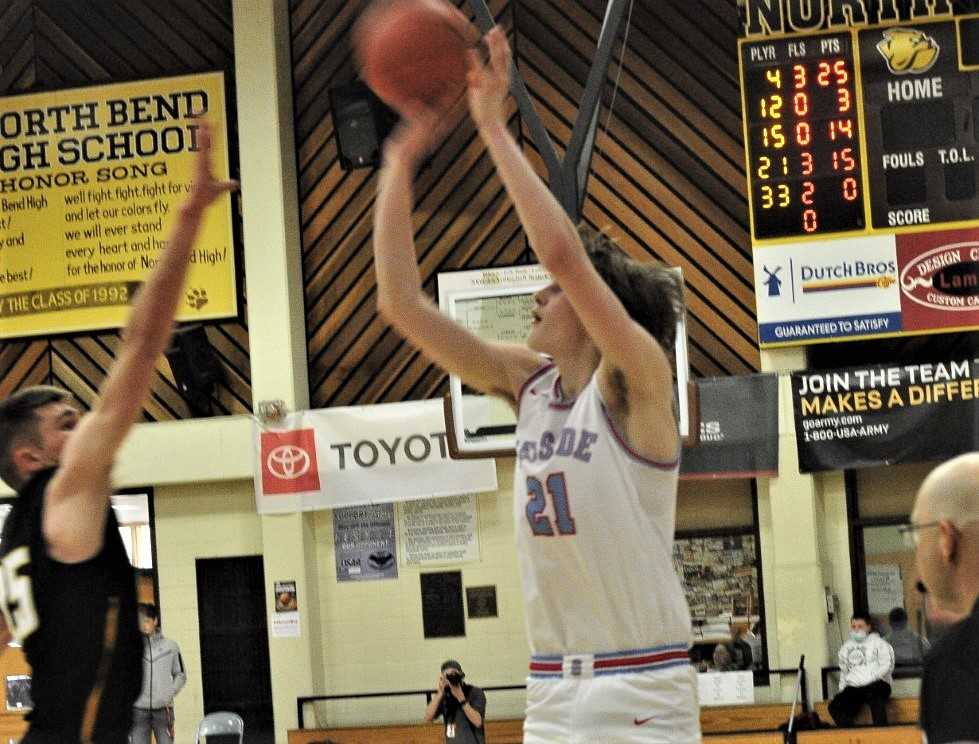 By JOHN GUNTHER/THE WORLD
NORTH BEND — Even when everything was going wrong for No. 4 seed Seaside against No. 5 Philomath in the quarterfinals of the OSAA/OnPoint Community Credit Union 4A boys basketball tournament Thursday at North Bend High School, the Seagulls never panicked.
They trailed by 20 points late in the second quarter before closing the first half on a 9-0 run and completed the comeback with a thrilling 62-61 win over the Warriors to advance to Friday's semifinals against No. 1 Junction City at Marshfield High School.
"I think that's the biggest comeback I've ever been a part of," said Seaside's Cash Corder, who hit the game-winning three-pointer with 11 seconds to go to cap a frantic final few minutes that saw each team lead and each team miss big free throws.
Corder said the Seagulls didn't panic when facing the big deficit.
"We had a game plan and stuck with it," he said, adding Seaside's goal was to "just play our game and keep fighting — don't stop fighting."
Corder finished with 18 points and made four three-pointers, but it was teammate Ever Sibony who sparked the comeback with a game-high 25 points, including four three-pointers of his own.
"Ever went off," Corder said.
Philomath had gone in front with a pair of free throws by Jacob Peters with 1:13 to go and added two more free throws — by Cole Beardsley, sandwiched around a free throw by Seaside's Conner Langmo (each made one of two attempts).
After Philomath's Cole Matthews blocked a potential tying jumper by Sibony and the ball went out of bounds, the Seagulls drew up a final play, with Corder the target the entire time.
Sebony dribbled around the top of the key and fed Corder for the three-pointer from the wing.
"I could see the rim, so I shot it," Corder said.
It was Seaside's ninth make from behind the arc, in 16 attempts, for the game.
Seaside's players and big cheering section went wild after the shot, but the win wasn't clinched until Langmo blocked a final shot by Philomath's Matthews and grabbed the rebound.
"We were trying to not let them post up, and make sure they couldn't get the ball inside," Langmo said.
When he saw Matthews driving, he slid over and made a clean block.
Corder finished with 18 points for the Seagulls and Langmo added 14.
Ty May had 18 points and Beardsley 13 for Philomath, which will face Baker in the consolation semifinals Friday morning at Marshfield.
The semifinal matchup with Junction City will be a rematch for Seaside of a Dec. 11 game won by the Tigers 49-37.
"I'm excited to play Junction City again," Corder said.
No. 1 Junction City 58, No. 9 Baker 47: The top-ranked Tigers pulled away from the young Bulldogs in the fourth quarter to advance to the semifinals.
Kaleb Burnett had a big game for Junction City with 30 points and 11 rebounds. Colby Evans added 12 points and Court Knabe 10.
Baker, which starts three freshmen, stuck with Junction City for the first three quarters, and trailed by four twice early in the fourth before the Tigers finally got separation.
Freshman Isaiah Jones had 11 points for the Bulldogs and fellow freshman Jaxson Logsdon and sophomore Hudson Spike added 10 each.
Baker was hurt by a knee injury to point guard Jaron Long just six minutes into the game. Long, another of the team's dynamic freshmen, went down with the Bulldogs in the lead.
No. 2 Cascade 66, No. 10 Stayton 41: The Cougars jumped on their rivals early and rolled to the quarterfinal win, earning a semifinal spot against Banks on Friday.
The two league meetings between the Oregon West Conference rivals were close, though Cascade won both. The quarterfinal game wasn't close for long.
"I'm just proud of the way the boys played," Cascade coach Calvin Molan said. "We talk about playing hard, playing smart and playing together all the time."
Thursday's win was a prime example of that, he said.
"We've had good battles with Cascade," Molan said. "It was good to get a statement win tonight."
Kellen Sande had a game-high 20 points and Samuel Horne added 18 points and four steals while stifling Stayton star Jacob Axmaker, who was held to four points.
"We try to preach defense all year and he and his brother (Spencer) have taken a big role in that," Molan said of the twins, who take on the toughest perimeter roles.
Garrett Callsen had 18 points and 12 rebounds for Stayton, which plays Marshfield in the consolation semifinals.
No. 11 Banks 62, No. 3 Marshfield 49: The Braves built a first-half lead against last year's showcase champs and then held on despite a bunch of missed free throws in the fourth quarter.
Banks led by 17 early in the third quarter after the Pirates shot just 15 percent from the floor in the first half. Marshfield stormed back when it finally started hitting three-pointers, and with a lot of help from Banks, which missed 14 free throws in the fourth but then got hot, hitting 11 of its last 12 from the stripe in the final two minutes after Marshfield pulled within five.
"It got really intense," said Banks junior Ben Mayo. "We just needed to keep our heads in the game and knock down our free throws."
The momentum finally swung in Banks' favor when Charlie White sank two straight free throws after missing seven earlier in the quarter.
Wyatt Selleck had 20 points and Mayo 19 for Banks, combining to shoot 17-or-23 from the line. Cooper Gobel added 11 points and White had eight points and 10 rebounds.
Mason Ainsworth had 18 points and Pierce Davidson had 15 points and 11 rebounds for Marshfield.