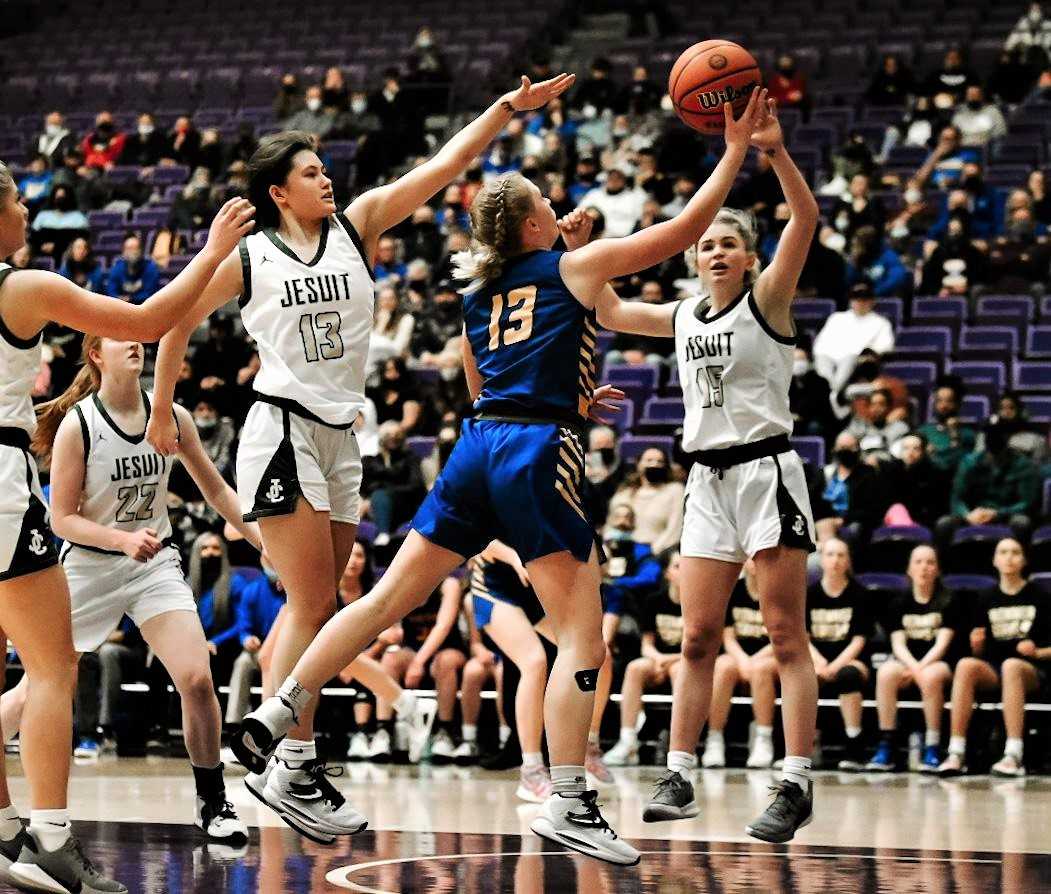 PORTLAND – Top-seeded Beaverton put on a defensive clinic to throttle No. 8 West Linn 42-19 in the quarterfinals of the OSAA/OnPoint Community Credit Union 6A girls basketball tournament Thursday the Chiles Center.
The Beavers held the Lions scoreless for a 17-minute, 13-second period that spanned from early in the second quarter to early in the fourth quarter. During that time, Beaverton outscored West Linn 19-0 to take a 31-12 lead.
"We just worked together," Beavers junior guard Zoe Borter said. "I just felt like we had our rotations on point in the third quarter. Just help-side, playing good team defense, was the key to that."
Beaverton broke the 6A tournament record for fewest points allowed, set in 2020 when Sheldon beat McMinnville 51-20. The Beavers narrowly missed the all-time big-school tournament record, established in 1980 when Lake Oswego defeated Crescent Valley 38-17.
Beaverton (24-1) is holding opponents to a 6A-low 30.1 points per game, including 21.0 in three postseason games. Junior forward Lainey Spear said it reflects on the philosophy of coach Kathy Naro and assistant John Naro.
"Kathy and John do a really good job of putting in our heads that defense wins games, and defense creates offense," Spear said. "At practice, we're always working on defense, so we just want it to pay off in games, and it has been. When we are shooting bad, we have our defense to rely on, which I know some teams don't have that."
The Beavers move on to the semifinals to play No. 5 Clackamas on Friday. They made the semifinals in 2020, too, before the tournament was canceled due to the coronavirus outbreak.
Borter, Spear and junior point guard Madison Naro were members of that team, which also entered the tournament with the top seed.
"I definitely think there's unfinished business," Borter said. "I know everyone wants to win this.
"I don't think there's necessarily pressure. Obviously, we're the No. 1 seed, but I think it's pretty open to anyone winning it. And I feel like we're just enjoying this moment because it's kind of like a once-in-a-lifetime opportunity."
Spear said that returning to the Chiles Center is fun, but also "super nerve-racking" for the Beavers, who are going after the program's first state championship.
"This is the first year I'm actually playing a lot," Spear said. "I feel like also a lot of leadership comes into it because I have been here before, and for our younger kids it's like our job to kind of like lead them, because I know they can get nervous.
"But I think we dealt with the pressure and performed well."
Spear had 19 points and three steals to lead Beaverton, which has won 19 in a row since losing to Barlow in late December. Borter had 16 points and Madison Naro added two points, five assists, six rebounds and three steals for the Beavers, who shot 53.3 percent (16 of 30).
West Linn (17-8) got five points each from freshman Allie Roden and senior Olivia McVicker. The Lions made 7 of 26 field-goal attempts, 26.9 percent.
Roden hit a three-pointer to tie 12-12 with 6:48 left in the third quarter, but the Lions would not score again until a layup by senior Audrey Kehoe made it 31-14 with 5:35 remaining in the game.
Leading 17-12 at half, Beaverton scored the first 14 points of the second half. Spear hit a three-pointer and scored on a drive to start the third quarter, and junior Jaydin Lutu made a three-pointer to make it 25-12.
No. 3 South Medford 53, No. 6 Benson 47: Junior Donovyn Hunter had 13 points, seven rebounds and five steals as South Medford (24-3) held off a late charge by Benson (21-5) to advance to the semifinals.
The Panthers, semifinalists in 2020 and winners of the elite Maroon bracket of the culminating week tournament last year, trailed 22-21 at half before taking control in the third quarter.
Hunter scored off a steal and on a jumper to start the second half, putting South Medford ahead to stay 25-22. Seniors Sierra Logue and Lottie Dillard each had two baskets in a 10-0 run as the Panthers went up 35-24.
Down 39-27 after three quarters, Benson rallied. Tait Quinlan, a 6-3 senior forward, converted a three-point play to draw the Techsters within 48-46 with 1:15 left.
Benson junior Malaya LeSueur split two free throws to make it 49-47 with 25 seconds to go. South Medford junior Tatum Schmerbach hit two free throws for a 51-47 lead with 20 seconds left, and Panthers junior Kendall Fealey came up with a steal and made two free throws with eight seconds remaining for the final margin.
Schmerbach had 13 points, nine rebounds and two blocks and Dillard had 13 points and four steals for South Medford. Logue had 10 points and five blocks for the Panthers, who haven't won a title since 2012.
Benson, the 2019 champion, was playing without the Portland Interscholastic League player of the year in Mahogany Chandler-Roberts. The 6-2 sophomore, who averages 16.7 points and 8.7 rebounds, suffered a sprained ankle in practice Wednesday.
Junior guard Onna Brown had 14 points, three rebounds and four steals for the Techsters, who also got 10 points and three steals from LeSueur and nine points, 10 rebounds and two blocks from Quinlan.
Benson had won 13 in a row since losing at home to South Medford 61-49 on Jan. 28.
No. 7 Barlow 52, No. 2 Jesuit 36: The Bruins went on an 18-3 run to start the second half and rolled to the win over the Crusaders.
Senior guard Lindsay Barden had 16 points and five rebounds to lead Barlow, which avenged a 63-59 home loss to Jesuit on Dec. 14. Junior wing Annie Koenig had 15 points, six rebounds and two blocks and junior guard Kennedie Shuler added 11 points for Barlow (24-3), which shot 48.6 percent (17 for 35).
The Bruins, playing in the quarterfinals for the first time since 2001, will play in the semifinals for the first time since 1993 when they face South Medford on Friday. Barlow has never won a state title.
Jesuit led 20-19 at half before the Bruins took over.
Barden hit two three-pointers to cap a 9-0 run as Barlow pulled ahead 28-20. Koenig had five points in another 9-0 surge to extend the lead to 37-23 late in the third quarter. The lead grew to 48-31 on two free throws by Barden with 3:43 left.
Junior point guard Emma Sixta had 15 points to lead the Crusaders (24-4), who shot 32.6 percent (15 for 46). Junior guard Avery Edwards made three three-pointers and added 13 points.