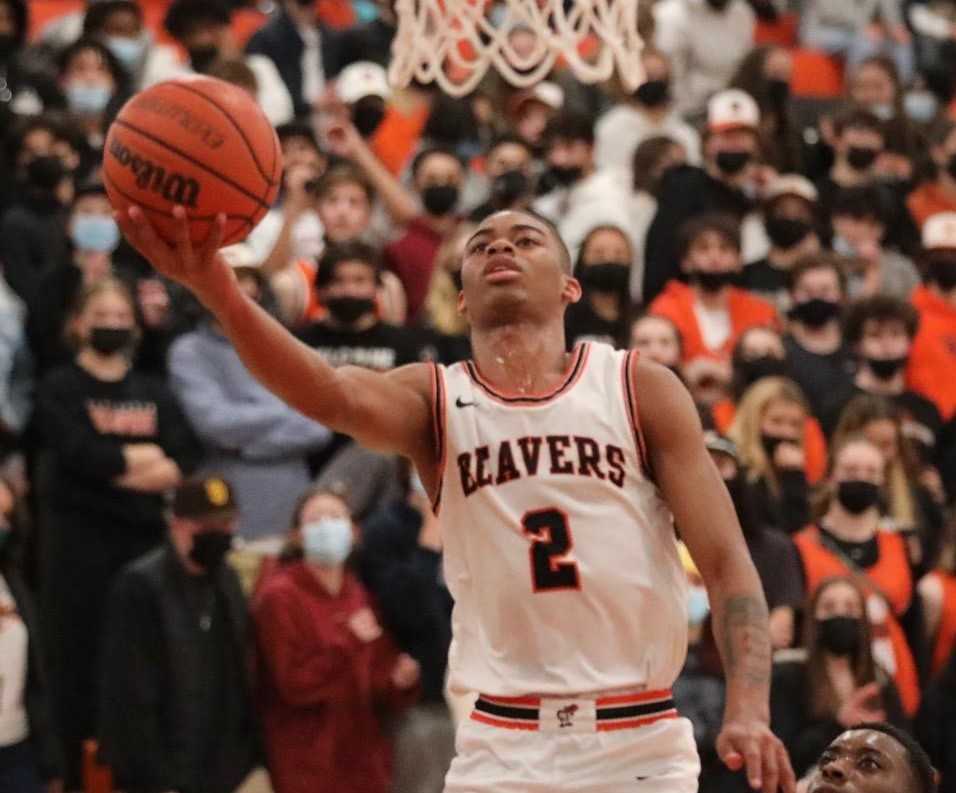 Two years removed from the last 6A boys basketball tournament, the eight-team field will have a near-complete makeover this year.
When the teams gather for the quarterfinals Wednesday at the Chiles Center, the only holdover from 2020 will be West Linn. Teams that made the last two state tournaments – Jesuit, Jefferson, Central Catholic, Lake Oswego and South Salem – will be nowhere in sight.
Instead, the bracket is infused with plenty of new blood.
"You can see some of the teams step up and maybe even figure out a process that works for them," said Cleveland coach Dondrale Campbell, who led the Warriors to their first Portland Interscholastic League title since 1962. "We've definitely found something that's working for us."
Cleveland will appear in the final eight for the first time since 1962. Roosevelt, the 5A runner-up in 2007, is in its first big-school state tournament since 1958.
Mountainside, a fourth-year program, knocked off Central Catholic to earn its first-ever tournament berth. Summit, which made the 5A tournament from 2015 to 2017, has cracked the field in its fourth and final season in 6A.
Beaverton, which has made one tournament appearance in the last 18 seasons, and Tualatin, a qualifier once in the last 12 seasons, are looking to cash in on their chance.
"You've got a pretty interesting bracket going on," Beaverton coach Andrew Vancil said. "A lot of really good teams. I think anybody can win it."
West Linn coach Eric Viuhkola, who guided the Lions to four consecutive titles from 2013 to 2016, doesn't see a clear-cut favorite.
"Before the season, when I would talk to people, I would say, 'I don't think there's a great team, but I think there's a lot of good teams,'" Viuhkola said. "I would not be surprised if any of them won it. I think it's the most open field I've seen in a long time."
Given the interruption by the COVID-19 crisis, and the various challenges of maintaining a program through the restrictions, a greater than usual power shift shouldn't be too surprising.
Heading into the season, teams such as Cleveland and Beaverton believed they were poised to make their move.
"We agreed that if we had a full season last year, that people wouldn't be as surprised by what we're doing," Campbell said. "We thought we had a really good group last year, we just didn't get enough time to get on the same page, and get ready for a full season. This year we got a lot of time. It's finally coming together for us all."
Vancil said Beaverton was a "state-tournament caliber team" last year, when it won the Red bracket in the Portland-area culminating week tournament.
"We had the same roster, and then we had Dane Erikstrup, who's freshman of the year in his conference at Cal Poly Pomona," Vancil said. "We had a really good team that I think would have competed for a state championship."
Vancil said the strength of his players this season is their year-round commitment to basketball.
"We had a group of kids in recent years that were good, tough, scrappy kids, but they were football, baseball kids first, not basketball," Vancil said. "And we hadn't had real hoopers. But this group of kids are hoopers."
Roosevelt's breakthrough also was predictable.
"Before the season, and even last year, you knew Roosevelt was coming," Viuhkola said. "They had way too much talent. They were my preseason No. 1. They've very dangerous."
Conversely, Jefferson and Central Catholic were hurt by losing transfers. Jefferson lost two elite players when point guard Lamar Washington and wing Mookie Cook transferred to Arizona.
"Obviously, Jefferson would be back if Mookie and Lamar were still here," Viuhkola said.
Tualatin enters with the top seed and arguably the most impressive resume, which includes two wins over West Linn. The wild card is Summit, the only unbeaten team in the field. The Storm has faced only one team in the field, No. 11 seed Mountainside, and won 47-43.
6A boys quarterfinals, Wednesday, Chiles Center
No. 8 Beaverton (19-6) vs. No. 1 Tualatin (23-2): Tualatin beat Beaverton 76-44 at the Les Schwab Invitational. The Timberwolves, loaded with athletes from the state runner-up football team, have lost only to Link Academy (Mo.) and Lake Oswego, a 63-61 defeat. They survived a 29-day, midseason layoff due to COVID issues that forced them to play nine games in 15 days upon their return. Senior guards Noah Ogoli (16.3, 2.8 assists) and Malik Ross (13.0, 2.5 assists) were Three Rivers League first-team picks. Tualatin hasn't played in the tournament since 2018, when it fell in the quarterfinals. Beaverton features the Metro League player of the year in 6-2 senior Trevon Hamilton (8.8 points, 3.6 rebounds, 4.5 assists, 2.4 steals), first-team all-league sophomore Max Elmgren (11.0 points, 40 percent three-point) and junior Brady Rice (13.5 points). Beaverton is making its first tournament appearance since reaching the 2017 semifinals.
No. 5 West Linn (20-3) vs. No. 4 South Medford (23-2): West Linn has the state's most explosive player in junior point guard Jackson Shelstad, the Three Rivers player of the year who has committed to Oregon. Shelstad leads 6A in scoring (26.9 points) and has two 40-point games this season, including one against Jesuit in the round of 16 when he made six three-pointers. The Lions also have senior guard Zeke Viuhkola (16.3 points), a first-team all-league pick. They made the quarterfinals in 2020 before the tournament was canceled. West Linn lost twice to Tualatin and once to Grant. South Medford has not lost to an Oregon team this season. Senior guard Junior Sleezer (13.2 points) is the Southwest Conference player of the year. High-flying senior forward Devon Malcolm (15.5 points), freshman guard Boden Howell (14.5 points, 45 three-pointers) and sophomore guard Jackson Weiland (10.5 points) also were first-team all-conference.
No. 11 Mountainside (19-7) vs. No. 3 Cleveland (22-4): It's already been an historic season for Cleveland, which fought through the shark-infested PIL to win its first league title in 60 years. Now the Warriors will go for the first state title in school history. Jackson Cooper (12.5 points, 8.0 rebounds), a 6-5 junior forward, was named to the PIL first team. Senior guard Lawson Vella (11.7 points, 41 percent three-point) and junior wing Christian Green (11.0 points, 7.0 rebounds, 5.0 assists) also have been key. Mountainside earned its first tournament berth with a near-flawless performance in the round of 16, shooting 84.6 percent (22 for 26) to beat No. 6 Central Catholic 58-49. Senior point guard Dimitri Cohen (13.7 points), first-team all-Metro, had a 38-point game this season. Brayden Boe, a 6-3 freshman, scored 31 points in the two playoff wins.
No. 7 Roosevelt (21-6) vs. No. 2 Summit (25-0): Summit, which made the 5A semifinals in 2016, is having its best season since the program started in 2002. The Storm is winning by an average of 25.6 points per game, its closest wins 57-56 over Lake Oswego and 47-43 over Mountainside. Senior point guard Julian Mora (16.0 points) was the Mountain Valley Conference player of the year. Caden Harris (16.6 points), a 6-6 senior forward, had a 40-point game. Roosevelt, which tied for third in the PIL, is deep, athletic and talented. The Roughriders have sophomore guards Terrence Hill (19.7 points) and Chance White (13.1 points) and 6-7 senior forward Raysean Seamster, who has averaged 9.9 points in the last 11 games after missing the first 16 games due to injury.
6A girls quarterfinals, Thursday, Chiles Center
No. 8 West Linn (17-7) vs. No. 1 Beaverton (23-1): The tournament represents a golden opportunity for Beaverton, which has been in hot pursuit of its first state championship in recent years. In 2018, the Beavers lost in the semifinals to Benson on a buzzer-beater. In 2019, they fell in the semifinals to Southridge. In 2020, they had the top seed and advanced to the semifinals before the tournament was canceled. They have been the most consistent team this season, holding wins over tournament teams Jesuit (two), Lakeridge, Barlow, Clackamas and West Linn. Their only loss came against Barlow. Beaverton has versatile 6-1 junior wing Lainey Spear (16.0 points, 8.1 rebounds, 3.3 steals) skilled 6-0 junior guard Zoe Borter. (16.0 points, 5.1 rebounds) and heady junior point guard Madison Naro (10.0 points, 6.1 assists). West Linn fell at Beaverton 49-20 on Jan. 6. Lions freshman guard Allie Roden (13.7 points, 39 three-pointers) was a Three Rivers first-team pick. Audrey Kehoe, a 6-0 senior post, averages 8.5 points and 8.7 rebounds. The Lions haven't made the tournament since 2019, when they lost to Beaverton in the quarterfinals.
No. 5 Clackamas (25-2) vs. No. 4 Lakeridge (22-4): Three Rivers champion Lakeridge is in the tournament for the first time in 17 years. The Pacers, who won the White bracket of the Portland-area culminating week tournament last year, have lost only to Beaverton, Jesuit, Mountainside and Tualatin. They have the Three Rivers player of the year in senior point guard Reese Ericson (15.3 points, 6.1 rebounds, 7.0 assists, 3.7 steals), who has signed with Army. Junior wing Keelie O'Hollaren (17.3 points, 8.2 rebounds, 2.9 steals), first-team all-league, had 44 points and 23 rebounds in two playoff wins. Clackamas starts four freshmen, including 6-1 guard Jazzy Davidson (22.4 points, 8.0 rebounds, 2.6 assists, 4.1 steals, 1.3 blocks), who already has an offer from Stanford. The Mt. Hood Conference player of the year has dominated in two playoff games, putting up 34 points, 13 rebounds and nine steals against St. Mary's Academy and 30 points against Grants Pass. The Cavaliers lost to Beaverton 50-44 in the POA Holiday Classic and split two conference games with Barlow, losing 50-44 and winning 65-58. They hold an impressive 55-32 win over Jesuit.
No. 6 Benson (21-4) vs. No. 3 South Medford (23-3): Technically, Benson is the reigning champion, considering it won the last official state tournament in 2019. But South Medford, which won the elite Maroon bracket of the Portland-area culminating week tournament last year, also stakes a claim. The Panthers won on the road against Benson 61-49 on Jan. 28 to start their current 13-game winning streak. South Medford is led by 5-10 junior point guard Donovyn Hunter (23.0 points, 5.0 rebounds, 5.0 steals, 2.0 assists), one of the top recruits on the West Coast, and senior forward Sierra Logue (14.0 points, 9.0 rebounds, 3.0 blocks). The Panthers lost to Clackamas 58-56 in overtime and at Jesuit 47-46 on a shot at the buzzer. Their other defeat came against a California team. Benson starts three sophomores, including the PIL player of the year in 6-2 post Mahogany Chandler-Roberts (16.7 points, 8.7 rebounds) and guard Maurianna Hashemian-Orr (14.4 points). Junior guard Malaya LeSueur (14.3 points) was first-team all-PIL. Benson's other losses came against Jesuit, Clackamas and Barlow.
No. 7 Barlow (23-3) vs. No. 2 Jesuit (24-3): The teams met in a nonleague game Dec. 14, with Jesuit winning at Barlow 63-59. The Crusaders, who lost twice to Beaverton and once to Clackamas, have beaten Benson, Lakeridge and South Medford. They are led by three first-team all-league selections in junior point guard Emma Sixta (14.1 points), 6-1 sophomore post Kendra Hicks (9.8 points, 12.8 rebounds) and junior guard Avery Edwards (12.5 points), who has made 74 three-pointers, including eight in a 32-point performance against Southridge. Barlow, runner-up to Lakeridge in the White bracket of the culminating week tournament last year, is in the quarterfinals for the first time since 2001. The Bruins split two games with Clackamas, sharing the Mt. Hood title, and lost to Jesuit and Beaverton. Junior guard Kennedie Shuler (17.1 points, 7.1 rebounds, 4.6 assists, 3.7 steals) and junior wing Annie Koenig (15.3 points, 4.7 rebounds, 2.5 assists) were named to the Mt. Hood first team.