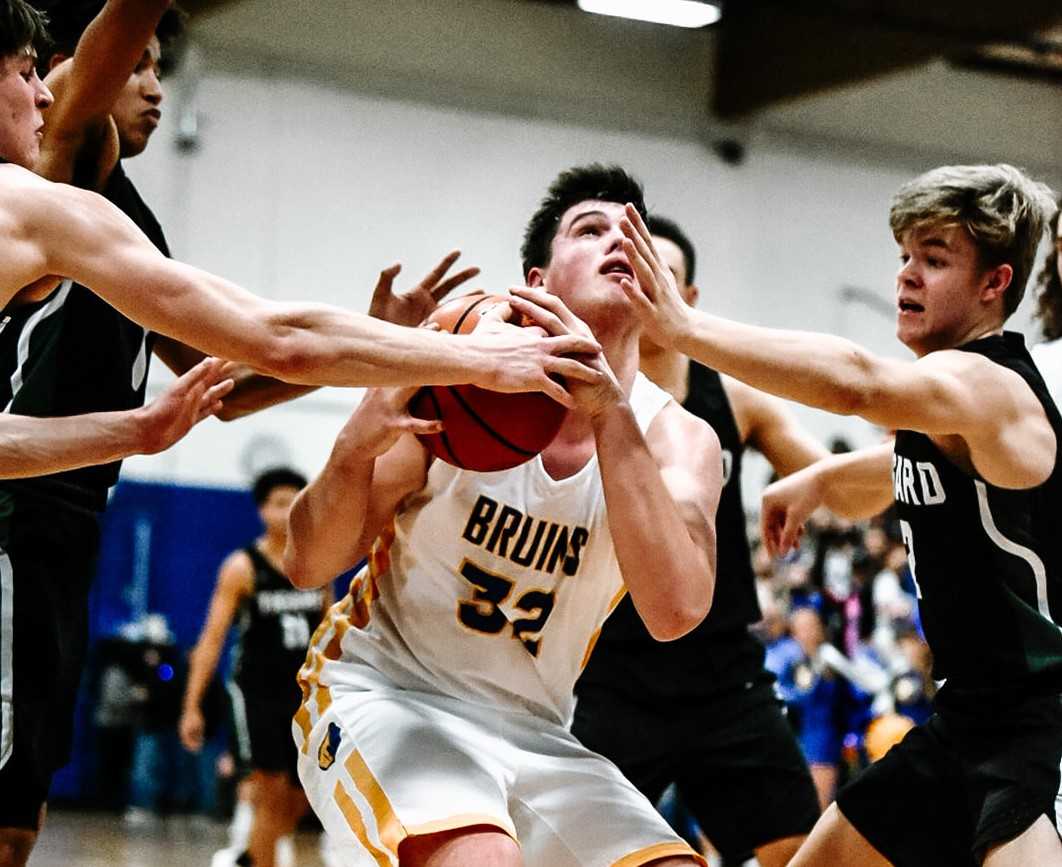 GRESHAM – As the second-place team in the unheralded Mt. Hood Conference, Barlow has spent much of the boys basketball season just outside the conversation of the state's elite 6A teams.
But the proud Bruins believe they can make some noise in the playoffs, and they got off on the right foot Tuesday night with a 71-58 first-round win over visiting Tigard of the highly regarded Three Rivers League.
Senior center Jesse Jones had 23 points and 12 rebounds and freshman guard Jalen Atkins added 18 points and five assists as the No. 15-seeded Bruins (19-7) eliminated the No. 18 Tigers (14-10) to advance to the round of 16, where they will meet No. 2 Summit (24-0) on Friday.
"We were kind of expected to lose this game," Jones said. "We were more of the underdogs than they were. I think everyone was talking about how Tigard would upset us and play Summit. But we showed them about the Mt. Hood. We're a good team."
Barlow trailed by five points early in the second quarter before taking control. The Bruins went on a 17-5 run to lead 31-24 on back-to-back three-pointers by senior Tyson Roupp and Atkins.
Atkins and senior forward Nathan Jones each had two baskets early in the third quarter as Barlow extended the lead to 40-28. The Tigers got no closer than seven points the rest of the way.
"I think we really just turned it on," Atkins said. "Coming into the game, we knew it was going to be a tough battle. We came out and did just that. I'm just glad that we were able to put it away. It was a big game."
It was another solid performance by the 6-foot-1 Atkins. Expectations were high for Atkins entering the season and he has not disappointed, leading the team in scoring with a 15.8 average.
"He's so mature in his mental approach to the game, it just really says a lot about him," Bruins coach Tom Johnson said of Atkins. "He's just a lot of fun to be around. He's gotten better and better. High school basketball is different than AAU, and I think he's found that out a little bit. I'm really proud of him."
Jesse Jones had high praise for the freshman.
"It's amazing. His IQ is so high for a freshman," he said. "He knows when to shoot, knows when to take the ball on the drive, knows when to pass it. He's getting better on rebounding and he's pursuing the ball better."
But much of Barlow's success Tuesday came inside. The 6-4 Jesse Jones used his bulk to carve out space and the 6-3 Nathan Jones, his twin brother, made timely cuts to the basket to score 15 points. Their teammates had their eyes peeled for them all game.
"That was definitely part of the game plan," Jesse Jones said. "Our teammates knew what to do to give me and Nathan the ball, and we made them pay. When they doubled, we kicked out for wide-open shooters."
Johnson said that the Jones brothers "have been so solid for us for three years. Those kids are just so impressive. Every day they come to work hard. I'm just really, really happy for them, and Tyson Roupp, the seniors. Those guys have put in a lot of time waiting to get a playoff game."
Jesse Jones, who entered averaging 9.2 points, came within one point of his season high. He was relentless inside, scoring through contact and on put-backs.
"Man, Jesse is the hardest-working, most humble kid I've ever met," Atkins said. "He comes in every day and does what he has to do. Today was just showing what he really does. I'm just so proud of him."
Tigard, which got 24 points from junior point guard Malik Brown and 12 points from junior wing Sawyer Wolf, struggled to find a groove on offense.
"We kind of changed our whole game because we were out of it," Brown said. "The rhythm wasn't really there. Barlow, they're some dogs. They came out strong. Jesse Jones, we couldn't really stop him."
Junior guard Kalim Brown, the Tigers' leading scorer with a 20.5 average, picked up two fouls in the first three minutes and couldn't get untracked. He went scoreless through three quarters – going 0 for 5 – and finished with eight points.
"The pull-up jumpers that he usually makes he couldn't really hit because he was in his head about those fouls," Malik Brown said.
Barlow turns its attention toward Summit, which stayed undefeated Tuesday with a 78-46 win over Liberty. With a win, the Bruins can go back to the 6A tournament at the Chiles Center, where their 2020 season was cut short by the COVID-19 crisis.
They will pack some confidence for the trip over the mountains.
"I think this is the best we're playing," Jesse Jones said. "We're playing defense at a high level. We're trying to get stops, we're going for loose balls. I think defense is definitely something that separates us because every other team is trying to score first."