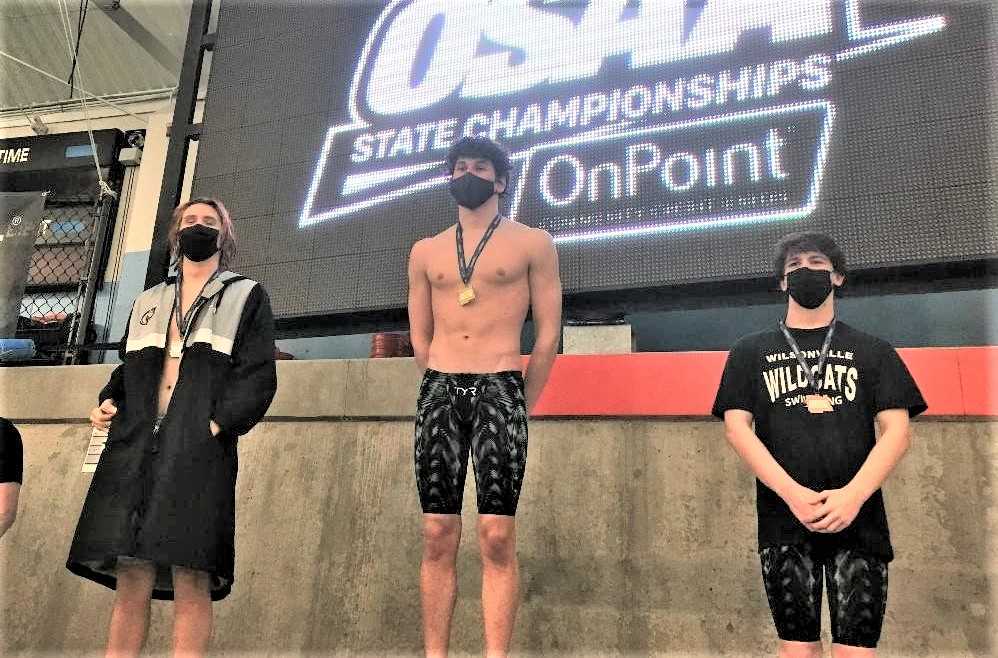 BEAVERTON – After a year off due to the COVID crisis, the OSAA/OnPoint Community Credit Union state swimming championships returned in grand fashion Friday night with a record-breaking, highly dramatic 5A meet at Tualatin Hills Aquatic Center.
In the boys meet, Crater senior Marcus Gentry and Churchill senior Charley Page-Jones set OSAA all-time championship records and Crescent Valley clinched its first team title since 2007 with a victory in the final event, the 400-yard freestyle relay.
In the girls meet, Wilsonville junior Helena Jones set 5A meet records in two events and Churchill put the final touch its first state championship, also by coming through with a win in the last event.
The Notre Dame-bound Gentry broke the OSAA record in the 100 backstroke, finishing in 48.03 seconds to beat the previous mark of 48.53, set by Patrick Mulcare of Southridge in 2014.
Gentry also set a 5A meet record in winning the 200 individual medley in 1:49.60, breaking the old mark of 1:50.81 (Carlos Hunnicutt, Springfield, 2014).
Gentry finishes his high school career with five individual titles in four events. He won the 500 freestyle and 100 backstroke as a freshman and the 200 freestyle as a sophomore.
"I knew I always wanted to do the 100 back, and for my second event, I wanted to switch it up each year so I could claim as many state titles in different events as I could," said Gentry, who was disqualified in the 100 backstroke as a sophomore. "I like to test myself and give myself challenges."
Page-Jones, who has signed with UNLV, picked up his third titles in the 50 freestyle and 100 butterfly. He set a PR of 20.39 to win the 50 freestyle, and in the following event, he swam the 100 butterfly in 47.63, a big jump from his previous PR of 48.8 and good enough to break the previous OSAA meet record of 47.90 (Van Mathias, Beaverton, 2018).
"I did not know I had this in me," Page-Jones said. "The 50 free really set me up. I was pumped for it, and I didn't know what I was going to go. To beat my lifetime PR was great, and I took that energy and brought it into the 100 fly. I knew I could do well, and I blew myself away.
"I thought maybe I could drop time, but 47.6 was completely out of the blue. I think it was adrenaline. The energy at this meet is unmatched. It's so much fun. The sportsmanship is incredible."
The boys meet featured two other double-winners in Parkrose sophomore Thomas Olsen (200 freestyle, 500 freestyle) and West Albany senior Luke Milburn (100 freestyle, 100 breaststroke).
Olsen took nearly two seconds off his best in the 200 freestyle.
"We weren't shaved or tapered for this meet, so we were just coming in and racing our hardest, and that's what I did today," Olsen said. "I came in here with a will to win, and it just paid off, I guess."
In the 200 freestyle relay, Milburn joined senior Chase Barnes, sophomore Conner Dickerson and senior Brock Nelson to set a 5A meet record in 1:28.23.
Mid-Willamette Conference rivals Crescent Valley and West Albany were tied for the team lead heading into the 400 freestyle relay. Just like at district, the Raiders (3:13.78) edged the Bulldogs (3:15.74) to claim the meet title.
In winning the event, Crescent Valley's team of junior Andrew Hanson, freshman Zakary Guenther, senior Caz Mikula and freshman Keller Evans broke a school record that dated to the 1990s.
"They deserved that win," Raiders first-year coach Marissa Olsen said. "It came down to that relay, and they performed. A lot of pressure, but they're all stars."
Hanson, Guenther and Mikula also swam legs on the winning 200 medley relay, joined by freshman Emerson Gatherum.
Crescent Valley scored 65 points to finish ahead of West Albany (61), Redmond (34) and Parkrose (26).
Wilsonville's Jones – a transfer from West Linn, where she won the 6A title in the 100 freestyle as a freshman – was the star of the girls meet.
Jones first broke the 5A meet record in the 50 freestyle in 22.96, beating the old mark of 23.26 (Kaila Lee, Willamette, 2010). She followed that with the 5A meet record in the 100 freestyle, finishing in 49.83 to take down the previous standard of 51.33 set by Lee in 2009.
Her times were just off her club personal bests of 22.89 and 49.67.
"I knew I could do the times, so it was just a matter of when," said Jones, who has committed to Georgia. "But I'm real excited it was today."
Churchill senior Kylie Taylor won her third title in the 100 backstroke and took the 200 IM. Taylor also had a hand in the Lancers winning the 200 medley relay and 400 freestyle relay.
"It would've been nice to be a four-time 100 backstroke state champion, but three is as many as possible, so I'm excited that I got it," said Taylor, who is headed to Pepperdine. "It was like finishing out my high school career. I feel like I got it freshman year, I should get it senior year."
Churchill also got wins from juniors Lauren Larsen in the 200 freestyle and Kelsey Wasikowski in the 100 breaststroke. Wasikowski's winning time of 1:02.73 set a 5A meet record.
The Lancers led two-time reigning champion Crescent Valley by one point heading into the 400 freestyle relay. The team of Larsen, junior Emily Ashton, Taylor and Wasikowski posted a winning time of 3:36.65 to hold off second-place Crescent Valley by four seconds.
"They like to show up and race," Churchill coach Megan Murphy said of her swimmers. "They all swam their best times, their best relay splits."
Churchill's 60 points beat Crescent Valley (55), Redmond (44) and Hood River Valley (31).
Churchill's first girls title comes two years after the boys won their first championship. The girls were runner-up to Crescent Valley by 25 points in 2020.
The Lancers knew their margin for error was slim after Wasikowski was disqualified in the 500 freestyle at district.
"We were coming in thinking we had a deficit," Murphy said. "So for them to be able to pull through and push hard and still win the meet, it's really exciting. I'm really proud of them. The boys won two years ago, so the girls wanted to be able to repeat that. We had COVID last year, so they were really excited to have this opportunity."
Crescent Valley junior Vivi Criscione repeated as champion in the 500 freestyle. Redmond freshman Willow Messner won the 100 butterfly.