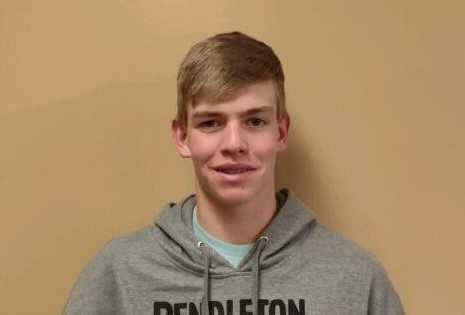 To hear coach Eric Nichols tell it, Crane's boys basketball team has been far from perfect this season.
But you wouldn't know it by looking at the Mustangs' record.
By beating Adrian 69-51 in a 1A High Desert League game Saturday, Crane finished the regular season at 25-0. All but two of the Mustangs' wins have come by double digits.
"It's been a fun ride," said Nichols, who took over as coach last season. "It's been a bit of a roller coaster as far as the way we've played. Our expectation is pretty high."
Due to rodeo commitments, Crane had only five players on its roster last year during the COVID-shortened season. The Mustangs played only seven games, finishing 3-4.
Crane returned most of its players this season and added a strong freshman class that includes 6-foot-5 Cody Siegner, who comes off the bench to lead the team in scoring (15.6) and rebounding (9.2).
The Mustangs – No. 1 in the OSAAtoday 1A coaches poll – had close calls in beating Liberty Charter (Idaho) 39-38 on Dec. 17 and No. 3 Country Christian 54-53 in a tournament at Salem Academy on Jan. 1. They also overcame a 14-point, first-half deficit to defeat the Caldera JV 68-51 on Friday.
Crane trailed Liberty Charter by one point in the closing seconds but pulled out the win when senior Ty Taylor scored on a backdoor cut off a pass from junior Jared Zander. Against Country Christian, they overcame a six-point deficit in the final minute.
"I don't want to say we got lucky, but the loose balls went our way," Nichols said.
Crane is better known for girls basketball, winning state titles in 2004 and 2020. The boys are hoping to make a run at their first state championship this year.
"They have some talent, and they have the work ethic, and they've really embraced what we're trying to do," Eric Nichols said. "This is a special group. How special, we don't know."
Crane is one of four unbeaten boys teams in Oregon, along with 1A No. 4 South Wasco County (20-0), 1A No. 7 Ione/Arlington (18-0) and 6A No. 3 Summit (19-0). No 1A champion has finished undefeated since Imbler went 30-0 in 2005.
"You don't wish losing on anybody," Nichols said. "But there's always folks that are going to say, 'Maybe that will increase their fire.' No. These kids have a competitive fire and they have an expectation as to how they're going to play. They've just got a spirit. It's something that I haven't seen."
The addition of Siegner – whose father, Mitch, was a football standout at Crane and went on to a college career at Oregon – has been key. He has steadily improved throughout the season, averaging 20 points per game in the last two weeks. He scored 30 in the win over Caldera's JV.
"He has a really good back-to-the-basket game," Nichols said. "For being 6-5, he's an athlete. He's got a good-looking shot. He strokes the ball pretty well. That's a developing part of his game. With this team, he has sacrificed a little bit of his personal glory just for the team, just because there are other really good player."
Siegner's sister, Kelsi, was the 1A player of the year in leading Crane's girls to a 29-0 record and a 1A title in 2020. She suffered a torn ACL last season and has not played this season for the Mustangs, who are No. 1 in the OSAAtoday 1A coaches poll.
Sophomore point guard Carter Nichols, the coach's son, is averaging 11.3 points and 4.2 assists. Taylor averages 10.8 points and 5.6 rebounds.
Eric Nichols, in his third year as Crane's principal, is a 1995 Baker graduate who played for legendary coach Mike Doherty. Crane represents his first high school coaching job since an eight-year run at Burns (2003-11), where he went 63-135.
"I've been out of the game for a decade at the high school level, so this is new territory for me," he said. "I kind of wanted to get back with kids."