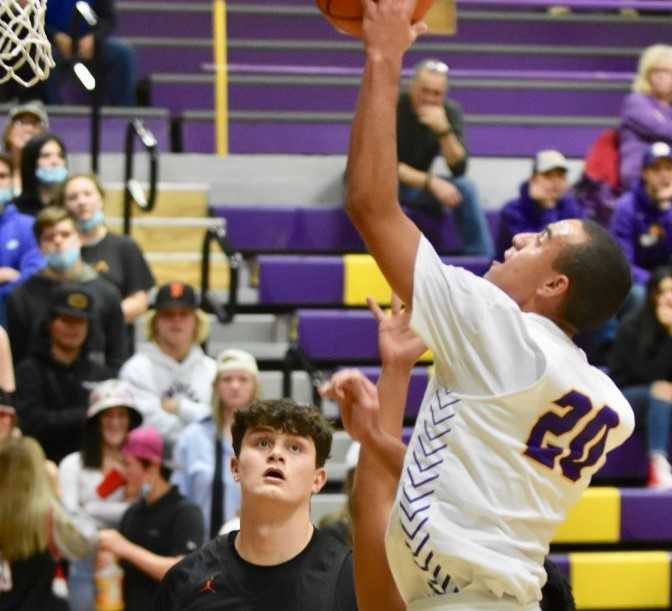 Starting three freshmen and two sophomores, Baker was a bit of a mystery heading into the boys basketball season.
The last two months have revealed, however, that the Bulldogs are an emerging force. Riding an eight-game winning streak, they are 14-3 overall, 3-0 in the 4A Greater Oregon League and stand at No. 7 in the OSAAtoday 4A coaches poll.
"We brought some newcomers on, and they have meshed well," Baker coach Jebron Jones said. "We've just got to keep them focused, keep them hungry and humble. We'll see what happens."
Despite the new pieces, Baker's offense hasn't missed a beat from last season, when it led 4A in scoring with a 70.3 average and finished with an 8-3 record. This season – featuring an all-guard starting lineup, none taller than 6-foot-2 – the Bulldogs again lead 4A at 70.4 points per game.
Freshman Isaiah Jones (5-11) is averaging 19 points and seven rebounds. Sophomores Paul Hobson (6-2) and Hudson Spike (6-2), returning starters from last season, are averaging 12 points each. The other starters are freshmen Jaron Long (5-11), who averages 10 points, and Jaxon Logsdon (5-9).
"I've got five guards out there and they can all dribble and shoot," Jebron Jones said. "The other team doesn't know who's going to do what at any given moment. I've got three or four dudes who on any given night can put 20 on the scoreboard."
Isaiah Jones – the son of Jebron, who played at Eastern Oregon – is a developing star.
"He's better than me when I was a freshman," Jebron said. "He's really unselfish and he plays both ends of the court. He's pretty versatile. He can score on all three levels. He can post up, has a nice little mid-range, and he can hit the three."
The Bulldogs showed that they could come through in the clutch Jan. 18 with an 88-87, triple-overtime win at 3A No. 8 Vale (15-4), the first-place team in the Eastern Oregon League. Down by four points in the third overtime, Baker pulled out the win on Isaiah Jones' putback with two seconds left.
Jebron Jones said his young team is still learning how to play defense, but showing improvement of late. After giving up 65.3 points through 13 games, the Bulldogs have held their last four opponents to 33.7.
"I told them, in order to beat the teams in March and late February, we have to play a lot better defense," Jebron Jones said. "That's the biggest change for us over the last couple weeks is we're playing better defense."
The coach said that "poor defense" proved costly in an 84-66 loss at 5A Pendleton (1-15). The result is an anomaly considering it is Baker's only loss to an Oregon team and Pendleton's only win this season.
"They hit a lot of shots, we missed a lot of shots," Jebron said of the loss. "That game, I told the kids, 'When you're playing in somebody else's house, they're going to hit shots they don't normally hit.' They did that all game long."
The Bulldogs started their eight-game winning streak after losing to Pendleton.
"We took the 'L' and learned from it," Jebron Jones said. "Since that point we've gotten a lot better. It was a good reality check."
The winning streak includes a 67-41 win at La Grande (10-2, 1-1), Baker's chief rival in the GOL. The Bulldogs led 47-23 at half and cruised to victory behind 18 points from Isaiah Jones and 16 points from Spike.
"That was the best half we played all year, that first half," Jebron Jones said. "Lot of emotions during that game. That was a great victory, for sure."
Jones, who coached La Grande's girls team for two seasons (2004-06), is in his fourth season as Baker's coach. His eighth-grade son, Rasean, is set to join the team next season.
Summit takes inside track
Senior point guard Julian Mora had 20 points and six assists as No. 2 Summit took sole possession of first place in the 6A Mountain Valley Conference with a convincing 77-53 win over visiting Sprague on Thursday.
Mora made 9 of 12 shots from the field for the unbeaten Storm (16-0, 7-0), which gradually pulled away from the Olympians (12-5, 6-1), leading by nine points after one quarter, 14 at half and 19 after three quarters.
"He had a fantastic game," Summit coach Jon Frazier said of Mora. "It was just a super efficient offensive performance. He attacked really well in transition and put a ton of pressure on the Sprague defense early in possessions.
"By getting downhill and attacking the hoop, he was able to draw and kick a number of times for great shots for the other guys. He was definitely pretty dynamic."
Senior Caden Harris scored 17 points and sophomore Collin Moore added 12 points for Summit, which completed a perfect run through the first half of conference play. Senior Dallon Morgan scored 17 points for Sprague, which had its six-game winning streak snapped.
The Storm's only win against a team currently ranked in the top 10 of the OSAAtoday 6A coaches poll came against No. 7 Mountainside. Summit also defeated Lake Oswego, which upset No. 1 Tualatin this week.
"I don't know how many teams are in that top tier," Frazier said. "But there's a group of teams that are all pretty darn good. I kind of feel like all of us have a chance. I think it's pretty wide open."
Cleveland keeps winning
Upstart Cleveland strengthened its position atop the highly competitive 6A Portland Interscholastic League with a 66-54 win at Roosevelt on Thursday.
The win keeps the No. 9 Warriors (14-3, 8-1) ahead of No. 6 Grant (13-3, 8-2), Benson (11-4, 6-1), Lincoln (12-7, 6-4) and No. 4 Roosevelt (11-4, 4-2).
Roosevelt led Cleveland 28-23 at half but the Warriors dominated the second half. They scored the first 11 points of the third quarter to take the lead and went on a 14-0 burst in the fourth quarter to make it 61-46.
Junior wing Christian Green had 18 points and 12 rebounds and junior guard SC Tresvant added 14 points for Cleveland, which has won six in a row.
"We always have something to prove," Tresvant told Pamplin Media Group. "We're not done yet. We always have to come with a chip on our shoulder and we always have to play hard, especially games like this ..."
The game marked the return of Roosevelt standout senior Raysean Seamster, who had not played this season due to injury. The 6-7 wing, who has offers from Washington and San Francisco, scored four points on 2-for-8 shooting and had four rebounds.