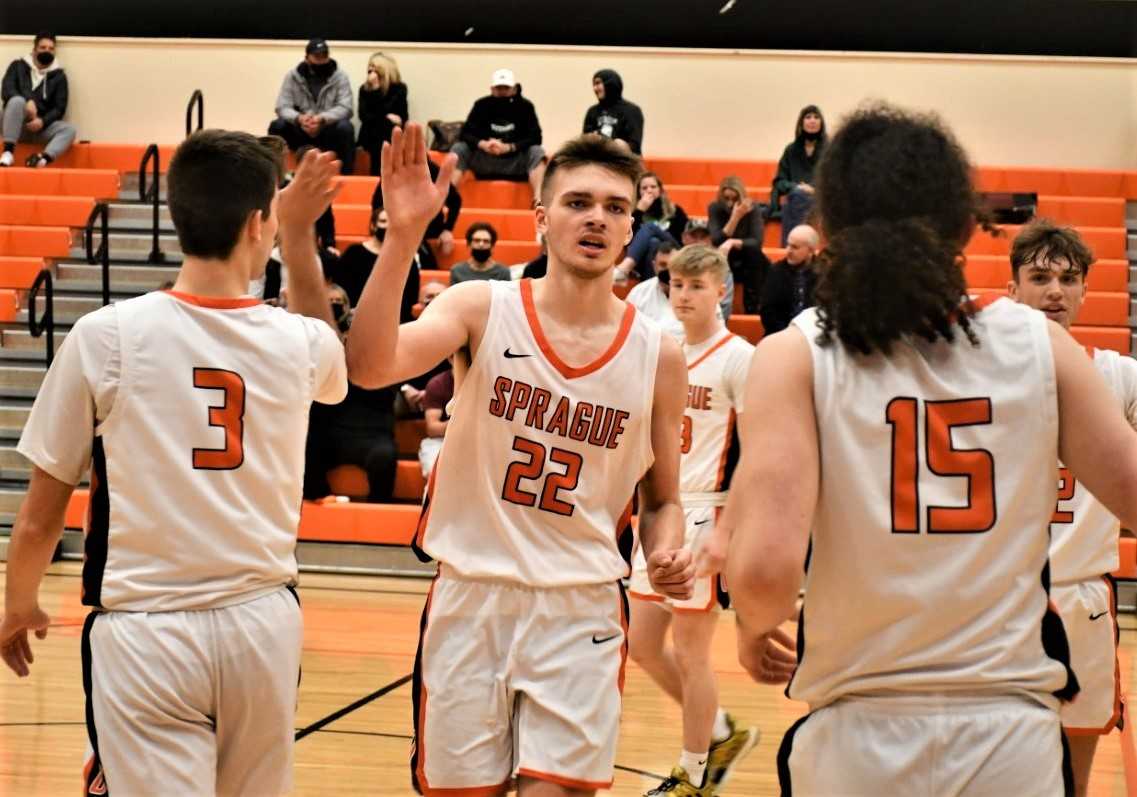 Given his steady improvement, it seemed inevitable that 6-foot-9 Sprague senior Dallon Morgan would break out in a big way at some point this basketball season.
It finally happened Friday when Morgan exploded for 40 points in an 88-68 win at South Salem. He made 5 of 10 three-point attempts and had his way inside against the Saxons.
"He really had everything going," Sprague coach Jordan Graneto said. "The first quarter, he had a couple of run-out dunks and a couple three-pointers, and he really got going. We kept hitting him on the block, and even with two or three guys collapsing on him, he'd find a way to slither to the basket and score.
"He just kind of dominated the game completely from start to finish."
Morgan, a fourth-year starter, is averaging 22.6 points, 10.5 rebounds and 3.0 assists for the Olympians (9-4, 3-0 6A Mountain Valley Conference).
Last week, he had 22 points and 16 rebounds as Sprague opened conference play with a 63-45 win at Bend. Tuesday night, he scored 30 points to lead the Olympians to a 73-45 win over West Salem (10-2, 2-1), ending the Titans' eight-game winning streak.
He also scored 29 points against Tigard and 28 points against Liberty in nonleague games.
"He gets better every single week that I've seen him," Graneto said. "I think he's really coming into his own. He's really improved, even from the start of this season. He's really unselfish. He's a complete all-around player."
Morgan played mostly on the perimeter as a skinny 6-7 freshman, showing promise as a shooter and passer. As he has gained strength and athleticism, he has become more effective inside.
"This is the first year I feel like he's filled out his frame a little bit more," Graneto said of Morgan, who averaged 19 points and nine rebounds as a junior. "He's noticeably a lot stronger than last season. When he gets those double-teams now on the block, instead of having to pass, he's able to overpower people and score."
Opponents can't afford to lose track of Morgan at the three-point line. He is shooting 43.3 percent from behind the arc (42 for 97), up from 35 percent as a junior.
"He has to be one of the best three-point shooters in the state," Graneto said. "That's a huge part of his game, especially going into college. He's going to have to be able to stretch the floor."
Morgan received his only scholarship offer, from Division I Montana State, as a sophomore. Graneto said that Division II schools Seattle Pacific and Alaska Anchorage have inquired about Morgan in the last month.
Morgan will need to improve his footwork at the next level, according to Graneto.
"He's probably a '4' in college, so he'd have to be able to guard on the perimeter," Graneto said. "That's something that he's gotten a lot better at since last year. But it's going to take some time to get a lot stronger and be laterally quick to defend at a really high level."
Grant upends West Linn
Co-No. 10 Grant got a much-needed boost of confidence Monday by beating No. 2 West Linn 55-52 in the MLK Showcase at Franklin High School.
"We played exceptionally well," Generals coach Robert Key said of the nonleague win over the previously unbeaten Lions (8-1). "We made big plays down the stretch."
Junior wing Adrian Mosley and senior wing Andre Lawrence scored 15 and 14 points, respectively, to lead Grant. It was the third consecutive win for the Generals (9-2) since they blew a 20-point, first-half lead and lost to Lincoln 82-68 in a 6A Portland Interscholastic League game.
Grant led West Linn by six points at half, but the Lions outscored the Generals 23-11 in the third quarter to lead 41-35. Lions junior point guard Jackson Shelstad scored 11 of his game-high 19 points in the quarter.
But Grant dominated the fourth quarter, stretching the lead to 10 points with two minutes left and holding off a late rally. Mosley scored seven points and senior Cole Bernius and junior Marcus McKinney had five points each in the quarter.
"Every set we ran in the fourth quarter, they executed very well," Key said.
The defense of Mosley was instrumental in holding down the Oregon-bound Shelstad, who entered averaging a 6A-high 28 points per game. Shelstad had four points at halftime, and after getting loose in the third quarter, managed only four free throws in the fourth quarter.
"Adrian wanted that challenge," Key said. "His awareness of where he was on the court … he shadowed Jackson pretty much the whole game."
The Generals played without senior guard Jae'sean Pete, who missed his third consecutive game after suffering a sprained ankle in the first half against Lincoln. Without him, Lincoln outscored Grant by 29 points in the second half.
"The kids felt really bummed about that loss," Key said. "Before Jae'sean got hurt, he was a huge difference in that game, as a point guard, handling the press. We missed him a lot in that second half."
Key said Pete could return to action this week. Grant, which is 4-1 in the PIL, is home to play No. 7 Cleveland (8-2, 2-0) on Wednesday before visiting No. 3 Roosevelt (8-2, 1-0) on Friday in pivotal league games.
Falcons snap Wilsonville streak
No. 10 La Salle Prep ended No. 1 Wilsonville's 77-game winning streak in the 5A Northwest Oregon Conference on Tuesday night.
Junior Finbar O'Brien made four three-pointers and scored 20 points as the host Falcons edged the Wildcats 53-51, handing them their first conference defeat since they lost to Liberty on Jan. 15, 2016.
La Salle Prep nearly ended the streak last season but Wilsonville's Riley Scanlan hit a buzzer-beating three-pointer for a 47-46 home win. This time, the Falcons led by seven points in the final minutes and held on as the Wildcats (11-2, 1-1) missed a three-quarter-court heave at the final buzzer.
"It's something that since Day 1 everbody in this program has been pointing to," second-year La Salle Prep coach Sean Kelly said. "Wilsonville is basically the measuring stick. For these guys to compete like they did for 32 minutes, was honestly inspiring. It was a tremendous defensive effort by our guys.
"It really shows all the hard work the team has put in is paying off."
Senior Keean Edeline scored 11 points and junior Nick Robertson added eight points and 15 rebounds for La Salle Prep (5-4, 1-0). Kelly also lauded the play of junior point guard Cade Jansen.
"He played really well," Kelly said. "He's like the Energizer Bunny. He doesn't get tired. He's like a floorburn. He's a throwback to guys that just play hard."
3A showdown
No. 1 Westside Christian remained unbeaten by holding on to defeat No. 3 Cascade Christian 59-54 in a 3A showdown in the MLK Showcase at Harrisburg High School on Monday.
Senior guard Kamir Hodge scored 15 points to lead the Eagles (12-0), who also got 14 points from senior guard Eli Lerman and 11 points from senior guard Jaymeson Ye.
Westside Christian led by 15 points late in the third quarter before Cascade Christian came back behind 6-11 sophomore Austin Maurer, who finished with 32 points, a school-record 23 rebounds and four blocks.
The Challengers (9-4) took a one-point lead on a three-pointer by sophomore guard Cannon Anderson with 32 seconds left. On the ensuing possession, Cascade Christian was called for a foul away from the ball, and after Challengers coach Brian Morse was assessed a technical foul, the Eagles made four consecutive free throws for a three-point lead.
Westside Christian retained possession after the technical foul and added two more free throws to go up by five.
Senior guard Cody Reece added 12 points for Cascade Christian.