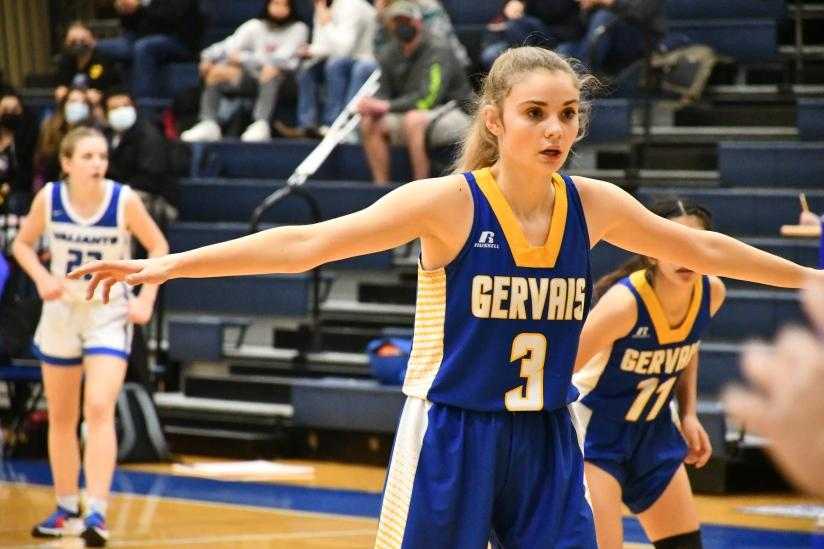 The loss of four starters from a team that went undefeated and won the 2A culminating week tournament last season seems to have had little effect on Gervais girls basketball.
After dropping two games early in the season, the Cougars have climbed to No. 1 in the OSAAtoday 2A coaches poll. They take an 11-game winning streak into Friday night's home game against Western Christian.
"We're playing with a lot of energy," coach Kyle Buse said. "This is the group that kind of pushed our starters last year, so they're just kind of happy to have it be their time, and they're taking advantage of it."
Senior guard Mayra Perez is the only starter back from last season, when Gervais went 12-0 and defeated Tri-River Conference rival Salem Academy 49-41 in the final of the culminating week tournament. Among the four starters that graduated were Araceli Vasquez and Katie Hanson, who have moved on to play at Chemeketa and Lower Columbia community colleges, respectively.
The four first-year starters – junior point guard Sofia Contreras, sophomore wing Olivia Boyd, junior wing Ava Sellers and junior post Izzy Boyd – have thrived in their roles.
"They realize this is their time to take on high responsibility," Buse said. "The excitement from last season was unique. Coming into this season was a new challenge."
The Cougars (12-2, 4-0 Tri-River) dropped two of their first three games, falling to 3A No. 1 Willamina 41-29 and 1A No. 3 Country Christian 41-38, as they adjusted to the new lineup.
"I knew it was going to take a little bit of time," Buse said. "I think it took a couple early-season losses to right the ship. I would rather have them then, and have us learn, so that we can have the success that we're having now."
Gervais got a confidence-booster Dec. 11 when they won at Salem Academy 51-36 in the conference opener. Salem Academy, which played without post Aly Herber and wing Dylainee Carmony, was No. 1 in the coaches poll at the time.
"It was one of those season-defining games, just because of how early we had to play a league opponent," Buse said.
The highlight of Gervais' season so far, according to Buse, is winning the Crusader Classic at Salem Academy during the holiday break. The Cougars defeated 6A North Medford 49-32, 3A No. 2 Sutherlin 41-39 and Country Christian 54-51.
The North Medford game was the first time Gervais has played a 6A team.
"Just the fact of a 2A playing a 6A school, we haven't experienced that, so that was special for us," Buse said.
The win over Country Christian in the tournament final was payback for early in the season.
"They were super excited to get another chance at Country," Buse said. "We had motivation there for the revenge game. A lot of emotion came out that week."
Gervais showed its character Wednesday with a 43-31 overtime win at No. 7 Colton in a Tri-River game. The Vikings forced overtime on a buzzer-beating three-pointer by Olivia Haines-Hooker, but Sellers hit back-to-back triples to open the extra period and the Cougars pulled away. Olivia Boyd had a season-high 16 points in the win.
"Colton is feisty and they protect their home court very well," Buse said. "It was an excellent game."
Olivia Boyd and Izzy Boyd lead Gervais in scoring, averaging about 10 points per game, and Sellers has been heating up of late with her outside shot. With their offense a work in progress, the Cougars have been leaning on their defense.
"We depend on our defense to turn it into offense," Buse said.
Gervais won state titles in 1988 and 1994, the school's last official state championships in any sport. The Cougars were thrilled to win the culminating tournament last season – an unofficial state title – and have their eyes set on the big prize this season.
"I know the girls are aiming for it," said Buse, who is in his seventh season as coach. "They always talk about how they want the bracket. Last season, there was no bracket to bring home.
"They would love to bring another one to our gym. They see the ones from the late '80s, early '90s, and it's motivating for them. After what happened last season, they're definitely chasing that."