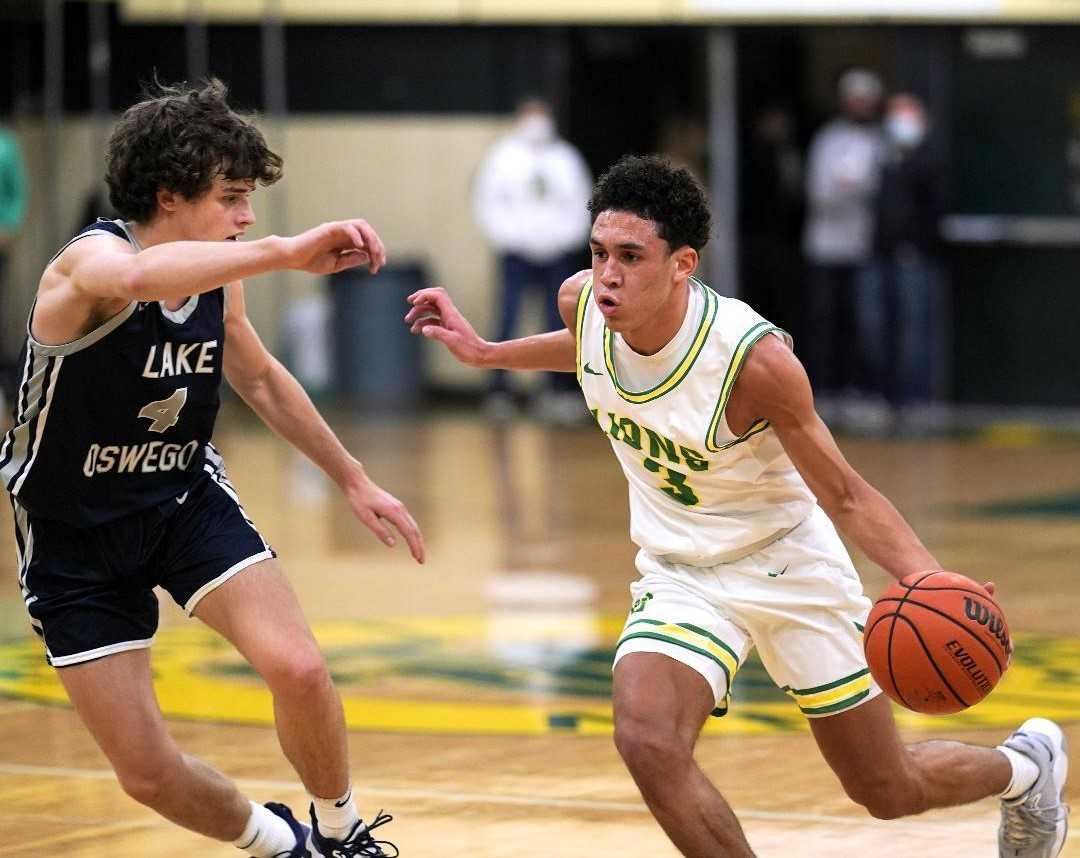 WEST LINN – The way the boys basketball season has gone so far, it's been hard for West Linn to get a game, let alone find a challenge.
The second-ranked Lions got both on Wednesday night at home against rival Lake Oswego, which forced them to dig deep for an 80-77 win in the 6A Three Rivers League opener for both teams.
Junior point guard Jackson Shelstad scored a season-high 35 points, including the go-ahead basket with six seconds left, as West Linn (6-0) held off the scrappy Lakers (4-9) after letting a 14-point, third-quarter lead slip away.
The Lions, who missed six games in December due to COVID issues, have played a 6A-low six games this season. And when they have been able to practice, they have been severely shorthanded.
"We're rusty," West Linn coach Eric Viuhkola said. "We just haven't had enough live action. We're getting there. That's the best I've seen Lake Oswego play all year. They played really, really well, really poised."
It was the kind of game West Linn can use to shake off the cobwebs.
"For sure," said Shelstad, who also had six assists, five rebounds and two steals. "We've won every game by like 20, 25, so to get tested by LO is something that we really needed. We haven't had anything like that."
West Linn led 64-50 late in the third quarter when Lake Oswego began its comeback behind senior guard Carson Reno and 6-foot-6 freshman forward Winters Grady.
Reno made a three-pointer to put the Lakers ahead 75-74 with 2:24 left, and after the Lions went up 76-75 on a putback basket by senior Zeke Viuhkola, Grady hit a short jumper in the lane for a 77-76 lead with 1:40 remaining.
The Lakers had a chance to add to their lead when Reno stepped to the free-throw line for a one-and-one opportunity with 20 seconds left, but he missed the front end, the Lions rebounded and Shelstad drove for a score to make it 78-77 with six seconds left.
"Coach V ran a play that we've been working on, just for me to get to the hoop," Shelstad said. "I was kind of in a rhythm, I was getting to the hoop pretty often, so I just felt comfortable. I made a move on my guy and got to the rim."
After Shelstad's hoop, Reno pushed the ball hard down the court and lost his balance in the lane after bumping into Zeke Viuhkola. He fell to the floor and was called for kicking the ball with one second left, giving the ball back to West Linn. Shelstad added two free throws with 0.2 seconds left for the final margin.
Lake Oswego coach Marshall Cho lamented the missed opportunity.
"Obviously, we had a chance to win it, but they've got the best player in the state with the ball on the other end on an isolation, and that's pretty hard," Cho said. "Credit to them, but I was proud of our guys."
The 6-0 Shelstad, who had 26 points in the second half, increased his season scoring average to 28.2.
"Jackson's big-time," Eric Viuhkola said of Shelstad, who has committed to Oregon. "We're really challenging him about that, having that mentality of, you have to be 'on' all the time. I feel like any time any team plays us, it's 'Jackson Shelstad,' and he gets everybody's best effort. He just has to match that intensity. Sometimes he can get away with it because he's just so super talented."
Shelstad showed his deep shooting range, making three three-pointers, as well as athleticism and strength in finishing at the rim. Eric Viuhkola has compared his playing style to Allen Iverson.
"He's wiry strong," the coach said. "He's a really good passer, he's just such a great scorer. I think that's why I kind of compare him to Iverson, he's got more of a scoring mentality than your classic point guard. But that's the way the game is going. I wouldn't trade him for anybody."
Zeke Viuhkola had 24 points, 10 rebounds and two steals and senior Peyton Durbin added seven assists and two steals for the Lions, who were playing without one of their starters in junior forward Mark Hamper (illness). It was their third consecutive win over Lake Oswego.
Reno and Grady scored 24 and 17 points, respectively, to lead the Lakers, who were bidding for their third win in a row after a 2-8 start.
Grady – who had a 35-point game in the Les Schwab Invitational and made the all-tournament team – missed Lake Oswego's previous game Thursday against Sumner (Wash.) due to illness and has not practiced this week. He came off the bench Wednesday and was key down the stretch, scoring 11 points in the fourth quarter.
"He's coming along," Cho said of Grady, who averages 15 points per game. "To come out and do what he did tonight in the second half, it just shows the fight that he has. He's learning from the seniors, the expectations we have in our culture, and he's only going to go up from here."