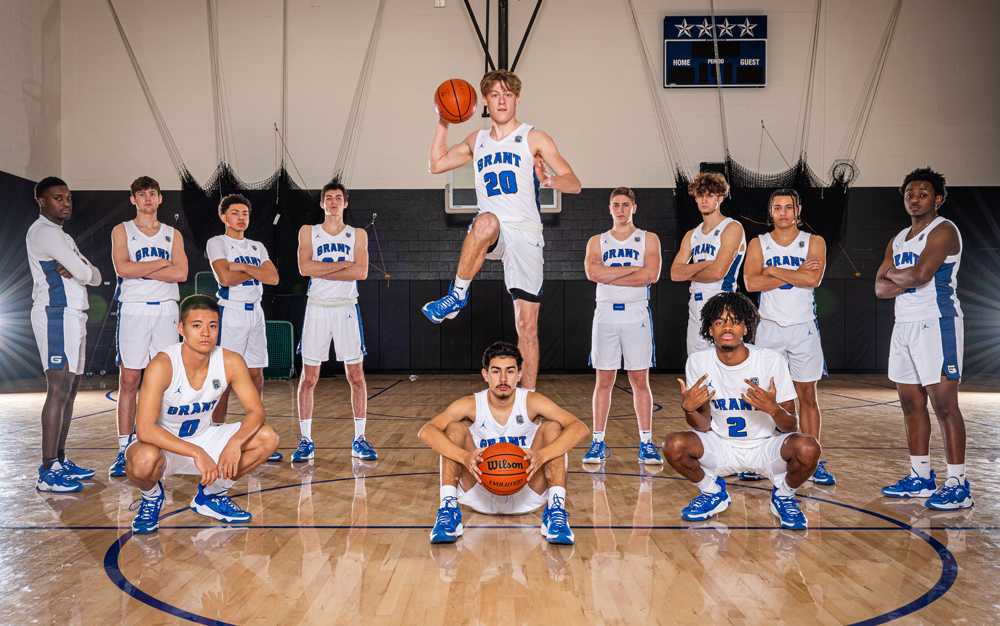 Thirteen Oregon schools, and three out-of-state schools with national reputations, are set to compete in the 25th Les Schwab Invitational, presented by Express Employment Professionals, Dec. 26-30 at Liberty High School in Hillsboro. Link Academy, No. 7 in the latest SCNext national HS rankings; and No. 12 Gonzaga College Prep of Washington, D.C. are the featured teams in the tough upper part of the bracket. Newman, the 2020 Louisiana Class III runner up; and West Linn, the top-ranked 6A school in Oregon; are the top seeds in the lower half of the bracket.
Let's look at the first-round matchups:
Link Academy (16-0) v. Tigard (6-0), Dec. 27, 6 p.m.
A new school located on the campus of Camp Kanakuk in Branson, Missouri, the Link Academy Lions are so littered with Division I talent that a top 50 senior committed to Ohio State is the team's sixth man. Head coach Rodney Perry said in local papers that having this much talent has been challenging as players who were undisputed stars at their prior schools look to play as a team in an environment designed to make transition to the next level smooth. Omaha Biliew, a 6-8 junior ranked second in the Class of 2023, is the team's top player and an inside-out threat. Combo guard Bryson Warren, the No. 18 junior in the '23 class; 6-8 senior Julian Phillips, a top 25 talent; and 6-8 senior Aidan Shaw, a top 50 talent; are others to watch. Tigard is off to a fast start in-state and recently moved into the top 10 in the 6A OSAAtoday coaches poll. The Tigers work hard and play fast. A bit on the smaller size, Tigard is led by three juniors, 6-1 point Malik Brown, 6-1 wing Kalim Brown and 6-4 win Douglas Bailey.
Jesuit (4-2) v. Churchill (4-1), Dec. 26, 3 p.m.
Jesuit won four straight to start the season, but has since dropped contests to Tualatin and Lake Oswego. The Crusaders are coached by 30-year veteran Gene Potter, who eclipsed 600 career wins earlier in December. Junior guard Isaiah Crane and senior wing Tyree Blake, one of several football players on the team, lead Jesuit, which graduated all of its starters from the spring's 10-5 campaign. Churchill had only one senior during last spring's 9-8 campaign. The Lancers, coached by Kelly Bokn, are still relatively young, but are off to a strong start behind senior guards Samaje Morgan, who stands 5-8; and Matthew Forsyth, who is 6-4.
Roosevelt (2-0) v. Gresham (1-1), Dec. 26, 7:30 p.m.
Roosevelt shared the PIL title in the spring and is favored to win it outright this season. The Roughriders return their entire starting lineup and arguably boast the most talented roster in Oregon. Coach Yusuf Leary's team is athletic, shoots it well and plays a defensive style that forces turnovers in abundance. Players to watch include 6-7 senior wing Raysean Seamster, an above the rim player who is an elite defender and can score on the inside or from deep; 6-3 sophomore point guard Terrence Hill, an elite ball handler and scorer who had multiple 30-point efforts as a freshman; 6-5 senior Donatello Tupper, another high flyer who is great in transition; and 5-10 sophomore Utrillo Morris, an elite on-ball defender. Gresham had a 12-5 spring with a very young team. The Gophers remain young, with only three seniors, the most notable being 6-4 senior Elijah Munyan, a transfer from Columbia Christian a couple of seasons back. Guard heavy, Gresham is paced by juniors Esyah Pippa-White, the reigning Mt. Hood Conference Player of the Year; and Scotty Riddle. Pippa-White averaged 22 points, seven assists and six rebounds per game last season, while Riddle is a pass first guard and exceptional on-ball defender.
Lake Oswego (1-4) v. Gonzaga College Prep (6-0), Dec. 26, 6 p.m.
Lake Oswego got off to a rough start, dropping its first four games. But the Lakers got on track Friday with a tough road win at No.4 Jesuit. When LO is going well, the Lakers will be a physical, defensive-oriented team. They will look to push the pace while remaining disciplined. The roster includes 11 seniors, led by guard Carson Reno and wing Sorena Torabi. Freshman Winters Grady, a 6-6 post, is a player to watch and a budding star. Gonzaga comes to the LSI having won two tournaments already. The Eagles, however, may be shaking off rust, as the game versus LO will be their first in two weeks. Coached by Steve Turner, who recently recorded career win No. 400; Gonzaga is led by senior point guard Devin Dinkins, a George Mason recruit; and 6-6 senior forward Quinn Clark. Both have been tournament MVPs this year. Jared Turner, a 6-8 senior, is another to watch, as are young guards Justin Gilmore and Nyk Lewis.
West Linn (2-0) v. Cleveland (4-1), Dec. 27, 4:30 p.m.
West Linn went 9-0 during the Covid-delayed spring season and has started 2-0 this season, both wins coming versus out-of-state competition. The Lions are led by junior point guard Jackson Shelstad, an Allen Iverson play-alike widely considered the state's top prospect. Senior wing Zeke Viukhola, athletic senior post Payton Durbin and rugged junior guard Mark Hamper are other players to watch on a West Linn team that will defend 90 feet and knock down a high percentage of its shots from long distance. Cleveland is undefeated so far against in-state opponents. The Warriors run a fast-paced offense from inside-out and are a scrappy, disciplined defensive team. Players to watch are 6-2 senior guard Lawson Vella, 6-6 junior forward Jackson Cooper and 6-5 junior wing Christian Green.
Central Catholic (1-1) v. Beaverton (3-0), Dec. 27, 3:00 p.m.
Central Catholic returns just three from last spring's squad but two are 6-8 forward Luke Johnson and 6-1 Aidan Slater, who combined to average 28 points per game for the Rams. Johnson was a First Team All-Conference performer as a junior while Slater is a big-time threat from beyond the arc. Others to watch include freshman guard Isaac Carr, 6-4 sophomore Marley Zeller and two football stars for the 6A state champs, Riley Williams and Jordan King, who missed the Covid season due to injury. Beaverton returns seven from last year's Covid-shortened 12-2 spring campaign. The Beavers will play fast and hard, will look to push the ball upcourt and play inside-out in half court sets. Tre Hamilton, a 6-2 senior point guard, is a charismatic leader who set the 6A standard in steals and assists last season. "He has the ability to take over a game without having to score the ball," noted head coach Andrew Vancil. Others to watch include sharp shooting wing Brady Rice, a 6-3 junior; and 5-10 sophomore southpaw Max Elmgren, an explosive athlete with deep, deep range. "We are going to be a tough team to beat," Vancil said. "It is a fun group that has good chemistry."
Grant (2-1) v. Tualatin (6-0), Dec. 26, 4:30 p.m.
Grant went 14-3 in the spring, showing off a defensive style that limited opponents to 41 points per game. The Generals, who return everyone but their point guard, will press full court and then man up in the defensive zone. On offense, Robert Key's team wants to play fast and will do so behind experienced veterans Adrian Mosly, 6-3 junior wing; Max Von Arx, a 6-3 senior wing; Jae'sean Pete, a 5-9 senior point guard; and Andre Lawrence, a 6-2 senior wing. Watch out for crafty newcomer Vashon Hardges, a 6-2 sophomore guard. Tualatin has beaten Jesuit, Barlow and Jefferson PDX as part of its 6-0 start. The Timberwolves, who were 11-5 in the Covid year, including a culminating week loss to Grant; are very athletic and confident after several of their standouts helped the football team reach the 6A finals. Seniors Malik Ross and Noah Ogoli and juniors Jack Wagner and Ryan Schleicher are players to watch.
Barlow (3-2) v. Isidore Newman (11-4), Dec. 27, 7:30 p.m.
The Barlow Bruins were 12-5 in the spring and return several key pieces from that team. That should make veteran coach Tom Johnson's squad a contender in the Mt. Hood Conference this year. A smart team that will execute and not beat itself, look for established play maker Connor Hills, a 5-8 senior, to man the point, with brothers Nathan Jones (6-3 senior forward) and Jesse Jones (6-4 senior post) establishing a formidable presence in the paint. 6-2 senior forward Kaleb Gonzalez is another to watch, as is standout 6-1 freshman Jalen Atkins, who is coming off of a broken foot. Newman is coached by former NBA guard Randy Livingston and is currently best known as the home of Arch Manning, the top-ranked junior QB in the nation. The 6-4 Manning plays on the Greenies' basketball team as a role player. The standouts are Canin Jefferson, 6-0 junior point guard; Chris Lockett, 6-4 junior guard; and Austin Montgomery, 6-5 senior forward. All are double-digit scorers. Another to watch is 6-8 sophomore forward Todd Jones.