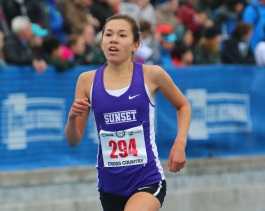 The cross country season has been a mixed bag for Sunset junior Lucy Huelskamp.
Firmly established as one of the state's top distance runners, Huelskamp started strong but her improvement curve flattened last month when she came down with a virus on the day of the Meriwether National Classic on Sept. 21.
Huelskamp fought through it to finish first in the 32-team event, but the impact of the illness lingered.
She still managed to be the No. 2 Oregon finisher in the Danner Championships on Sept. 29, behind Summit junior Fiona Max. And she placed fourth at the Warner Pacific Classic on Oct. 13, after Lincoln senior Kyla Becker, Max and Summit freshman Teaghan Knox.
"I think her results would be different, that's for sure," Sunset coach Dan Neeway said. "At Warner Pacific, she didn't respond to the mid-race move. She was pretty disappointed afterwards.
"The sickness has kept her from being at her best. She's has trouble rebounding from it."
But there is plenty of reason for optimism as Huelskamp prepares for the 6A Metro League district meet Wednesday at Tualatin Hills Recreation Center. She has regained strength and is looking impressive, beating the reigning state champion, Jesuit senior Makenna Schumacher, by 19 seconds in a Metro meet last week.
"She's in good shape," Neeway said of Huelskamp, who placed fifth in the 6A championships as a freshman and sixth as a sophomore. "We've kept a lot of data, and she's as fit as anybody we've had run here, or fitter. By all indications, she's ahead of where she was last year."
Huelskamp's best time this season is 17 minutes, 34.8 seconds, which is third in the state behind Becker (17:24.4) and Max (17:28.6). She has yet to match her personal best of 17:27.7, set at the district meet last year, but she should make a strong run at it Wednesday.
"The district meet is a road race. That's where all the kids run their fastest times," Neeway said. "So we're hoping and expecting that she would be able to be better than she was last year on the same course."
Huelskamp has finished as district runner-up to teammates the last two seasons, in 2016 to Ember Stratton and in 2017 to Kelly Makin (2017), who is now at Washington. She also finished second in both distance races at the state track meet last spring, behind Schumacher in the 3,000 and Makin in the 1,500.
"I think she wants to win," Neeway said. "And she wants to make other people work really hard to beat her. I think the only person she seeks to compare herself to is herself. She's got really good perspective."