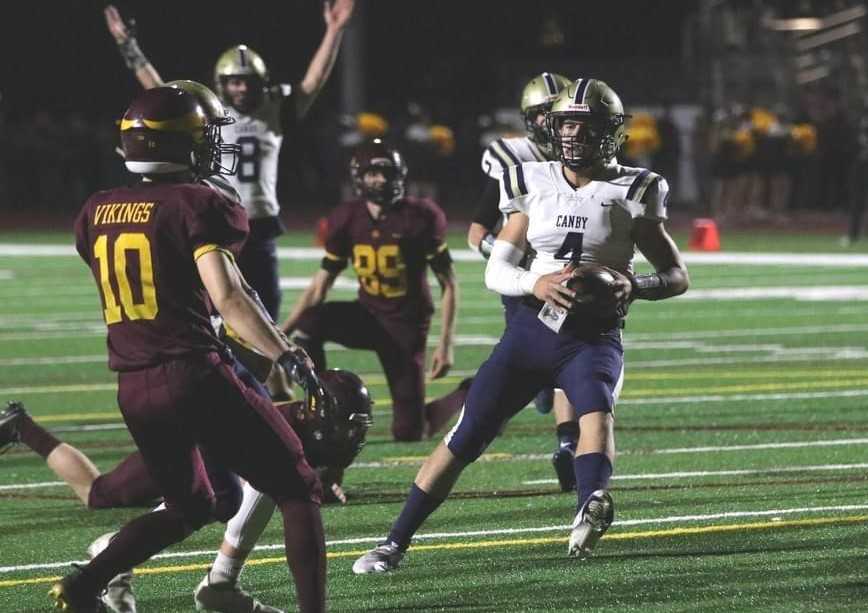 There was a time, not long ago, when playoff football was a way of life in Canby.
The Cougars appeared in the big-school playoffs 27 times in a 33-season span that ended in 2014, winning 40 playoff games and playing in seven state semifinals.
After that, though, Friday nights in November went dark in Canby. The Cougars struggled to compete in the rugged Three Rivers League, failing to qualify for the 6A postseason for five consecutive years. At one point, they lost 22 in a row.
But the lights were back on at Canby last week as the Cougars – who moved to 5A in the spring – defeated Lebanon 37-7 in a first-round game. And the excitement will amp up to another level Friday when No. 4-seeded Canby (8-2) plays host to a quarterfinal against No. 5 Thurston (8-0), the two-time reigning 5A champion.
"This is what we talked about from the moment we made the decision to go 5A," third-year Canby coach Jimmy Joyce said. "We were given the opportunity, and we felt like it would benefit our school and our program. This is the kind of things we were looking forward to, playing into November against great teams like Thurston."
With a win, Canby would make the semifinals for the first time since 2013. It's new territory for a fresh crop of Cougars, who needed to adjust to the playoff intensity in the first round.
"None of these kids have ever played in a playoff game before," Joyce said. "We told them that November is different than October. Everything is amplified more. And I thought they handled it really well."
Canby has a massive task Friday, however, in facing Thurston, which hasn't lost to a 5A team since 2018. In the final OSAAtoday 5A coaches poll, the Colts were third and the Cougars fifth.
"They've been the standard-bearer in 5A for three years, maybe longer," Joyce said. "They have tremendous athletes."
Canby has 5A's leading rusher in sophomore Tyler Konold, who has run for 1,515 yards and 18 touchdowns. The Cougars also have a dangerous dual-threat quarterback in senior Mikey Gibson, who passed for 132 yards and one touchdown and ran for 69 yards and one score in the first round.
Thurston's backfield features speedy senior Gavin Knights and 6-foot, 205-pound senior Brycen Indell, who ran for 172 yards in a 31-2 first-round win over Ridgeview. The Colts split time at quarterback between senior Alex Boring and junior Darien Witham, who have combined for 18 touchdown passes.
The game will include two of the state's premier tight ends in Thurston senior Jacob Newell (6-5, 230) and Canby senior Jacob Strand (6-6, 260), who have committed to Arizona State and Oregon State, respectively.
"We're going to ask Jacob Strand to take on a really important role this week, blocking probably some of the best talent he's going to see until he gets to Oregon State," Joyce said. "It's going to be a great opportunity for the likes of Tyler Konold, who have aspirations to play high-level college football, to match up against some kids who are going to play high-level college football.
"If you love football, it's going to be a good game."
Canby lost to No. 3-seeded West Albany 17-14 in Week 2 and No. 1 Wilsonville 38-12 in the regular season finale. Joyce said the loss to the Wildcats in the Northwest Oregon Conference title game was a learning experience for the Cougars.
"It just came down to a lesson in what playoff football is all about," Joyce said. "Wilsonville is used to going deep in the playoffs. They're used to that big game, and frankly, we haven't been in a big game since I've been here.
"I think the kids now have a belief. When I got here three years ago, our goal was just to win a game. Now winning is no longer a goal, it's an expectation."
A glance at other top matchups in the second week of the playoffs:
Friday
6A
No. 9 Jesuit (9-1) at No. 8 Clackamas (10-1), 7 p.m.: The Crusaders, who have won nine in a row since opening with a loss to West Linn, get a big test against a Clackamas team that has lost only to undefeated Central Catholic. Jesuit sophomore Jacob Hutchinson has thrown 13 of his 14 touchdown passes in the last five games.
No. 14 Westview (9-1) at No. 3 Tualatin (9-1), 7 p.m.: The game will feature two 1,000-yard rushers in Westview junior Jordan Fisher and Tualatin senior Malik Ross. Fisher ran for 294 yards and six touchdowns against Barlow last week.
5A
No. 11 Dallas (6-4) at No. 3 West Albany (9-1), 7 p.m.: A rematch of a Week 3 Mid-Willamette Conference game, won by West Albany 21-9. Dallas has won five of its last six games, including a 7-6 first-round win at Pendleton.
4A
No. 7 Marist Catholic (8-2) vs. No. 2 Cascade (10-0) at Scio HS, 7 p.m.; Cascade, averaging a 4A-high 55.2 points with its dominant running game, meets the explosive Spartans, who are averaging 44.4 points behind Carter Greene (24 touchdown passes) and Lucas Tuski (1,140 rushing yards, 21 touchdowns).
3A
No. 8 Cascade Christian (5-3) at No. 1 Siuslaw (9-0), 7 p.m.: When the teams met in a Special District 2 game Oct. 1, Siuslaw rallied from a 10-point, fourth-quarter deficit to win 38-34. Cascade Christian, the 2017 state champion, will be looking for payback.
2A
No. 12 Jefferson (7-3) vs. No. 4 Coquille (7-1) at North Bend HS, 7 p.m.: Jefferson, which beat Knappa 12-6 in the first round for its first playoff victory since winning a state title in 1965, meets a Coquille team that has yet to lose on the field this season. The Red Devils defeated Jefferson 50-24 in 2019.
No. 5 Bandon (8-3) at No. 3 Lakeview (9-1), 7 p.m.: The Honkers, who won at Bandon 26-20 in a Special District 4 game Sept. 25, need to beat the Tigers again to reach the semifinals for the first time since back-to-back appearances in 2007 and 2008.
1A-8
No. 5 Waldport (8-1) at No. 4 Lost River (9-1), 7 p.m.: It's been a magical season for Waldport, which has reached the quarterfinals for the first time going in 1977, 1978 and 1979. Now the Irish, averaging 58.7 points per game, go up against a Lost River defense that has held five of its last six foes to single digits.
No. 6 Crane (8-2) vs. No. 3 St. Paul (9-1) at Woodburn HS, 7 p.m.: St. Paul, the state runner-up in 2018 and 2019, is bidding for its fourth consecutive semifinal appearance, but it won't be easy against a tough Crane team that has lost only to top-seeded Adrian and No. 2 Powder Valley.
Saturday
4A
No. 5 Mazama (8-2) vs. No. 4 Banks (9-1) at Beaverton HS, 1 p.m.: In the spring, Mazama drilled Banks 38-0 on its way to winning the 4A Showcase title. It's a good bet that the Braves, who won the state title in 2018 and were runners-up in 2019, haven't forgotten.
3A
No. 5 La Pine (6-3) vs. No. 4 Warrenton (7-2) at CMH Field, Astoria, 1 p.m.: Warrenton, a 2A quarterfinalist in 2019, moved back to 3A in the spring and now is going for its first semifinal bid since 2001 and 2002. La Pine has won four in a row since a 2-3 start that included losses to Vale, Henley and Siuslaw – all still alive in the playoffs.
1A-6
Mitchell/Spray/Wheeler (9-0) vs. Triangle Lake (5-2) at Sisters HS, 1 p.m.: The teams won semifinal games last week to advance to the six-man final. No team has come closer than 14 points against Mitchell/Spray/Wheeler, which thumped previously unbeaten Powers 53-13 last week.