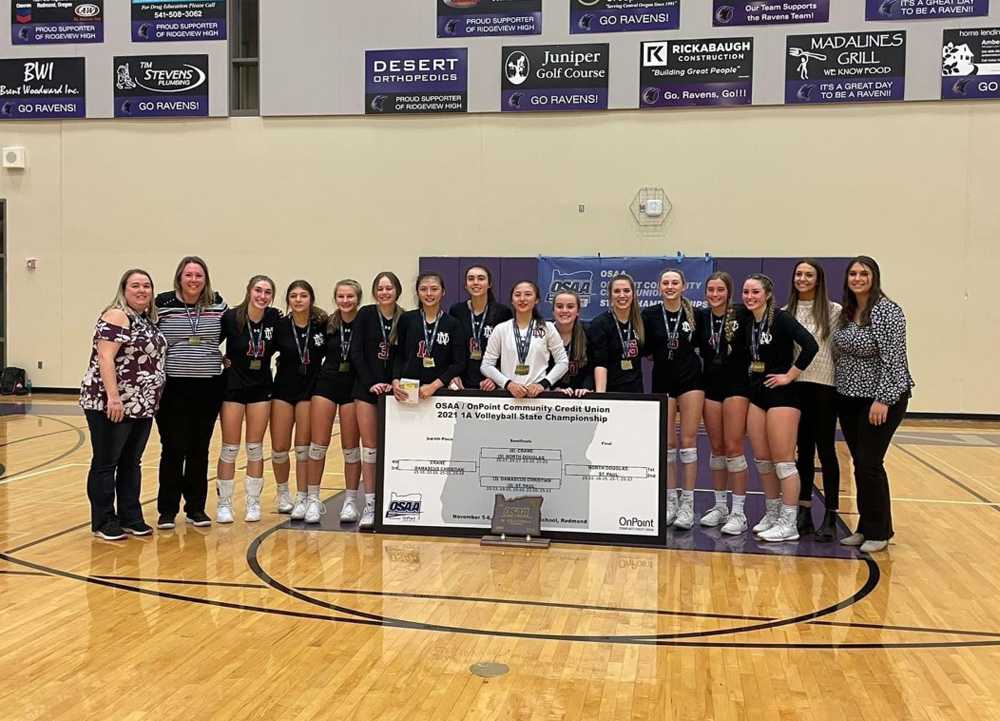 St. Paul was the No. 1 seed and the reigning 2018 and 2019 1A state champions.
North Douglas had come home with state hardware three times over the past four championships, but the blue trophy for first place had so far eluded the Warriors, who finished second in 1984 and again 32 years later.
Saturday at Ridgeview High School, North Douglas (27-3) finally sealed the deal, devastating St. Paul (31-4) over the final two sets on its way to a 25-22, 18-25, 25-7, 25-17 victory. Tremendous team defense combined with a whopping 18 aces told the story of the match.
"This was an amazing win for our girls, school, fans, and community," said coach Emily Reed, who's been coaching a majority of the Warrior squad since they were sixth graders. "This was the goal that we had set for ourselves at the beginning of the season and I am proud of their effort and sacrifice to make it happen!"
St. Paul, seeking its third state title in a row, opened quickly Saturday afternoon, grabbing a 5-1 lead to open the first set. The Buckaroos got to kills from Annabelle Davidson and a Siena Garstka ace as coach Les Hiller's team tried to set the tone for the match.
North Douglas surged to tie up St. Paul at 8-8, thanks to an ace from setter Samantha MacDowell, a player Reed called "our glue that held us together with her setting and leadership."
The teams traded leads for the next 20 points until a St. Paul service error and ace from Asia Ward helped North Douglas go up 21-18. St. Paul fought back and used a kill by Halsie Hempfling and a kill and ace from Stela Koch to draw even at 22-22. A St. Paul hitting error put the Warriors back on top once more and two more failed Buckaroo attacks closed out the set in North Douglas' favor.
St. Paul, which played its best match in rallying from behind to overcome Damascus Christian in a five-set Friday semifinal, won the second set, 25-18, thanks to two 5-0 Buckaroo runs. Stella Koch and Gracie Koch, who finished with six aces combined, both had spaders during those runs.
The match turned in North Douglas' favor for good at 5-5 in the third. Asia Ward delivered the go-ahead kill, then went behind the service line and produced five more points, including an ace. Brooklyn Williams and Halli Vaughn also had long serving runs as the Warriors scored 20 of the final 22 points. Vaughn had five aces during her set-closing serving streak, including acing for the final four points in the decisive win.
North Douglas' momentum continued into Game 4. The Warriors used two kills from Asia Ward and one from Brooke McHaffie to open a 5-0 lead. North Douglas extended its lead to 14-4 on an Asia Ward ace and made it 20-9 on a MacDowell service winner. St. Paul did not give up and scored seven of the next nine points, showing its championship mettle, before North Douglas closed out the match and made possession of the blue trophy for the first time a reality.
St. Paul finished with match hitting .050, garnering just 30 kills on 121 attacks.
"North Douglas played incredible defense," Hiller said. "Their momentum was hard to slow down."
Davidson and Stella Koch led the Buckaroos with nine kills apiece. Stella Koch also had 12 digs and five blocks in earning Player of the Match honors for St. Paul. Ainsley Goughnour had 16 digs to lead a quartet in double figures in that category. Gracie Koch had 26 assists.
"Our team worked every day to improve and to play our best match; unfortunately, we played it on Friday," Hiller said, "The third set, the exhaustion from our Damascus win the night before started to show. Although our run at the end was too late, our team fought back until the last point, and we were still very proud to make the finals again."
Asia Ward, who had nine kills on 18 swings, hitting .444, and added 11 digs and five aces, was named Player of the Match for North Douglas. MacDowell contributed 29 assists, 13 digs, four kills and two aces. Vaughn had nine kills and six aces. Williams recorded eight kills, eight digs and three aces. McHaffie chipped in with seven kills and five blocks. Cyndi Dill had six kills and 12 digs, and Lailah Ward amassed 11 digs and two aces.
"Our dominant performance in the third set definitely gave us a lot of energy and momentum moving into the final set," Reed said. "The girls worked together so well tonight and followed our game plan exactly."