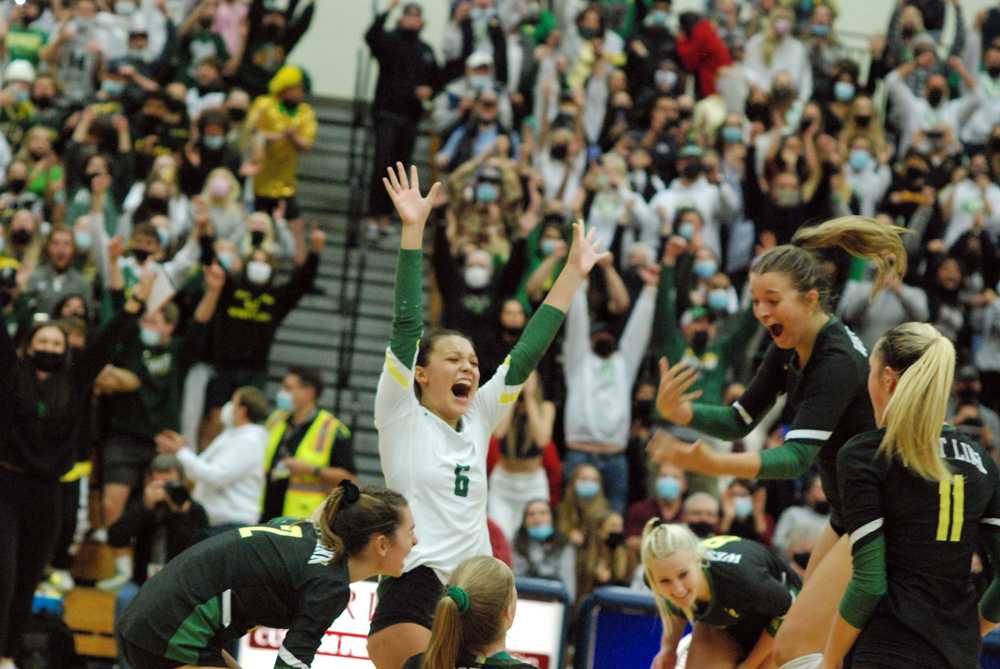 It's quite a task to defeat a team like Jesuit three times in one season.
West Linn, which defeated the 2018 and 2019 6A champion Crusaders in tournament games this fall at the Clearwater Classic and in the championship match at the West Linn Tournament, talked about it as a team before Saturday's 6A final. The coaches were nervous; the players wary.
"We were expecting a real big fight but were ready to do whatever it takes," said senior middle Ella Nordquist.
The Lions not only did not bat an eye; they played their best match of the season in throttling Jesuit, 25-16, 25-21, 25-20, for their first state title since 2007.
"I feel like it was pure determination tonight," said senior setter Shealyn Cecil. "The drive to get the Gold is what pulled us through."
"It's a super surreal feeling to win a championship," said fifth-year head coach Emilie Wilmes. "All the hard work has paid off."
West Linn was the better team on attack, its block was massive, its defense behind the block resolute. The Lions had Cecil, the Player of the Match, setting with experience and intelligence, establishing the middles early before moving to the pins for one-on-ones so that hammers Emily Warmenhoven and Addie Hoover could do damage. They played with energy, played tall at the net and super-fast in the back row. So many Lions had career days…Cecil was brilliant, libero Audrey Shih courageous, DS Olivia Doel an asset on defense and behind the service line…that winning was inevitable. Jesuit simply had very little open space to operate and was under constant pressure to be perfect to hang in.
Jesuit, which has a Division I middle in 6-3 senior Tess Masingale and two live-armed outsides in Ce'Anna O'Loughlin and Izzy Patterson, hit just .034 for the match. The Crusaders' "big three" finished with 24 kills but needed 97 swings to do so and made 16 errors along the way.
By contrast, West Linn's "big three" on this night of Warmenhoven, Hoover and Nordquist teamed for 32 kills on 75 attempts against 12 errors. The Lions hit .211 on the evening, had many more blocks and 10 more digs than the Crusaders, who are known for their defense. It was a complete win.
"They're pretty solid in every position and had quite a bit of experience coming here," noted Jesuit head coach Teresa Zimmerlee. "A lot of those kids were playing the last time we actually had a tournament."
Jesuit won the first point of the match, as a perfect dig from senior libero Maisie Alexander helped freshman Jackie Carle deliver the right tempo set to O'Loughlin for the impressive putaway. West Linn scored eight of the next 11 points to establish its superiority. Hoover had two kills from the right side, Nordquist scored on the quick attack and fellow middle Rayna Reynolds had a two-handed tap and a MASSIVE block during the run. A service error pulled Jesuit within three at 8-5, but that's as close as the Crusaders would get. A four-point run, sparked by two kills and a block from Warmenhoven, upped West Linn's lead to 13-6.
Jesuit (27-3) would get just one kill, a flat-footed effort from Masingale, the rest of the way. There simply was no room to hit. Shih, Warmenhoven, Hoover, Cecil…they were everywhere! Cecil's sweet dump at 23-16 gave the Lions set point. A tandem block from Nordquist and Warmenhoven one point later completed the nine-point victory.
Game 2 showcased all of Cecil's many skills. A three-rotation setter in the spring, the senior showed off her great athleticism in bettering every ball and her intelligence in making sound setting decisions. Masingale came alive in the set for Jesuit and the 'Saders got terrific production from their outsides, but the Metro League champs could not hold a lead that got as big as five at 12-7. Cecil found Nordquist and Reynolds for a total of three kills and the tandem of Warmenhoven and Hoover for four more as the Lions battled to within 18-17. Masingale slammed one home over the block to push Jesuit's lead back to two, but a tremendous dig from Shih prevented the Crusaders from adding to their advantage. Nordquist's fourth kill of the set, an overpass tap, drew West Linn to within one point again and sparked a three-point run, capped by Reynolds' solo stuff, that gave the Lions their first lead of the set at 20-19.
Jesuit re-took the lead on successive Patterson kills, but West Linn would not be denied. The Lions tied the set on a fortunate Warmenhoven swing out of the back row that deflected off of Jesuit's block, then went ahead for good on Hoover's ace. Another Hoover ace dropped expertly into the donut, completed the set clinching 5-0 run that sent the Lions (28-2) to Game 3 up two sets to none.
Jesuit got help from a backboard suspended above the court at Liberty HS early in the third set. A Warmenhoven smash was denied the floor by the basketball goal and the Crusaders eventually won the point. But not even that bit of good fortune could prevent West Linn's relentless march to the title. The Lions recovered from the 4-2 deficit to catch Jesuit at 4-4 thanks to a block from Reynolds and OH Amyah Semau, the first of two straight blocks from the duo. Tied at 6-6, a Hoover dig kept the point alive long enough for Cecil to finish on the dump. Doel added an ace as part of a 3-0 run and West Linn did not trail again. Jesuit got as close as two, 21-19, in the game's late stages, but a Nordquist slide kill and her terminal block (four exclamation points in this writer's notepad) extended West Linn's lead to four. Warmenhoven tacked on her 11th kill to set up match point, which Nordquist converted on a tip that completed the 4-0 finishing run and started a dogpile of Lions.
"I tipped it right over the block like we did in practice and it went down," Nordquist explained. "I turned around fell to the ground and couldn't get up. Everyone was dogpiling on me it was awesome!"
Jesuit suffered only its third loss of the season, all to West Linn.
"We have some kids who are young and doing a great job but experience does help," Zimmerlee said. "I was really proud of the kids. I think they did a great job."
West Linn finishes the season undefeated on the year in 6A. Its only in-state loss all year came in mid-September to 5A champion West Albany, 15-11 in the final set.
"It feels insane," Nordquist said. "We've worked so hard for this."
"I'm on a high right now," Cecil added. "We definitely talked about how hard it would be to beat Jesuit for a third time, but as we got started we knew what to do."
***
Alexander, who had 17 digs, was named Player of the Match for Jesuit. Cecil had 31 assists and 11 digs in earning Player of the Match honors for West Linn.
Warmenhoven, Hoover, Alexander and Masingale were joined by Chloe LeLuge of Bend and Elliott Bush of Central Catholic on the All-Tournament Team.
Bend, which upended Central for third place, took home the Sportsmanship Trophy.