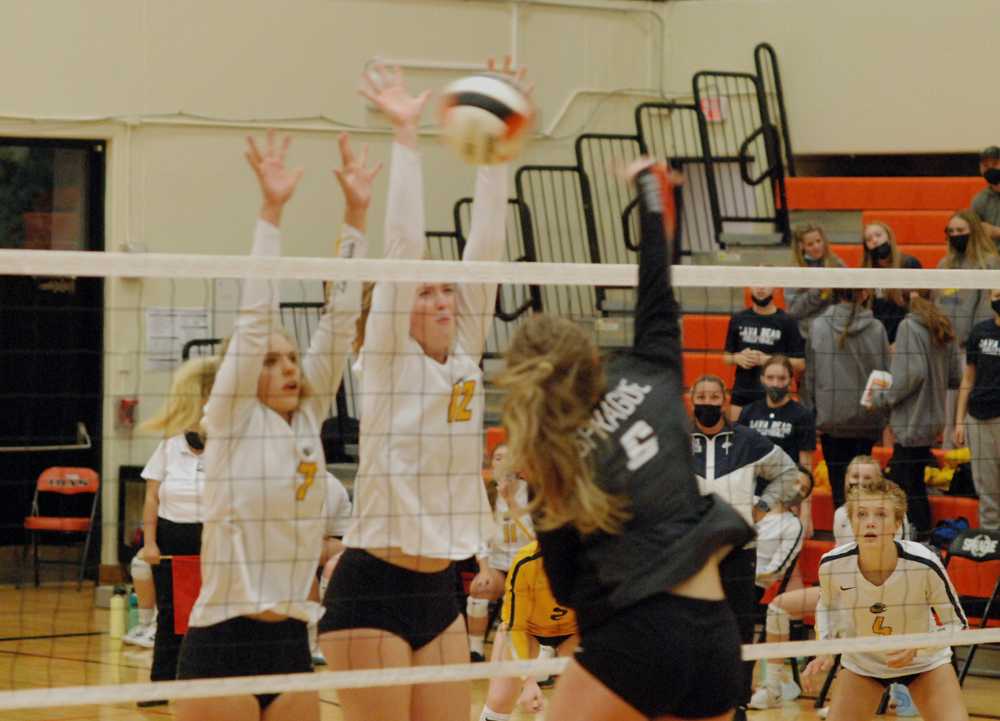 SALEM – The last point of Tuesday's Mountain Valley Conference volleyball matchup between Bend and Sprague ended fittingly, with Sprague trying to hit – unsuccessfully -- against the Lava Bears' massive block. S/RS Taylor Clark set the block and 6-1 MB Gracie Piper closed it. Together they quickly sent the Olympians' kill attempt back and down, completing the 25-23, 25-18, 25-19 road win that assured Bend the sweep of the regular-season series.
"We blocked pretty well and stayed big," noted Bend coach Kristin Cooper, whose team, ranked third in the latest OSAAtoday 6A Coaches Poll, improved to 15-1.
Sprague coach Anne Olson said before the match to expect long rallies as her scrappy Olys, with no player taller than 6-0, used athleticism and ball control to hang in against a Bend team with four players at the net who stood 6-1 or taller. That's exactly what happened, as libero Sarah Jones and outsides Abby Sorensen and Sidney Friesen repeatedly kept points alive and made Bend earn everything they got.
"We were scrappy and definitely stepped up to the challenge," Olson said. "But they're huge and can put the ball away. When they're hitting over our blocks, there's not a lot you can do."
The match began as if Bend, which swept Sprague the first time they met on Sept. 9, would make quick work of the Olys. Libero Marin Montagne served an ace. Chloe LeLuge, a precocious 6-3 sophomore outside, terminated a Clark bump set. And Alyssa Hicks did nice work in the back row to extend a rally long enough for Sprague to be into the net. Just like that, Bend was ahead 3-0 and on its way.
If you're a "scrappy" team, by definition you scrap. That's precisely what Sprague did. The Olys got on the board when Friesen put a smooth Megan Smith set away and stood toe to toe with the Lava Bears. Sprague erased a four-point deficit and went ahead, 15-14, on the second of consecutive Friesen ace serves, and extended the lead to two on Sorensen's kill. Bend responded with three points of its own to reclaim the lead, including a kill from 6-4 senior Marley Hardgrave on the quick attack, and her combo block with 6-2 senior RS Abigail Francis. Rubie Morrissette responded with a right side kill for Sprague and the teams battled, point for point, to the end. Friesen's big swing gave Sprague a 23-22 lead but LeLuge, who is 6-3 AND twitchy, put one away out of the middle to knot the score, the seventh time since 15-15 that the teams were tied. Montagne followed with Bend's fourth ace of the set to put the Lava Bears one point away. Sprague's hitting error completed the 3-0 closing run and gave Bend the early one-set advantage.
Another Bend ace, this one by Clark, helped the Lava Bears to an early one-point advantage in Game 2. A kill from Sprague middle Karsen Arthur tied things up once more, but an 8-2 Bend run ensued and Sprague could not recover. Jillian Stein had two kills, Francis had a kill and a block, Clark set beautifully and Natalie Reveles had a big dig during the run.
Sprague twice got as close as three points, aided by kills from Friesen and Liv Simmons, plus an Arthur block; but no closer. Hardgrave and LeLuge took over on offense and Piper contributed several devastating solo stuffs, including on set point, to send Bend to the third set up two sets to none.
Two Stein digs and three straight LeLuge kills – when the converted middle gets a perfect set, there isn't much anyone can do – opened Game 3 in Bend's favor. Hardgrave added a scoring tip and it was quickly 4-0 Lava Bears.
Defense, in the back row from setter Smith, libero Jones and DS Kelby Clarkson and at the net from Arthur, Simmons and Morrissette; got Sprague back into the set. Two aces from the 5-6 Sorensen – she and the 5-8 Friesen are fun to watch in six rotations – pulled Sprague (8-8 and No. 9 in the 6A poll) within 12-11. A crafty Hicks dump and ace from Stein helped grow the Bend lead to four again, at 15-11. Sprague kept fighting, but would get no closer than two the rest of the way.
Olson, the 2018 6A Coach of the Year, was encouraged despite the sweep on Sprague's home court.
"I think we're about to go on a run," she predicted. "We've been improving every day. We emphasize over and over to make yourself one percent better every day. Find something to improve upon. The girls have been working on it and playing hard."
Cooper, the 5A Coach of the Year in 2016 and 2017, said that Bend's formula for success was on display in Salem Tuesday evening.
"Stay fast, serve tough, pass and let our hitters swing."
It's a formula that could take the Lava Bears all the way to a state title next month.
"We don't have a lot of weaknesses," she explained. "When we're all on and working together we're tough. We're going to make a run for it."