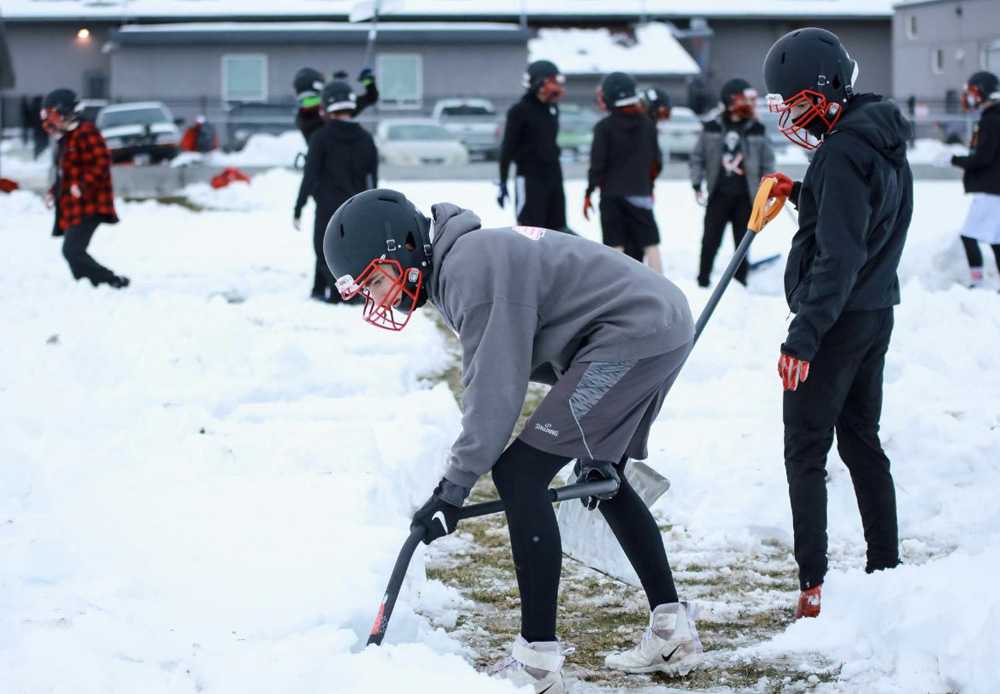 The atmosphere in Athena should be electric on Friday night.
Undefeated and 2A No. 1 Heppner (4-0) travels to Weston-McEwen to take on the undefeated and top-five Scots in a showdown of Blue Mountain Conference rivals that could be for the Special District 5 title.
"It will be a great atmosphere," said Weston-McEwen head coach Kenzie Hansell. "Everyone from Athena will be there. There's no other place to want to be than watching two undefeated teams compete."
***
Heppner is the defending 2A state champion, having won in 2019 when football championships were last contested. Weston-McEwen has been to the state playoffs only once over the past eight years.
Heppner, which has outscored opponents 82-40 so far this fall, is trying to stay atop the mountain. The Mustangs have three state titles all-time and have made the playoffs every year since the OSAA adopted a six-class system in 2006. Weston-McEwen, which has a 91-13 scoring advantage through three games, is looking to gain a foothold on that mountain. Simply making the playoffs is the goal for a Scots team whose only championship game appearance came in 1996, long before anyone on the team was even born.
***
Weston-McEwen, which has just one win over Heppner over the past 10 years, lost to the Mustangs, 41-0, in the spring. This fall team, however, is more seasoned, with 15 seniors on a roster of 52. The Scots are bigger, stronger and faster than they've ever been and their depth has produced competitive practices that make everyone better.
Most importantly, they believe.
This could be their year.
"This group has competed week in and week out for something bigger than themselves," Hansell said. "We had 16 inches of snow for one practice last season and everyone brought a shovel. They are dedicated and wanting to be successful."
"We are excited to be 3-0 but it didn't happen just on Friday night," Hansell continued. "It happened in the weight room, at team camp, and being successful in the classroom."
***
Heppner, with 102 students in the high school, is one of the smallest in 2A.
Small, but mighty.
Head coach Greg Grant has been with the program for more than 30 years and his assistant, Les Payne, is 76 years young and has been a pillar in the football community since 1979. That continuity has helped build and maintain a foundation of success.
"Success is something kids do want to be a part of," Grant said.
Heppner starts its kids playing football in fifth grade, coached by past players. When they get to high school, they are Mustangs through and through. The 35 football players in the program this year represent almost 60 percent of the male enrollment at the school and the focus extends well beyond the varsity squad.
"JV football is of equal or more importance to us," Grant said. "We have played 9 man and played three-way jamborees to get kids on the field to keep them interested and on the team. You cannot sacrifice their playing time or they will not stay out is my belief."
Grant said that COVID contributed to the robust turnout this fall.
"Kids realized how doing NOTHING really was no fun," he explained, adding, "Our community embraces football maybe as much or more than any. Our kids enjoy that attention and look forward to being part of it."
***
Weston-McEwen will be led by senior QB Blane Peal, who has seven TD passes so far; RB Levie Phillips, who is capable of going the distance on any play; and road grater linemen Peyton McLouth and Finn Irvine.
"We run the ball to throw and throw to run," Hansell said. "We like to do both."
Heppner, which has 12 seniors on the roster, is paced by RB Brock Hisler and WR Kason Cimmiyotti, both three-year starters. Conor Brosnan anchors an offensive line that is a little banged up. Blane Mahoney, an outside linebacker, is a national-level bull dogger.
***
Weston-McEwen is the underdog on its home field, but a live dog with the chance to do something special.
"We need to take it play by play, control the ball and capitalize on our opportunities," Hansell said. "Our players are thrilled to be at home, in front of our fans, playing on the field we practice on."
Heppner is the favorite against any team it plays, plays tough and is exceptionally well coached.
"Weston-McEwen will be incredibly fired up and will play with great intensity," Grant said. "We hope to match that intensity and execute."