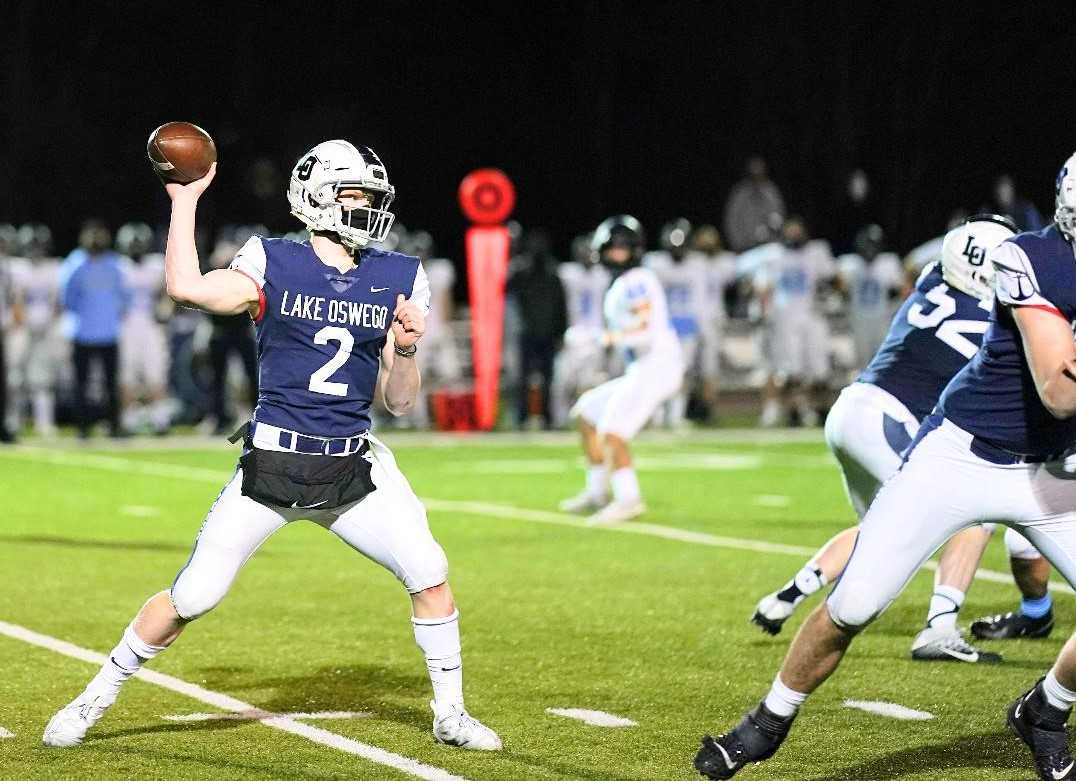 Lake Oswego's 3-0 start to the football season is shrouded in uncertainty.
Yes, the Lakers have beaten Mountainside, Sherwood and South Medford, all playoff teams in 2019. It looks good on paper, until you consider those teams are a combined 0-9.
That explains why Lake Oswego is No. 24 in the OSAA 6A power rankings despite being No. 4 in the OSAAtoday 6A coaches poll.
"We've played three teams that are really trying to find themselves," Lakers coach Steve Coury conceded.
Lake Oswego should get a good measuring stick Friday when it visits longstanding playoff rival Sheldon, which also has started 3-0 and is No. 10 in the coaches poll.
"We'll be tested this week," Coury said. "It'll be a kind of a gauge for us because we don't really know where we're at. It'll be fun to see the kids play against a very good team, a playoff team, a team capable of going a long ways."
Lake Oswego and Sheldon have a long playoff history. Since 2002, they have met in the postseason 10 times. They split four state championship games, the most recent Lake Oswego's 34-27 victory in 2018.
"We've had great games with them. It's been a great rivalry over the years," Coury said. "So it'll be fun to kind of rekindle that thing again."
Lake Oswego's offense is averaging 43.0 points per game behind senior quarterback Jack Layne and senior running back Gabe Olvera. Layne has passed for 10 touchdowns and Olvera has six scores – three rushing, three receiving.
Coury said that Layne reminds him of Jackson Laurent, who took over as the starter as a senior in 2018 and helped lead the Lakers to the state title. Like Laurent, Layne waited for his chance.
"He's really got a lot of talent," Coury said of Layne. "After three games, I think the game is starting to slow down. I'm really excited about him. He's playing good right now, and I think he'll be playing really good by Game 7, Game 8."
Coury compared Olvera to Casey Filkins, the star running back from the 2018 team who switched to single-wing quarterback in 2019 and propelled the Lakers to the state final. Filkins now plays at Stanford.
"I know that's a huge statement," Coury said. "Gabe really does everything for us. He's one of the best backs we've ever had. Casey's as good as it gets, and this kid is right up there with the next group, if you will. Guys are totally missing on him, for whatever reason."
Lake Oswego also has a big-play threat at receiver in senior Justius Lowe, a transfer from Lincoln. The 6-foot-1, 180-pound Lowe, playing only his third year of football, has untapped raw ability, according to Coury.
"So much is ahead of him," Coury said. "He's got great speed and exceptional hands. He's still learning how to play the game and do the little things, but his God-given ability is off the charts."
Lake Oswego's defense, led by senior defensive end Gavin McGuire and senior safety Dylan Layne, will have its hands full with Sheldon junior quarterback Brock Thomas.
The 6-0, 175-pound Thomas is blossoming into a dynamic dual threat. He has passed for 692 yards and six touchdowns and rushed for 458 yards and nine scores. He even caught a touchdown pass in last week's 42-28 win at Newberg.
Other top matchups for Week 4:
Thursday
4A No. 3 Estacada (3-0) at 4A No. 8 La Grande (2-0), 6 p.m.: Estacada, which beat No. 5 Banks 33-7 and No. 9 Seaside 30-14 in its last two games, gets a crack at another ranked team. In 2019, the Tigers defeated Estacada 49-16 in the first round of the state playoffs on their way to a state title.
Friday
6A No. 7 Westview (3-0) at 6A No. 9 Jesuit (2-1), 7 p.m.: With three wins, Westview already has surpassed its victory total from each of the past four seasons. But the Wildcats are 1-26 all-time against Jesuit, the lone victory coming in 1996. The Crusaders throttled Westview 50-6 in 2019.
Sandy (3-0) vs. 6A No. 2 Central Catholic (4-0) at Hillsboro Stadium, 7 p.m.: Sandy is coming off a 14-7 win over Barlow, the first time the Pioneers have beaten the Bruins since 2000. Next up is Central Catholic, a team it hasn't defeated since 1999. The Rams smacked Sandy 41-0 in the spring.
West Salem (3-0) at 6A No. 3 Tualatin (3-0), 7 p.m.: The start of a difficult four-game stretch for Tualatin against teams that are currently unbeaten in West Salem, West Linn, Lake Oswego and Lakeridge. West Salem rushed for 346 yards in beating South Salem 36-28 last week.
5A No. 7 Pendleton (2-1) at 5A No. 6 Hood River Valley (3-0), 7 p.m.: Hood River Valley moved to 3-0 for the first time since 2003 last week by outlasting Ridgeview in overtime. Now the Eagles must face the Buckaroos, who rolled over them 26-6 in the spring, in a Special District 1 game.
5A No. 3 Wilsonville (3-0) at 5A No. 9 Scappoose (2-1), 7 p.m.: Wilsonville, which has won 25 consecutive conference games, goes on the road to face the Indians, runners-up to the Wildcats in Special District 2 the last three seasons. Wilsonville has won the previous three meetings by an average margin of 25.3 points.
4A No. 2 Marist Catholic (3-0) at 3A No. 4 Cascade Christian (1-0), 7 p.m.: An intriguing cross-classification matchup between Marist Catholic, runner-up in the 4A Showcase in the spring, and the Challengers, who went unbeaten in the spring. Marist Catholic's Lucas Tuski has rushed for 387 yards (13.8 per carry) and seven touchdowns.
3A No. 9 Philomath (3-0) at 3A No. 3 South Umpqua (3-0), 7 p.m.: Philomath, which won a total of five games in its last three seasons in 4A (2017-19), met the criteria to move down to 3A, and after going 4-2 in the spring, stands atop the OSAA power rankings this fall. But the Warriors, who rolled over previously unbeaten Woodburn 32-12 last week, have a tall task on the road against the Lancers.
2A No. 2 Heppner (3-0) at 2A No. 1 Kennedy (3-0), 7 p..m.: The Mustangs and Trojans – each with five first-place votes in the OSAAtoday 2A coaches poll -- collide in what promises to be the game of the regular season in 2A. Since losing to Kennedy 34-0 in a first-round playoff game in 2018, Heppner has reeled off 21 consecutive wins, including a 12-7 victory over the Trojans in the 2019 final.
Saturday
North Bend (1-1) at 4A No. 1 Marshfield (3-0), 3 p.m.: When the Bulldogs and Pirates canceled their nonleague game last week due to COVID issues for North Bend, it appeared that the teams might not meet for their Civil War rivalry game for the first time since 1916. They were able to reschedule after cancelling Friday games, though.