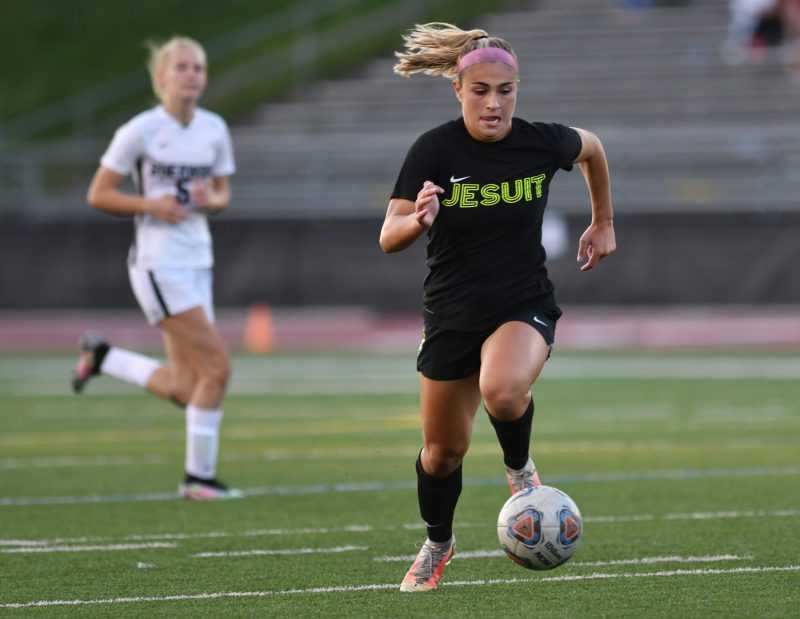 Having to replace 12 players from the spring has had little effect on Jesuit's reputation as a girls soccer powerhouse.
The Crusaders, with two senior starters, are No. 2 in the United Soccer Coaches national high school rankings, behind only a team from Indiana. It's the type of recognition that coach Steve Fennah greets with a shrug and a laugh.
"It's 100 percent subjective," Fennah said. "We think it's kind of fun, more than anything else."
Given their overwhelming dominance in recent seasons, it's not at all surprising that the three-time reigning state champion Crusaders are No. 1 in the OSAAtoday 6A coaches poll. They have lived up to it so far, winning their first five matches by a combined score of 21-0.
Until someone knocks off the Crusaders, they will be overwhelming favorites to win a state championship, regardless of the turnover in their roster. They have won nine of their 14 state titles under Fennah, who is 255-14-21 in 16 seasons as coach (1993-97, 2010-present).
By beating No. 10 Lincoln 1-0 on Monday on a goal by freshman forward Claudia Rose, Jesuit extended its unbeaten streak to 74 and ran its string of shutouts to 25. Whether the Crusaders can maintain that dominance with a starting lineup that features four freshmen and two sophomores is the big question.
"It's into the unknown a little bit this year," Fennah said. "When you're such a young group, it's a lot less predictable. There's a big difference between 14, 15-year-olds and 17, 18-year-olds, So you just never know."
Jesuit can lean on two strong senior leaders and four-year varsity players in midfielder Taylor Krueger and forward Naomi Alvarez, who is bouncing back after an injury-plagued spring season.
"Both have been playing exceptionally well," Fennah said.
Krueger, committed to Saint Louis, scored a team-high seven goals in the COVID-shortened spring schedule and has a team-high six goals and four assists this season. She has moved from the front line – where she complemented the state's all-time scoring leader, Callan Harrington, as a freshman and sophomore – to midfield.
"She has a role that allows her to get forward," Fennah said.
Krueger played forward alongside Alvarez in the spring, but the addition of Rose has allowed Krueger to assume her more natural role. Her presence at midfield helps make up for the loss of Maddy Koleno, now on the team at Arizona.
"We probably knew all along her better position was probably in the midfield," Fennah said. "There wasn't a strike partner for Harrington when she was around, so it was Taylor who played up front."
The Crusaders have rebuilt their back line. Junior Eva Grunkemeier -- "the anchor" of the group, according to Fennah – is in her third varsity season, but juniors Audrey Kent and Lucie Rokos are playing bigger roles. Freshman Sophia Stiles is filling in at center back for sophomore Kiersten Sierra, who is sidelined with a high ankle sprain.
Sophomore Claire Lindsey has taken over at goalkeeper. She was the backup to Olivia Juarez, who has moved on to a college career at Washington.
Despite all the shuffling, the Crusaders have continued to stifle opposing attacks.
"When you talk about defending, it starts with your two strikers," Fennah said. "When you defend, you've got to defend as a whole team, and that's what they've done very well. I'm surprised that we haven't given up a goal, but we work extremely hard at being good defensively."
Jesuit, which has beaten two top-10 teams so far (No. 10 Lincoln, No. 9 Sherwood), plays host to No. 7 Tualatin on Thursday. The Crusaders are home to take on Lakeridge on Sept. 27 before opening Metro League play Oct. 4 at home against No. 5 Beaverton, a match that could have league-title implications.
"I think Beaverton is definitely one of the strongest teams in the state this year," Fennah said. "They're a big, strong, physical team who will be there, or thereabouts, at the end of the year."
Jesuit finishes its Metro League schedule Oct. 21 at No. 4 Mountainside, the 2019 state runner-up.