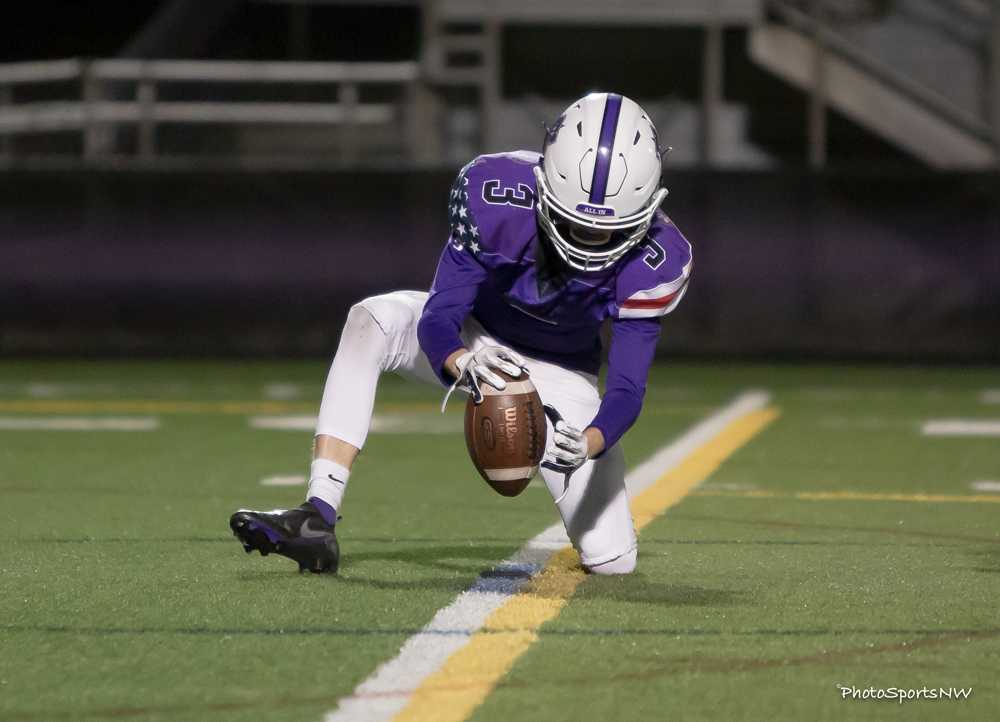 Every Friday night, we'll offer you PATs, a few nuggets from the night that was. We will add more blurbs as reports come in.
Be sure to check out Jerry Ulmer's comprehensive Football Notebook, published Sundays, for an in-depth look at all of the weekend action from across the state.
***
Gold Beach hits Bonanza
Gold Beach outscored Bonanza 30-0 in the second half to gild an impressive win. Ty Nelson and Tanner Mestas had TD receptions in the loss.
***
Scots rush to win over Gresham
David Douglas roared to a 39-6 lead and coasted to the 58-30 win over Gresham. The Scots rushed for 421 yards, led by 252 from Jaden Poulschock, who scored once on the ground and once on an 88-yard reception. Lopaki Laban added a pick six for DD.
***
Hold that Tiger!
Heppner held the Stanfield Tigers to just 87 yards of total offense in a 14-0 win. Brock Hisler had a big day on the ground for the victorious Mustangs and Kason Cimmyotti had 10 tackles to lead the defense
***
Thurston to play
Thurston made the most of its first start of the season by blanking Springfield, 58-0,on the road. Brycen Indell ran for two first-quarter scores and Jacob Newell snagged two first-quarter TD tosses as the Colts built a 37-0 lead after one quarter and went on to the easy win.
***
Hamper is clothes-er for West Linn
West Linn is loaded with good players but junior Mark Hamper has no peer. Hamper caught a touchdown for the third straight week, intercepted a pace for the third straight week and was the catalyst on both sides of the ball in the Lions' 28-14 victory on the road versus Sunset. Chase Harmon threw three touchdown passes, including one to Gus Donnerberg; and Jaxon Steinhauer ran tough all night for West Linn. Padraig Owens found pay dirt on a third-quarter scoop and score and Hayden Hurley caught a fourth-quarter touchdown pass for the Apollos, who suffered their first loss since 2019.
***
Monroe raids Roach, Oakridge
Nate Young had 165 yards rushing and three TDs in Monroe's 60-6 win over Oakridge. Jamie Roach had five catches for 82 yards and a score in the loss.
***
Lakeridge defensive in Liberty win
Liberty came into the game with Lakeridge having pitched consecutive shutouts to open the season, but the Pacer defense dominated in the 42-13 win. Dallas Kuenzi had two first-half interceptions for Lakeridge and Jake Reichle had a pick six in the win.
***
Cascade cleans up in Mazama win
QB Jacob Hage threw for more than 100 yards and a touchdown and ran for almost 200 more and four touchdowns in Cascade's 31-28 win over Mazama. Blake Lewis added more than 100 yards on the ground himself in the Cougar win.
***
Honkers beep Portola
Niko Maita had a second-half pick six and Benny Alves threw for two scores in Lakeview's 23-13 win over Portola, from California.
***
Sandy gritty in win
Sandy defeated Barlow 14-7, turning back a late Bruin threat thanks to an interception by Leithan Thompson. Thompson also scored on an 83-yard pass reception deep into the fourth quarter, which turned around a 7-6 deficit.
***
TigerScots have a Peal
Blaine Peal tossed three touchdown passes in Weston-McEwen's 36-0 Thursday win over Umatilla. Cameron Reich was on the receiving end of two scoring strikes.
***
Pendleton corrals Putnam
Payton Lambert had 139 yards of total offense and scored three times in a 47-6 Pendleton /Griswold / Nixyaawii win Thursday evening over Putnam. The Bucks led 33-0 at the half and never looked back. Kyle Liscom added two scores and 11 tackles on defense for the victors, who scored early in the third to trigger the running clock.
***
La Grande wins big
4A La Grande was too big and too fast for 3A Vale and turned back the Vikings despite two touchdown catches and 121 yards receiving from John Wolfe.
***
Night-Marist!
Tate Brechbiel rushed for 168 yards and a touchdown for Gladstone, but it wasn't nearly enough as Marist Catholic took the win, 42-14, the Spartans' third dominating victory to open the season. QB Carter Greene went 11-for-14 for 210 yards and three scores to pace the offense.
***
Tualatin backup on top
Backup QB Jack Wagner threw four TD passes, each to a different receiver, in Tualatin's dominating 43-0 win over Aloha.
***
Jesuit scissors through Papermakers
Tyree Blake scored on a 52-yard pass play from Jacob Hutchinson and salted the game away with a 60-yard pick six as Jesuit overcame Camas, 20-10. Payton Roth finished with 181 yards rushing and a TD for the Crusaders.
***
South Umpqua goal line stand then deliver
A goal line stand, followed by a 97-yard touchdown run from Caj Simmons, sparked South Umpqua to a 41-14 halftime lead on its way to a 60-29 win over Corbett. Simmons finished with five rushing touchdowns and also scored on a 94-yard kickoff return.
***
Be sure to check out Jerry's more comprehensive report on Sunday!