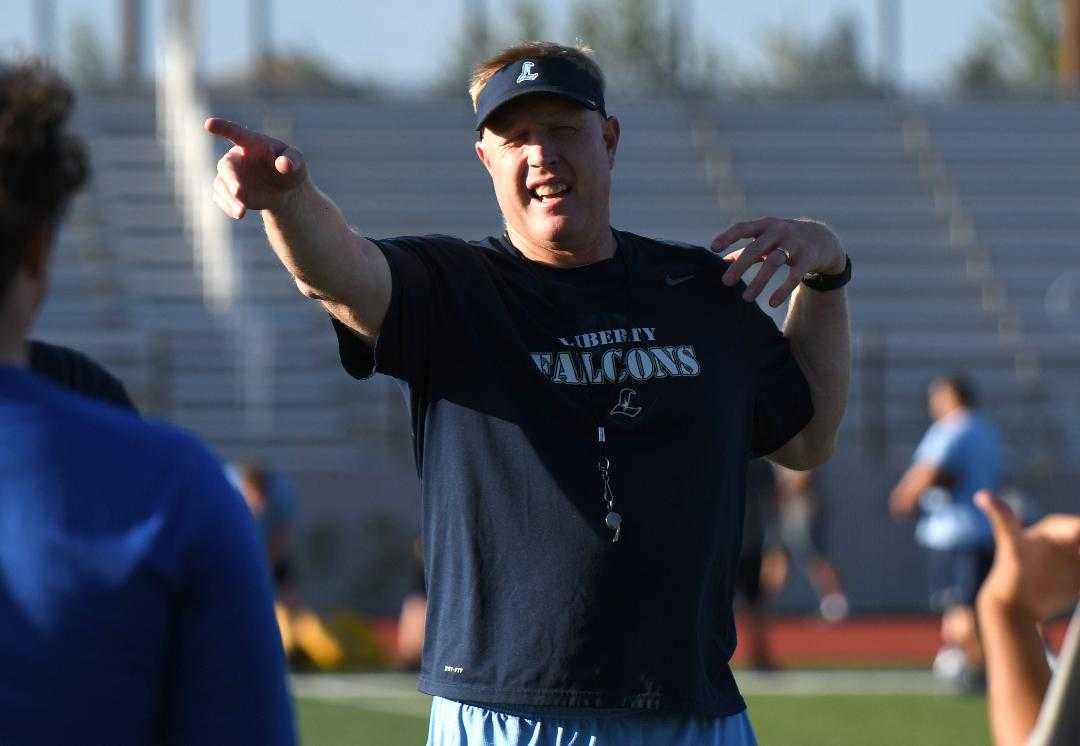 Defense hasn't exactly been Liberty's strong suit in recent football seasons.
In 2016, the Falcons gave up 51.3 points per game. This past spring, it was 36.0.
So when Liberty opened the season with back-to-back shutouts – 56-0 over Aloha and 52-0 over Lincoln – it represented a dramatic shift. How are the Falcons doing it?
"We've got as big and as physical a line as we've ever had," Liberty coach Eric Mahlum said. "That makes everybody else's job a little bit easier. Having those guys up front has made a world of difference. It allows our linebackers to flow."
Flexing against Aloha and Lincoln was one thing for the unranked Falcons. How their defense performs Friday in a 6A nonleague game at No. 7 Lakeridge (2-0), which is averaging 41.5 points per game, will be an acid test.
"We have a ton of respect for them," Mahlum said. "They're athletic. If we make mistakes, they'll capitalize on it. If we don't make mistakes, I like our chances. I like the way our guys are playing right now."
Liberty's massive defensive front features seniors George Lyman (6-3, 269) and Piper Chandler (6-3, 264), junior Ryan Berger (6-5, 270) and sophomore Patrick Wooley (6-4, 374). The Falcons aren't just big, they are active, too.
The emergence of Wooley has been a bonus.
"We didn't know he would play the way he has as a sophomore," Mahlum said. "He eats up space. They try to double-team him and he plants the double-team in the backfield. As one linebacker said after the first game, 'I like having Patrick in front of me because he eats guys up.' He allows our linebackers to run."
Senior outside linebacker Parker Treloar (6-2, 228) leads the team in tackles. Senior Cade Hammond (6-4, 180) is the team's most athletic linebacker. Junior Nate Smith (6-2, 202) calls the defense from his linebacker position.
The Falcons have six interceptions, getting two each from Hammond, junior cornerback Zain Kiser and sophomore safety Tanner Steinbach.
Liberty is getting it done on offense, too. Senior quarterback Hiro Diamond (6-2, 160), a third-year starter, has thrown eight touchdown passes to five receivers. All three of his completions to 6-3 senior Ethan Jones have gone for scores.
"There probably isn't anything he hasn't seen yet," Mahlum said of Diamond. "He makes us look a lot better. If he disagrees with what we call because of what he sees on the field, he'll go ahead and change the play, and he's usually right. He's really taken command of our offense."
Mahlum said the Falcons have a chance to be one of the better teams since he started Liberty's program in 2005, potentially stacking up with the 2015 team that finished 10-1 and reached the 5A quarterfinals and the 2018 team that went 9-3 and made the 6A quarterfinals.
"They definitely have the tools," Mahlum said. "In the summer we told them, 'Hey, you guys have as much talent and tools around you as those teams, you just never have bought into yourselves and committed the way you needed to.' They have."
Much will be revealed in the coming weeks as Liberty meets Lakeridge, North Medford, Glencoe and Newberg. The stretch starts Friday against the Pacers, who have an explosive offense led by junior quarterback Ryan Oliver and 6-5 sophomore receiver Joey Olsen, a blue-chip college prospect.
"Lakeridge is a great team. We'll find out about ourselves," Mahlum said. "They play play hard, play with a chip on their shoulder. They're probably going to come in like, 'Hey, we're from the Three Rivers League.' As we told our guys this week, 'Hey, we're from the Pacific.' They kind of like it. Put a chip on their shoulder, too."
Other notable games in Week 3:
Friday
6A No. 2 West Linn (2-0) at 6A No. 6 Sunset (2-0), 7 p.m.: The game everybody wanted to see after the smoke had cleared in the spring and the teams appeared to have separated themselves from the pack with 6-0 records. Both teams have retooled and are off to outstanding starts. Oddly, they have met only once before, in 1994, when West Linn won 27-12.
South Salem (2-0) at 6A No. 10 West Salem (2-0), 7 p.m.: West Salem has won eight in a row, including a 47-0 blanking of South Salem in the spring. The Saxons haven't had a winning season since going 10-1 in 2015 (also the last time they beat the Titans), but have already matched their win total from the previous three seasons.
5A No. 9 South Albany (2-0) at 5A co-No. 3 Silverton (1-1), 7 p.m.: South Albany, which went 0-6 in the spring, is feeling good after opening the season by beating Franklin 21-14 and North Salem 48-21. But the RedHawks have dropped five in a row to the powerful Foxes, including 42-7 in the spring. Silverton is coming off a tough 35-28 defeat to 6A No. 4 Tualatin.
5A No. 6 Dallas (1-1) at 5A No. 1 West Albany (2-0), 7 p.m.: The Mid-Willamette Conference opener for the Dragons and Bulldogs, teams that have designs on the conference title. Dallas bounced back from a 26-20 loss to Canby to defeat Wells 34-6, but knows it must raise its game to compete with West Albany, which won at Canby 17-14 last week.
4A No. 4 Cascade (2-0) at 4A No. 5 Mazama (1-1), 7 p.m.: Cascade has outscored its first two opponents 109-0, but the Cougars will have their hands full with Mazama running back Zeke Heaton, who rushed for 252 yards and four touchdowns in a win over 5A Crater last week. The teams met in a nonleague game in 2019, with Mazama winning at home 15-13.
4A No. 7 Seaside (2-0) at 4A No. 3 Estacada (2-0), 7 p.m.: The Rangers' dominant running game, which plowed for 378 yards in an impressive 33-7 win over No. 6 Banks last week, goes up against a Seaside defense that has pitched two shutouts. Estacada is in the midst of a brutal stretch that includes games againsat Banks, Seaside, La Grande and Gladstone. In the 2018 quarterfinals, Seaside defeated Estacada 44-42 in overtime.
3A No. 9 Amity (0-1) at 3A No. 2 Rainier (2-0), 7 p.m.: Two of the state's better 3A programs clash. In 2019, Amity beat Rainier 24-20 in the regular season but the Columbians got revenge in the 3A quarterfinals by winning 50-22. In 2018, the last meeting at Rainier, the Columbians won 60-54 in an overtime classic. Amity is playing its first game after falling at Santiam Christian 20-16 in Week 1.
1A No. 3 St. Paul (2-0) at 1A No. 2 Powder Valley (2-0), 7 p.m: The 1A powers meet in a rematch from the spring, when Powder Valley won 44-20 at St. Paul. Both posted wins over ranked teams in Week 1: Powder Valley defeated No. 4 Dufur 46-14; St. Paul topped No. 5 Lost River 36-24.
Saturday
5A No. 7 Hood River Valley (2-0) at Ridgeview (2-0), 1 p.m.: The Eagles and Ravens look to build on fast starts in the 5A Special District 1 opener. Hood River Valley hasn't been 3-0 since 2003. Ridgeview hasn't won its first three games since the program started in 2012, including when the Ravens won the state championship in 2013. Ridgeview beat Hood River Valley 46-26 in the spring.