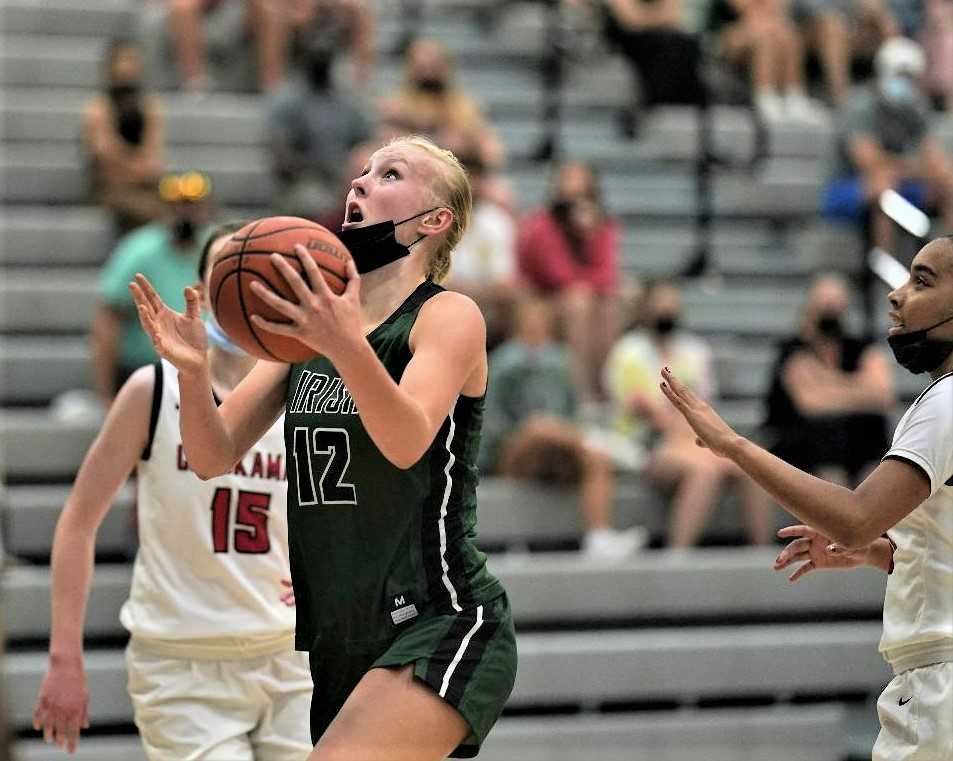 PORTLAND -- Sheldon got the usual stellar all-around game from junior wing Danika Starr, but it was an unexpected offensive outburst that made the difference as the Irish overcame Clackamas 72-66 in the opening round of the Portland-area culminating week girls basketball tournament Tuesday at Grant High School.
Junior guard Paityn Rhode – starting in place of senior Kiran Sperry, who is on a senior trip in Mexico – made six three-pointers and scored 23 points to spark Sheldon, which advanced to meet Tualatin on Wednesday in the semifinals of the power-packed Maroon bracket.
"I haven't played that much this season," Rhode said. "I was kind of excited to get an opportunity here. I guess I was a little fired up."
Rhode came out shooting, hitting two three-pointers in the first three minutes, and finished 6 of 11 from three-point range.
"Paityn coming in and having a big game and firing away and taking good shots, she kept us in it," Sheldon coach Brian Brancato said. "She's not shy."
"We're lucky she was there," said Starr, who also had 23 points.
Sheldon (13-1) trailed 47-40 late in the third quarter before going on an 11-0 run to take the lead for good. Starr had three free throws and a layup during the surge, which Rhode punctuated with a three-pointer.
When Clackamas drew within 60-59 on two free throws by sophomore Rhyan Mogel with 3:23 left, Starr responded with a three-pointer, then found Rhode for a triple to make it 66-59. It was enough to repel the Cavaliers (11-3).
"We knew they were going to be a good team, and we were ready for them," Rhode said. "We knew it was going to be about who was going to compete the most. I think we wanted it a little bit more."
With eight of the state's best teams in the bracket – seven from 6A along with 5A Wilsonville – the players know that state bragging rights are on the line. Sheldon and Clackamas played at a fever pitch for much of the game.
"It was real exciting," Starr said. "To be honest, I was real nervous the whole game. But we just played together. We leaned on each other, which I was real proud about. We always made the one extra pass. And we stepped it up on defense a little bit."
Brancato said the Irish, who had three players move on to college programs from last year's state quarterfinal team, are savoring the season-ending tournament. The only blemish on their record this season is a 44-39 loss to 5A Churchill, a team they beat by 20 points in the season opener.
"We feel lucky to be in the conversation with the top eight teams," Brancato said. "At the same time, I know we belong in that top eight. Getting up here and getting an opportunity, especially for the senior kids, is satisfying."
Mogel and senior guard Sydney Benedict provided much of the offense for Clackamas with 27 and 22 points, respectively. Mogel made buzzer-beating three-pointers in the first and second quarters. Benedict hit four three-pointers, three from well behind the arc.
Ultimately, the Cavaliers didn't have enough to turn back the Irish.
"Sheldon is a lot more physical of a team than we've been playing recently," Clackamas coach Korey Landolt said. "I don't feel like we backed down from them.
"Sheldon is a really good team. They've got shooters, too. It's hard to cover all the time. There were quite a few times we got a little miscommunicated on defense. And we want a little cold there at the end."
Starr and Mogel are two of the more high-profile transfers this season. The 6-foot-1 Starr was the Midwestern League player of the year and a 5A first-team selection at Churchill last season. Mogel came from La Salle Prep, where she was a key player for a 5A semifinal team.
"It's been a great move," said Starr, who is averaging a team-high 16 points. "I love the culture and everything. I was just met with a lot of friendly faces. I played with Brian a little bit in middle school. I'm glad to be back. I love the guy."
The 5-10 Mogel is the catalyst for the Cavaliers, averaging 16.4 points, 6.6 rebounds, 3.5 assists and 5.0 steals.
"Rhyan's IQ is top notch," Landolt said. "She's elevated everybody else. This is the first time she's ever had to run a point guard spot. She wanted that challenge. She asked for it. She's always looking for ways to improve herself and ways to improve her teammates. She's a joy to coach."