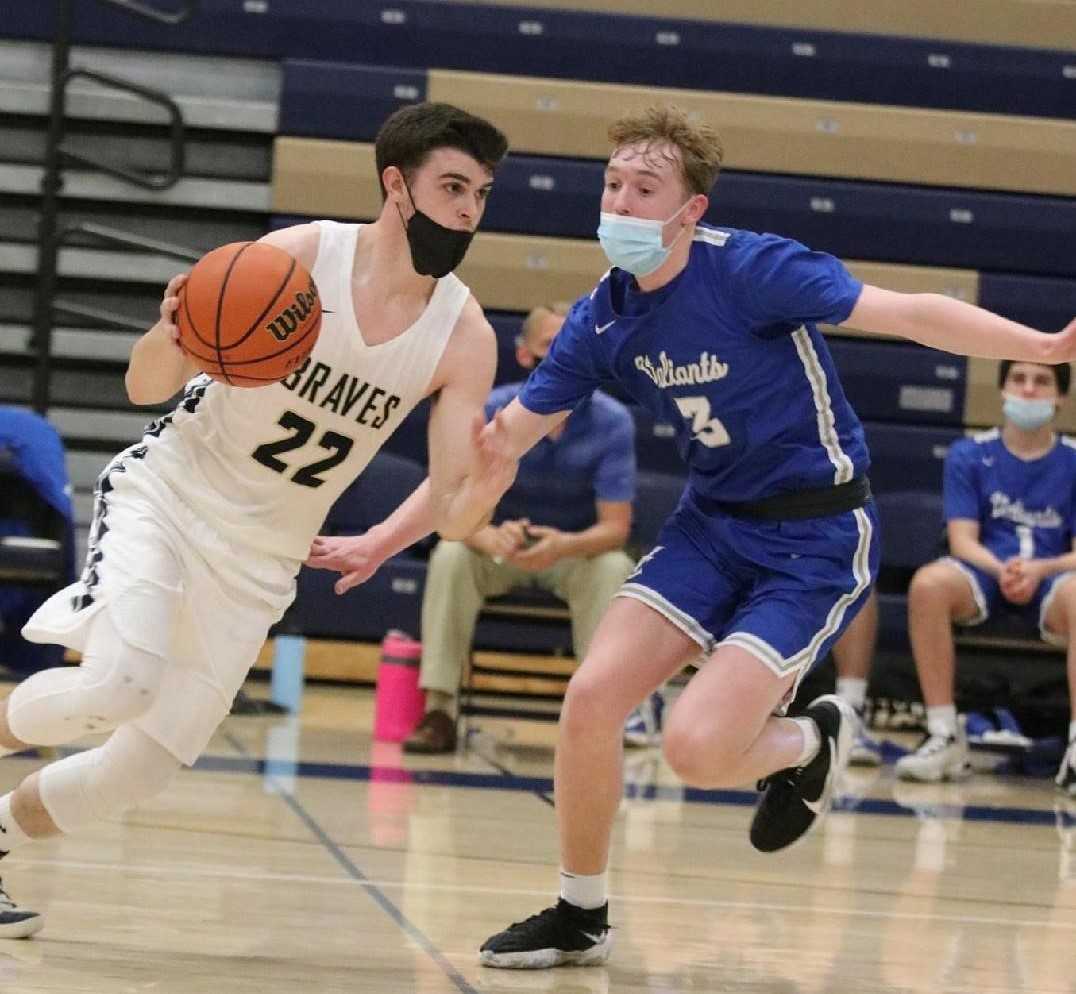 Banks wasn't going to let a chance at the outright Cowapa League boys basketball title slip away Wednesday night.
The unbeaten Braves (11-0, 7-0), who shared the title with Seaside the last two seasons, clinched the outright championship with a 47-43 road win over the second-place Seagulls (8-3, 5-2).
Seaside could have pulled into a first-place tie with one game remaining, but Banks was able to hold on down the stretch. Senior forward Tyler Exline had 11 points and six rebounds to lead the Braves, who also got eight points each from senior Cade Buchanan and junior Cooper Gobel.
It was the closest game of the season for Banks, which defeated Seaside 54-42 at home on June 3.
"Seaside is our rival, and it's always such a battle with them," Banks coach Marc Roche said. "We know each other so well, that for so much of the game, you kind of throw out the playbook and just compete. We beat them a couple weeks ago, and they got a whole lot better."
Banks returned three starters from a team that went 17-7 last season but graduated its best player in high-scoring forward Jacob Slifka, a 4A first-team selection. The Braves not only have found a way to make up for that lost offense, but they have increased their scoring from 56.0 to 57.9 points per game.
"There was a lot of thought about how we were going to manufacture points this year. How are we going to get that offensive edge back?" Roche said. "When we needed a bucket a year ago, Slifka was a pretty dynamic player in making big baskets for us.
"But we're getting more movement with the basketball. I think it's forced us to attack a little more intelligently. We're looking at matchups and seeing what the defense is giving us."
Banks is getting steady play from Exline (13.5 points, 6.0 rebounds) – a rotation player from the 2019 state title team – as well as senior point guard Joseph Buliga (13.1 points) and Gobel (12.0 points).
The 6-foot-4 Gobel is much improved from last season, when he came off the bench.
"He's had a huge year for us," Roche said. "He's an all-league, dynamic finisher inside. He has really taken a big jump from a year ago."
Roche attributes part of the team's success to the winning culture that has permeated the athletic programs at the school.
"There's an attitude, an expectation of this is where we belong," Roche said. "If you asked me at the beginning of the year, I didn't know how good we'd be, but if you asked my guys, they're like, 'Oh, we want to go all the way.' They just carry that confidence with them. We've got something bigger we want to achieve."
Banks is looking to make a run in the season-ending 4A Showcase tournament next week. If they can win a quarterfinal game Tuesday, they will advance to the final four at Marshfield.
"It's really hard to say where we stack up in the state because we've only played teams from Gladstone's league," Roche said. "It'll be interesting once we get into next week."
Banks completes the regular season Friday at home against Tillamook.
Eagles' perch
Westside Christian had a sense of deja vu early this month when junior point guard Landon Thom was lost for the season with a broken foot, one year after his broken ankle foiled the team's high expectations.
But instead of going into a downward spiral, the Eagles posted their first winning record in eight years and claimed their first league championship in 21 years. They received their 3A Lewis & Clark League trophy and cut down the nets after Thursday's 60-56 home win over Riverdale.
"We're finding some success. All the work we're putting in is paying off," said coach David Henry, who is in his sixth season at the Tigard school. "We only have one senior in our rotation, so we're looking at making another serious run next year."
Westside Christian (10-2, 6-0) beat Portland Adventist 54-50 and De La Salle North Catholic 61-58 in back-to-back games to take over first place in the league. The Eagles lost to both teams in nonleague games earlier in the season.
"The biggest thing is we didn't make the mistakes that we made earlier in the year," Henry said.
Knocking off previously unbeaten De La Salle North Catholic was a breakthrough for Westside Christian. The Eagles' seniors recall losing to De La Salle North Catholic 101-33 in the 2017-18 season, the first of the Knights' two 3A title teams.
"It was very emotional for the seniors, more than anything," Henry said. "For them to be a part of that team, and come back and beat them in the de facto league championship, it was very satisfying for them."
The Eagles brought back three starters from a 12-14 team in Thom, junior forward Justice Jackson and senior post Andrew Hollis.
They got a boost from three transfers in junior guards Kamir Hodge, Jaymeson Ye and Jake Hergert, who came from Wilson, Mountainside and Faith Bible, respectively. Ye leads the team in scoring at 15 points per game and Hodge and Hergert each add 14 points per game.
Ye's athleticism has added a new element to the team.
"He's been pretty exciting to watch," Henry said. "He definitely is very bouncy, and is playing at the rim quite a bit."
Henry played on Cascade Christian's 2A title team in 2007 and assisted at Cascade Christian for eight seasons before taking over at Westside Christian. He went 37-89 in his first five seasons with the Eagles.
"We've been building for a while," he said.
Next week, the Eagles will participate in the season-ending 3A tournament, which will conclude with the final four at Marshfield and North Bend.
"We should certainly have an argument to be one of the top four seeds," Henry said.
Cowboys' encore
Coming off its first state-tournament appearance in school history, senior-led Crook County completed a perfect run through the shortened regular season.
The Cowboys beat Hood River Valley 82-50 on Thursday to improve to 14-0, including 10-0 in the 5A Intermountain Conference. It's been a special two-year run under coach Jason Mumm, who guided the team to an IMC title when he took over last season.
"I knew what I was stepping into last year and how good we could be," Mumm told the Bend Bulletin. "And I knew we would be just as good if not better this year."
Crook County dominated its opponents this season, outscoring them by an average of 18.3 points per game. The Cowboys' closest game was a 62-57 win at Ridgeview on Monday.
Crook County put a virtual lock on the conference title with a 69-53 win at second-place Redmond (10-2, 7-2) on June 10. The Cowboys got 22 points from senior post Cayden Lowenbach and 14 points from senior guard Kevin Sanchez, the IMC player of the year last season.
After making the fourth-place game at the 5A tournament last year, only to have it canceled due to the COVID-19 outbreak, the Cowboys came back motivated for another season.
"I am proud of my guys for sticking together," Kevin Sanchez told the Bulletin. "It's a big commitment to get to this point. I am proud of my guys for taking care of business."
Added Lowenbach: "We weren't satisfied with what we did last year."
Black Tornado payback
North Medford (12-1) turned the tables on rival South Medford (10-1) on June 9 when it rallied late for a 74-64 overtime win, handing the Panthers their first defeat and avenging its only loss of the season.
The Black Tornado trailed by six points with 2:40 left but forced overtime on a three-pointer by junior guard Trey Neff with six seconds left. Neff and senior guard Landon Ellis scored all 17 of North Medford's points in overtime to secure the home win.
It was a reversal of the first meeting between the teams May 25. In that game, South Medford wiped out an 18-point, fourth-quarter deficit, got a tying three-pointer from Junior Sleezer with six seconds left in the first overtime and won 87-81 in double overtime to end a 10-game losing streak to North Medford.
In the rematch, Neff made all nine of his shots to finish with 29 points and Ellis added 26.
"It's a massive win to hold serve on your own court in a game with two really good basketball teams that went to double overtime the last time," North Medford coach Scott Plankenhorn told the Medford Mail-Tribune. "It's special when you get any type of win in a rivalry game."
Sleezer scored 17 points for South Medford before leaving with an injury with 1:47 left in the fourth quarter.
The teams finish the regular season Friday when South Medford goes to Crater and North Medford visits Grants Pass.