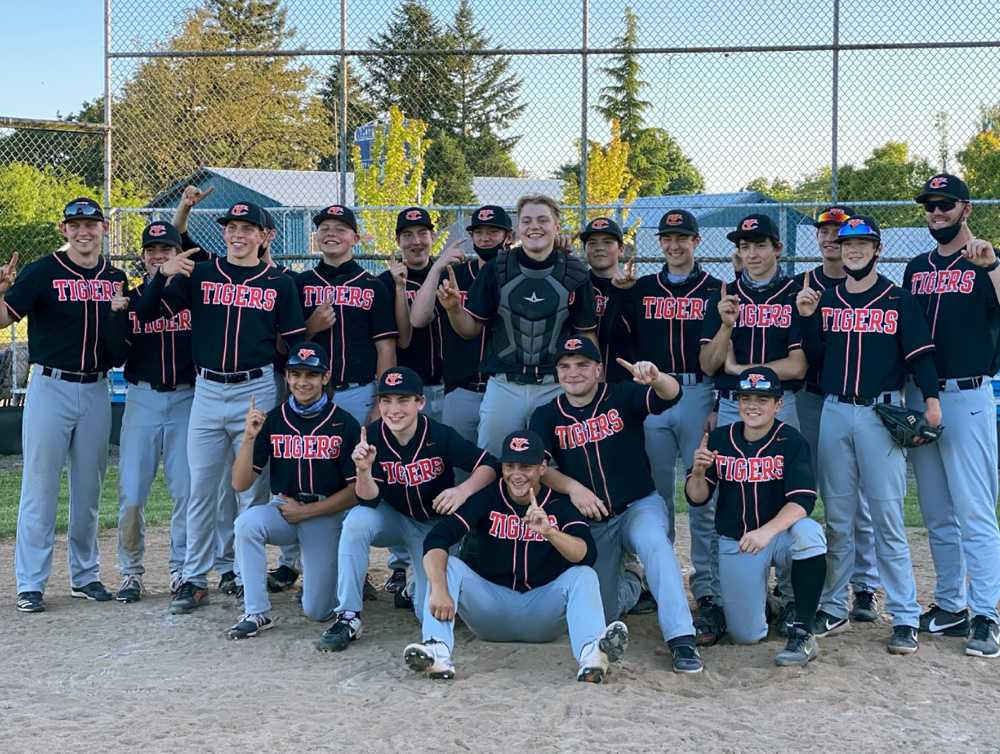 Tuesday was a great day for 3A baseball in Oregon.
A vision, and tireless work from Clatskanie athletic director Ryan Tompkins and others, helped create a 3A Culminating Week Tournament, whose quarterfinal matchups yesterday were close and drama filled from first pitch to final out.
"Our goal was to provide a competitive opportunity for our student-athletes during the culminating week," Tompkins wrote in a Monday memo.
Goal achieved, if Tuesday's play was any indication.
At North Bend, undefeated Brookings-Harbor, the top seed as determined by the tournament committee, edged Scio in a pitching duel for the ages.
At The Dalles, No. 4 Warrenton fell to No. 5 Joseph/ Enterprise / Wallowa / Elgin, 9-8, in eight innings, a game which both teams had chances to win late.
At Adair Village, No. 7 Rainier blanked No. 2 Santiam Christian on a near no-hitter against an Eagle team that came in averaging more than 10 runs per contest.
And at Pleasant Hill, No. 3 Yamhill-Carlton edged No. 6 La Pine, the reigning 3A state champion, 4-2, capitalizing on timely hitting and strong pitching.
Pete Croco, Scio's first-year head coach, said that Tuesday's game with Brookings-Harbor featured "the best pitching duel the state has seen in recent years and definitely at the 3A level."
Senior Adam Shew, a University of San Francisco signee, was on the bump for B-H. Opposing him was junior Blake Brown, the 3A Special District 1 Pitcher of the Year for Scio, a young team with only one senior on the 11-player roster.
Scio came into the game with a 12-3 record, the Loggers' best mark, percentage wise, since the team's lone state championship back in 1989. Jeff Trissel, an assistant coach this year and father of CF Jake Trissel, the team's lone senior, was on that state championship team, and almost witnessed Scio take down the No. 1 seed to reach the semifinals. The Loggers played great defense, rode the right arm of Brown and battled until the final out against one of the state's premier pitchers, in a game that could have gone either way.
***
The Warrenton/Joseph game, featuring the 2019 state runner up Warriors and 2019 quarterfinalist Eagles, was decided by inches. Warrenton trailed, 8-7, going to the bottom of the seventh, but pushed one run across to tie the game and tried to win in walk off fashion when Josh Earls singled. Warrenton sent its runner on second screaming for home, but Joseph senior Trace Evans threw him out from CF on a bang-bang play at the plate.
Energized, hits by Chase Homan and Zeb Ramsden in the top of the eighth plated the go-ahead run for the Eagles. Duane Falls got a one-out hit in the bottom of the eighth for Warrenton to give the Warriors a chance, but Flynn Nave struck out the final two batters to preserve the win.
"They deserved the win," said Warrenton coach Lennie Wolfe. "Their brand of small ball was relentless and our coaching staff was impressed by how faithfully they were able to execute it."
"It was a close contest by closely matched teams," said Joseph assistant J.R. Collier. "The game was defined by fundamental baseball: lots of hits, steals, bunts and strategy throughout the event."
Joseph advances to take on Brookings-Harbor in a Saturday semifinal. Joseph's four seniors all were on the Eagle varsity as freshmen and have made it to the second round of the playoffs every year except for the canceled 2020 campaign.
"We are truly excited to be back in the hunt for a championship again," Collier said.
***
On April 24, after senior Brayden Marcum tossed his first career no-hitter against Valley Catholic, Columbians coach John Karns declared his southpaw the best 3A pitcher in the state.
Yesterday, Marcum lived up to the praise, tossing a complete game one hitter with eight strike outs in Rainer's 2-0 win over second-seeded Santiam Christian. Rainier plated two runs in the top of the fifth to snap a scoreless tie, one on an Austin Stout RBI. Santiam Christian didn't have a hit until the bottom of the sixth. It was the only hit the Eagles would get.
***
Yamhill-Carlton doesn't have much of a history of success in baseball.
"Nobody around YC knows the last time we have been league champs or made the final four in baseball," coach Brennon Mossholder said. "We just know it has been a very long time!"
La Pine was 3A state champions in 2018 and 2019. The Hawks featured four seniors who had tasted state championship glory at least once.
Though YC was the higher-seeded team, this game felt like La Pine's to win. Until it wasn't.
Yamhill-Carlton scored three times in the bottom of the fourth inning to turn around a one-run deficit and never trailed again. The key blow was a two-run double by Brycen Williams. Wyatt Hurley started on the mound and was dominant through 4.1 inning for the Tigers. He gave way to Carson Robarts, who got an eight-out save to preserve the win.
"YC played well and deserved the win," said La Pine head coach Bo Deforest. "In the playoffs it's all about the small things and being in position to take advantage of mistakes. We didn't take advantage of our moments and they did capitalize on our miscues. YC, is a well-coached team with a good group of competitors, I look forward to seeing how this tournament plays out. It should be very interesting!"
The semifinal appearance comes for Mossholder in his fifth, and final, season as YC's head baseball coach. He's leaving at the end of the year to become a head football coach in Idaho Falls.
"I knew we had some talent on the roster, as we have been a young team for the past couple of seasons, but I would be lying if I said I thought we would be a final four team," Mossholder said. "Our pitching staff has really gelled through the year and our bats are peaking at the right time."
***
The semifinals, final and third-place game will take place on Saturday. At noon, Brooking-Harbor and Joseph will square off at Santiam Christian HS. YC and Rainier will tangle at Crescent Valley HS. The winners will play for the title at 4 at Santiam Christian.
Regardless of which team emerges as champion, it's obvious that the big winner will be the 3A division and everyone who helped put the culminating week championship together. Every coach who reached out about yesterday's action made sure to say "thanks."
"Just the fact that we are getting some sort of a championship is a win for everybody," Deforest said. "Thank you to all the people who worked so hard to get this season completed, including a playoff!"