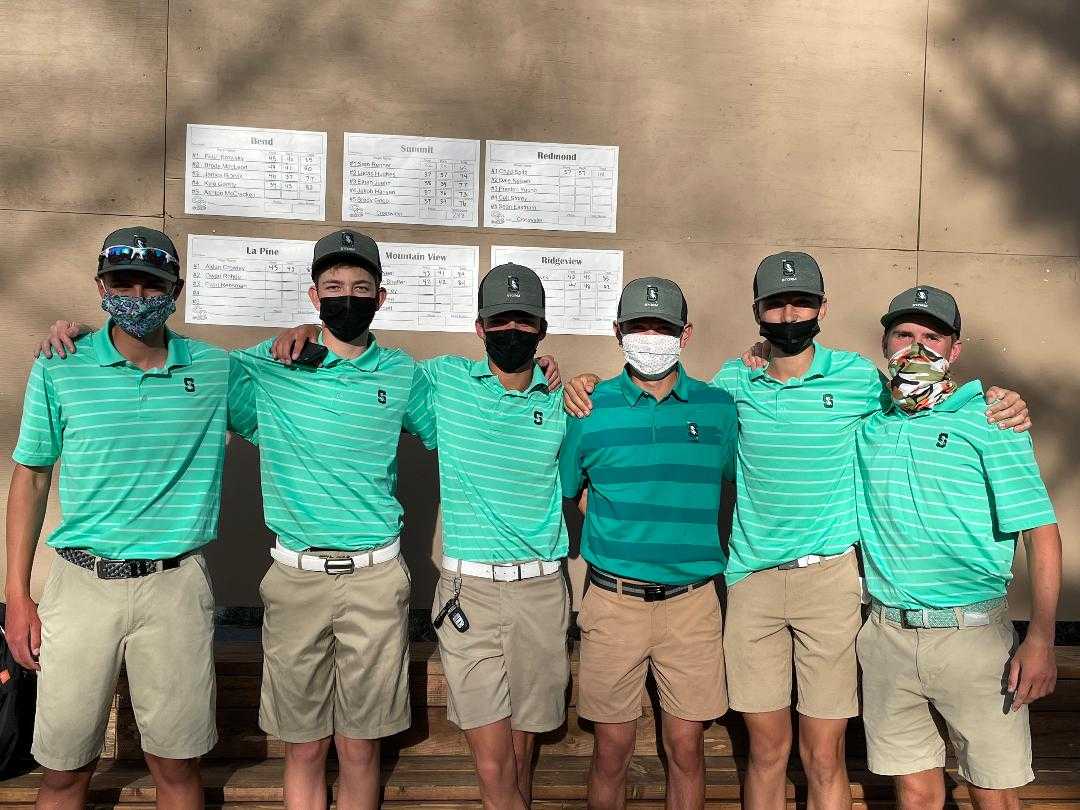 Summit's boys golf team won't make the record books this year, but as far as coach Andy Heinly is concerned, the Storm is 6A championship material.
"This is one of the strongest, if not the strongest team I've ever had, including the three state championships in 5A," Heinly said. "This team is deep. We're going to be really good next year. All these guys play a lot."
Summit, which won 5A titles in 2015, 2016 and 2017, moved up to 6A in 2019 and finished third at the state tournament behind Jesuit and Mountainside.
"That was disappointing," said Heinly, who has coached in the program since it started in 2001, the last eight years as head coach. "But we had freshmen. We're much better now."
With juniors leading the way, Summit has dominated five Central Oregon tournaments against Bend, Mountain View, Redmond, Ridgeview, Crook County and La Pine. In the two tournaments that included varsity and JV, the Storm finished 1-2.
"I've got a real strong group, like 10 deep," Heinly said. "They can all break par."
Leading the way are juniors Sam Renner and Lucas Hughes. In the 6A tournament at Trysting Tree Golf Club two years ago, Renner tied for 27th and Hughes placed eighth.
Renner won the first three tournaments this season, shooting 69 at Meadow Lakes Golf Course, 67 at Awbrey Glen Golf Club and 65 at Crosswater Golf Course. Hughes tied with Bend senior Parker Krovisky for first place in the fourth tournament, shooting 75 on a cool, gusty day at Eagle Crest Resort.
"Lucas is a little bit more of a tactician, and Sam's a little bit more of a gunslinger," Heinly said. "If Sam isn't the best player in the state, he's pretty darn close. He hits it a ton. Lucas has challenged him, but every time Sam steps up and plays well."
During Renner's bogey-free, seven-under round at Crosswater, he notched an eagle on a 572-yard par-five after hitting a 7-iron within five feet of the cup.
"He was killing it," Heinly said.
Junior Ethan Jaehn and freshman Jacob Hansen have been consistent at No. 3 and No. 4 in Summit's lineup. Sophomore Brody Grieb has been slightly more common at No. 5 than senior Hayden Klein, who tied for 30th at state as a sophomore.
Renner and Hughes left the team Monday to compete in a US Open qualifier, but Grieb (70) and Jaehn (73) finished 1-2 to lead Summit to a tournament win at Bend Golf Club.
The distance learning during the COVID-19 crisis gave Summit players more time to sharpen their games. Heinly said his golfers played more than ever, sometimes on family trips to sunny, warm climates.
"A lot of these kids will spend a week in Scottsdale, a week in Palm Springs," Heinly said. "I'm fortunate that we're in an area where parents can afford to do that."
Renner's play helped Summit shoot an even-par 288 at Crosswater, beating second-place Bend by 44 strokes. The Lava Bears have been a distant second in each tournament to the Storm.
"Our main competition is against each other, at this point," Heinly said.
The Storm would like to take a crack at dethroning three-time reigning 6A champion Jesuit, but due to travel restrictions, Summit won't get a chance to play the Crusaders. A season-ending 6A tournament was not in the cards.
"The 6A guys never even discussed it," Heinly said. "We just decided that this was the way it was going to be. I think us and Jesuit would've been a good match."
Summit will finish it season against Central Oregon schools in a tournament at Pronghorn Golf Club.
Freshman edges champ
Bandon freshman Cassie Kennon posted one of the biggest victories of the season last week when she beat two-time reigning small-school champion Baylee Hammericksen, a senior from St. Mary's of Medford.
Kennon shot an 80 in the Tokatee Invitational at Tokatee Golf Course on May 3 to edge the University of Oregon-bound Hammericksen by three strokes. St. Mary's junior Riley Hammericksen finished six strokes behind.
"Cassie was pretty stoked," Bandon coach Alaina Russell said. "She's been playing with the Hammericksens through OGA forever. She knows their games pretty well."
It was Kennon's first win over Baylee Hammericksen.
"It meant quite a bit," Kennon said. "I haven't really been playing golf a ton lately, and having gotten to know her since I was really young, and to get to compete against her, and win, it was really cool."
Kennon's brothers, Scotty and Jackson, were members of Bandon's 3A/2A/1A championship team in 2018, the Tigers' first state title.
Cassie, who played in the Drive, Chip and Putt national finals at Augusta National in 2018, has been on the rise. She won the first flight in the 12-18 age group at the Oregon Junior Amateur last summer.
Scotty has not played at Bandon since winning the state title as a freshman. He moved to Florida, where he played two seasons for IMG Academy and his senior year at Ponte Vedra, helping the team win its fourth consecutive state title. A two-time all-American, he has signed with Wake Forest.
Lilywhite shines
Sheldon junior Corinne Lilywhite has set the pace in Eugene-area tournaments this season.
Lilywhite has won all four of her outings. She opened by shooting a personal-best 74 at Eugene Country Club and followed with a 75 at Emerald Valley Golf Club, 82 at Shadow Hills County Club and 79 at Pine Ridge Golf Club.
"She's a good player now, and she'll be great," Sheldon coach Jennifer Kern said. "She puts all the pieces together, she'll be in the 60s, one of these rounds. If she can get past thinking too much out there, and go to that trust mode, she'll go to that next level, for sure."
Kern, who played in college at New Mexico, said she sees Lilywhite having a college career.
"She's got a great natural swing," Kern said. "She's got a lot of talent, and she works incredibly hard on her game."
Sheldon, which has won two of its four tournaments, will finish the season Wednesday against Eugene-area teams at Tokatee.