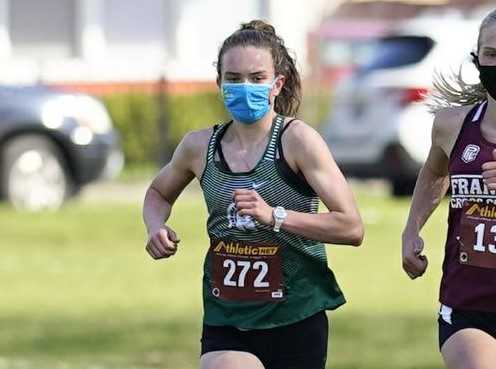 Wilson's Charlotte Richman put the exclamation point on a brilliant junior cross country season Saturday in the Rose City Championship Invite at Rose City Golf Course in Portland.
Richman, who finished 53rd in the 6A meet as a sophomore, placed first in a field of 68. It was her seventh win in eight meets this season.
"She's just been running lights-out. So impressive," Wilson coach Thor Esbensen said. "You could tell she was excited to get out there and mix it up."
Richman clocked a personal-best time of 17 minutes, 30.50 seconds to hold off two Portland Interscholastic League rivals from Franklin, senior Autumn Ost (17:45.10) and junior Kaiya Robertson (17:52.70).
The season was a breakthrough for Richman, who improved by nearly two minutes from 2019. The starting point guard on the basketball team the last two seasons, the shutdown gave the 5-foot-5 Richman time to concentrate on running.
"What I was doing the whole time when everything was closed was just getting out and running to stay in shape for basketball," Richman said. "Kind of in the back of my mind I was like, 'OK, this will help with cross country, too.' I really didn't know how much progress I had made. It was a big surprise."
Esbensen, who said Richman "is relentless on the basketball court," saw signs of her improvement last summer and fall.
"We were like, 'This kid's going to take off any time now,'" Esbensen said. "It's hard to know how those time trials will translate into actual racing. But she handles pressure like no one I've ever seen. She's a gamer. The bigger the spotlight, the more fun she has.
"I think she's starting to understand how good a runner she really is."
Richman wasn't able to go up against some of the state's top runners this season, however. State powers Jesuit and Summit did not participate in the Rose City meet Saturday.
"I was really looking forward to racing some of them at the end of the season," Richman said. "Obviously, that didn't happen. That would've been fun."
Such challenges will have to wait for her senior season. Has her unexpected success changed her outlook on the sport?
"Yeah, 100 percent," Richman said. "Freshman and sophomore year, it was kind of a second sport to basketball, just to stay in shape. Now I guess I really like competing, I really love racing. I didn't used to like racing, actually. I just have a new appreciation for the sport. I think it's a really cool sport."
Richman's performance helped Wilson's girls finish first in the meet. The Trojans (45 points), Lincoln (57), Franklin (62) and Central Catholic (95) made up the top four.
Ashland senior Cameron Stein won the boys race at Rose City. He ran a personal-best 14:32.2 to turn back Wilson junior Guiliano Scasso (14:38.8), South Medford junior Michael Maiorano (14:48.2) and Franklin senior Charlie Robertson (14:52.6).
For Stein, who placed fifth in the 5A meet as a junior, beating some of the top 6A runners was an ideal finish to his high school cross country career.
"We wanted to get up and race the 6A teams because we felt like there was an opportunity for Cam to really show his stuff," Ashland coach Karl Pryor said. "If we could find more competition for him, I think we'd just see even bigger things."
Stein passed Crescent Valley senior Keller Norland to take the lead near the end of the first mile on the Rose City course, which had three one-mile loops.
"He just said, 'I'm going to take control,' and led from there," Pryor said. "Nobody really challenged him. I think he had it in his mind to take charge of that race.
"His confidence is super-high. He's eager to race now. He was excited to take it up to Portland and show them what's going on down here."
Stein is a late bloomer, growing from about 5-foot as a freshman to 5-8. His progress this season – taking 55 seconds off his personal best – bodes well for his future at Oregon, where he has signed as a preferred walk-on.
"Now we're turning our attention to track, and once coaches start seeing some times, I have a feeling that U of O will feel like they got a pretty good deal with Cam," Pryor said.
Franklin's boys, who won the 6A title in 2019, scored 65 points to beat Lincoln (79) and Central Catholic (93) for first place.
4A meet at Marist
Junction City senior Anika Thompson turned the tables on Sisters sophomore Ella Thorsett to win the season-ending 4A meet Saturday at Marist Catholic High School.
The University of Oregon-bound Thompson was the 4A runner-up in 2018 and 2019, finishing behind Thorsett by 21 seconds last season. But Thompson recorded a personal-best 17:57.3 on Saturday to run away from Thorsett (18:22.4). Tillamook senior Sarah Pullen (19:25.4) was a distant third.
Sisters senior Ethan Hosang won the boys meet in 15:26.7. North Valley senior Patrick Clayburn (15:58.8) edged Sisters senior Will Thorsett (15:58.9) for second place.
Siuslaw made a sweep of the team titles. In the boys meet, the Vikings (70) held off Philomath (77) and Sisters (81). In the girls race, Siuslaw (81) turned back Sisters (87) and Baker (89).
Small schools
Enterprise, the 3A boys champion in 2019, cruised to an easy victory in the season-ending 3A meet at Cheadle Lake Park in Lebanon on Saturday.
The Outlaws outscored runner-up La Pine 34-68 behind juniors Henry Coughlan (second), Zac Knapp (third) and Bayden Menton (fifth). Cascade Christian junior Jake Sorani won in 15:58.57, holding off Coughlan (16:01.15), the 3A champion in 2019.
Union narrowly defeated Bandon 48-50 to win the 2A/1A meet at Cheadle Lake Park. Sophomore Taylor Fox was the top finisher for Union, placing fourth.
Stanfield/Echo senior Sisay Hurty (16:25.99) won the 2A/1A race by two seconds over East Linn Christian senior Brandon Williams (16:27.87). Knappa sophomore Isaiah Rodriguez (16:45.21) was third.
Columbia Christian junior Makena Houston, who did not qualify for state as a sophomore, dominated the 3A/2A/1A girls race. She finished in 18:24.33, more than a minute ahead of Yamhill-Carlton senior Cristin Brethower (19:42.88).
Bandon's girls scored 46 points to finish first in the 3A/2A/1A meet, far outpacing Enterprise (81) and Heppner (83).