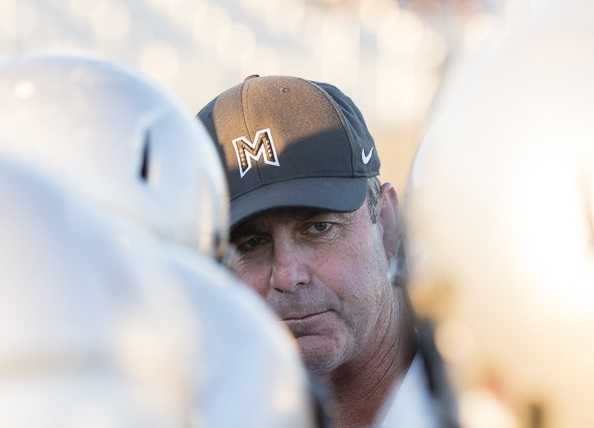 Mountainside's initial foray into high school football couldn't have gone much better in 2017.
The new Class 6A Beaverton school debuted with a junior varsity team that finished 7-2 and a freshman team that went 8-1. The freshmen boasted wins over traditional state powers Jesuit and Sheldon.
"I thought it went really well. There was a lot of really good energy," said first-year coach John Mannion, who came over from Silverton to start the program.
But Mannion, who guided Silverton to a Class 5A runner-up finish in 2014, is keeping his expectations in check as the Mavericks prepare to play a Metro League varsity schedule this season. Without seniors, they could be overmatched at times.
"I've kind of been playing the game in my mind, like our 2014 Silverton team, if we didn't have one single senior on that team, what would that team have done?" Mannion said. "But that's not a crutch for us. We don't talk about it. But it's a reality we understand. We're going to try to overcome it and be competitive."
Mountainside will play every Metro team except Sunset this season. The Mavericks open Aug. 31 at home against Jesuit, which has won 35 consecutive league games. They also will play Class 6A nonleague games against Century, Sandy, Reynolds and Summit.
Mannion said the Mavericks have had an "excellent offseason," holding their own in passing league competition against other Portland-area schools.
"They know it's a definite uphill climb to not have a senior class," Mannion said. "I like their eagerness and willingness to accept a challenge. We're kind of building that cohesiveness factor going into Year 2 now."
Mannion said the first year was crucial in establishing a culture. Slightly more than half of Mountainside's students came from the Southridge enrollment area, with about 30 percent from Beaverton and the rest from Aloha.
Putting it all together from scratch held strong appeal for Mannion. He coached in the Bay Area for nearly two decades before taking over at Silverton, where he went 57-20 with two conference titles in seven seasons.
"I felt like it was a unique opportunity that doesn't come around very often," said Mannion, whose son, Sean, is a quarterback for the Los Angeles Rams. "I've had three really good experiences, and I've been lucky to have those. This was going to be a whole new experience. It's been challenging."