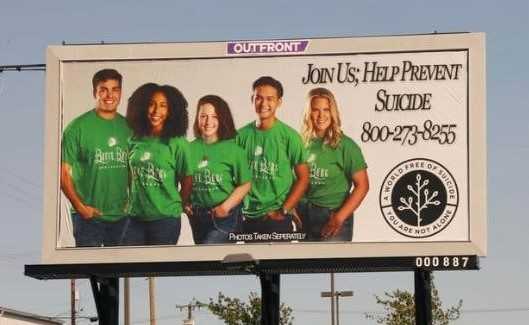 Aa a prominent advocate for suicide prevention, Carson Lydon knows all about the dangers of depression
The Churchill baseball standout, who has committed to the University of Oregon, struggled with dark thoughts of his own a few years ago after losing a friend to suicide.
So in the midst of a growing mental health crisis that is exacerbated by the coronavirus pandemic, Lydon is ramping up his efforts to push back. He says the time is critical, especially for teens, some of whom are in unhealthy living situations and have limited contact with others.
"With COVID, and everyone gone from school, the social lives are gone, so it's a lot harder for all these kids," Lydon said. "There is more pressure for kids that have bad households, and they're not getting much support from their teachers because of this virtual stuff. It's kind of doubling down."
Lydon has teamed up with local photographer Bruce Berg to increase suicide awareness with a billboard campaign in the Eugene area. The eight billboards feature high school seniors from the area with the message, "Join Us; Help Prevent Suicide," and include the number for the National Suicide Prevention Lifeline (800-273-8255).
One of the billboards was sponsored by A World Free of Suicide, the foundation that Lydon started in 2017 after the loss of his friend, William Manstrom-Greening. The others were sponsored by local businesses.
Lydon said he believes the current mental health crisis "is going to be one of the biggest challenges in our lives. Kids now, more than ever, need the support from parents, even their teachers, with online school."
Churchill baseball coach Kenny Niles said he has become acutely aware of the issue in recent weeks as several students on video calls have exhibited signs of depression. Some have hinted at taking extreme action.
"It's real. The struggle is definitely there," Niles said. "It's bad. We're worried about it, for sure."
Early in the pandemic, Niles remembers a staff call during which information was shared that reports of child abuse had declined 800 percent.
"I said, 'Oh, that's great,' and they said, 'It's not great,'" Niles said. "They said, 'We're the ones that report it, and kids not being in school, it's just going unnoticed right now.' I didn't even know about that."
Lydon urges teachers to be vigilant.
"This is a time that teachers still need to be engaged with these students just because there are so many kids that struggle in school online, even if they have their parents there," Lydon said. "Parent pressure always adds a little bit of stress. I think there is more pressure for kids that have bad households.
"I talk to a lot more athletes, how it's affecting us, not going to school, stuff like that. It's hard for all of us. I have close friends that deal with this, like all this depression. So I see it every day."
Through his foundation, Lydon has raised about $50,000 for suicide awareness. For his efforts, he has been recognized with the Kiwanis Everyday Hero Award and the Trillium Mental Health Hero Award, as well as Youth ERA's Highlight the Hope Award, a national honor.
His staged two fundraising walks in Eugene, one of which netted $17,000, and he had a promotional night with the Eugene Emeralds minor league baseball team.
During his sophomore year, Churchill's baseball team was rocked by the suicide of Christine Tofte, a teacher in the district and the mother of his teammate, Cho Tofte, who also has committed to Oregon.
Lydon organized A World Free of Suicide night for a Churchill home baseball game, designing jerseys with a foundation patch, suicide prevention ribbon and the letters NFCT – never forget Christine Tofte. The Lancers won, with Lydon as the starting pitcher and Tofte as the closer.
Lydon excels in baseball as a left-handed pitcher and first baseman. As a sophomore, he went 8-1 with a 0.94 ERA and five complete games and batted .505 with five home runs and 29 RBIs.
"It helps that he's one of the better athletes in our school. Obviously, that comes with a little bit of a following," Niles said. "He's a pretty good advocate for a lot of great causes, whenever there's any time for him to use his voice."
Lydon has stayed busy playing baseball in the past month, traveling to tournaments in Florida, Texas and Utah. He has been invited to participate in the inaugural MLB Regional Scouting Series Oct. 31-Nov. 1 in Tacoma.
Being active is a good way to combat depression, he said. Staying connected is vital.
"If you're feeling down, you need to be able to reach out to someone, because that's the first step to healing," he said.