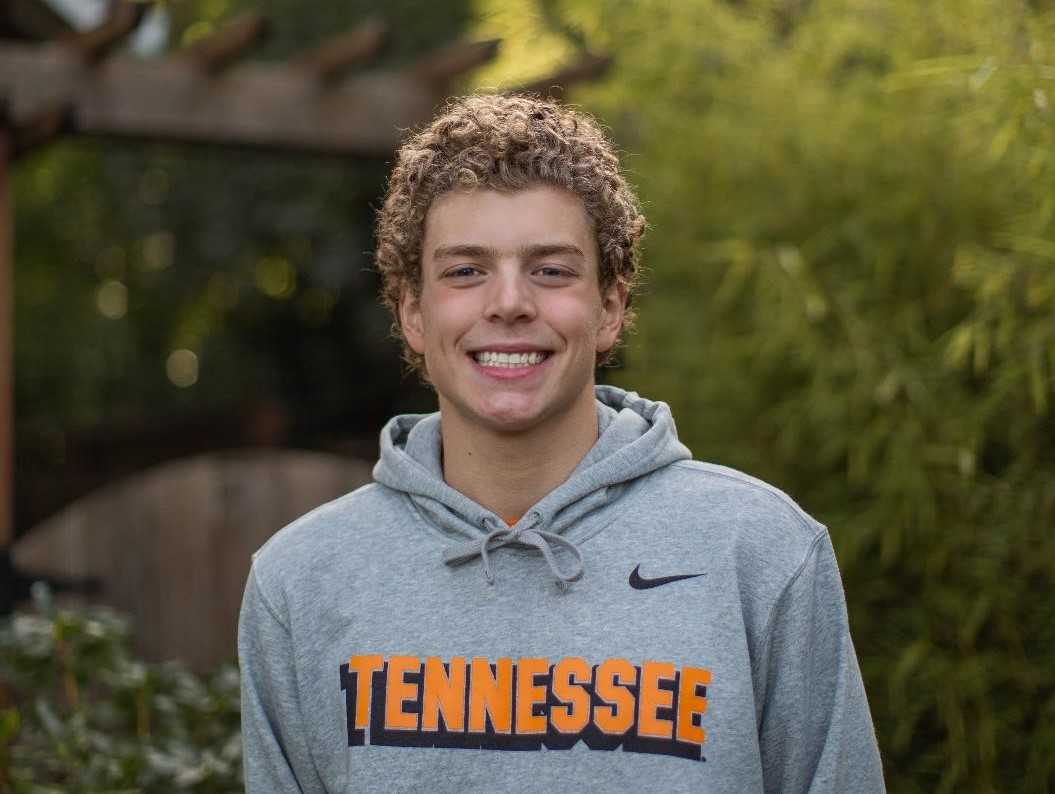 It was the summer of 2012, and as eight-year-old Nick Simons took swim lessons, he drew inspiration from the dominant performances of swimmer Michael Phelps in the Olympic Games in London.
"I really loved swimming, the competitiveness," Simons said. "It really seemed like a good fit for me. I had played other sports as a kid, but an individual sport seemed like a really good idea."
Eight years later, swimming is paving the way to Simons' future. The Jesuit junior, who holds the best 200-yard backstroke time in the nation for the Class of 2022, has committed to swim for the University of Tennessee.
"It's just a dream come true for me to swim in college," Simons said. "I'm just so thankful my swimming has been able to get me this far. Back when I started I had no idea I was going to get to swim for Tennessee."
Simons is oozing potential.
"When he goes to Tennessee, I think he's going to have a great college career," Jesuit coach Bryan Butcher said. "There's great coaches there. He's so talented, if he's focused, he could do very well."
Simons set eight Oregon Swimming age-group records in the backstroke before landing at Jesuit, where he has won six 6A titles – two in the 100 backstroke, one in the 100 butterfly and three in the relays. He owns the school record in the backstroke.
Simons drew plenty of college interest before choosing Tennessee over North Carolina State and Auburn. He is among the first swimmers in his class to commit.
"This year, especially with the whole COVID situation, kids have been committing earlier and earlier," Simons said. "I really wanted to try to make an early commitment."
As a freshman, Simons won the 100 backstroke (51.64 seconds) and was part of the state champion 200 medley relay. As a sophomore, he claimed individual titles in the 100 backstroke (49.57) and 100 butterfly (50.16), swam on a state record-setting 200 medley relay (1:33.42) and contributed to the winning 400 freestyle relay.
He has helped Jesuit extend its run of 6A team titles to six.
"It wasn't just that we swam well, we had fun doing it," Simons said. "We had this great family atmosphere that really stood out. That's one of the things I loved about the University of Tennessee is they have a real similar atmosphere, a brotherhood. That was one of the huge deciding factors for me choosing Tennessee."
Simons made dramatic improvement as a sophomore, lowering his times in the 100 backstroke (49.57) by two seconds and 100 butterfly (50.16) by four seconds. He was 15th at state in the butterfly as a freshman.
He credits much of the uptick with reshaping his body. The 6-foot-2 Simons swam at about 175 pounds as a freshman but cut to 148 as a sophomore. He ate more proteins, vegetables and healthy carbohydrates and shunned empty calories.
"I definitely leaned out a lot between my freshman and sophomore year," Simons said. "I slimmed down, but also added some muscle on top of that. I cleaned out my diet. It made a lot of the difference."
Simons also credited the staff at Lake Oswego Swim Club – led by head coach Emily Melina, a former UCLA swimmer -- with tightening up his technique. In particular, he became much more proficient under water.
"That was one of my weaknesses," Simons said. "I definitely got stronger lower body, and attacked the race strategy a little different, tried to space out the kicks in a different way. It definitely made a difference."
Butcher said he has seen Simons "grow up a lot."
"The last couple years, he's really just matured," Butcher said. "He's more focused on school and swimming. He started applying himself."
Simons was on a roll just before the coronavirus shutdown, recording personal bests in the 100 backstroke (48.66) and 200 backstroke (1:44.92) in the short-course Region XII Senior Championships on March 7-8.
He was hoping to make a run at an Olympic Trial qualifying time in his best event, the 200-meter backstroke, before the long-course season got wiped out. His best time of 2:04.08 is on the fringe of the qualifying standard of 2:02.92.
Would he have gotten it?
"I think so," Simons said. "It's a what-if. But next season, that'll be the goal."
Simons has been able to maintain his training during the shutdown by working out with Lake Oswego Swim Club at pools in Camas, Wash., and Newberg about six days each week.
"I can't give my coach enough credit," he said of Melina. "She has done, I would say, the best job in all the state in terms of getting us in the pools. I'm so thankful we've had this opportunity to keep training."
Simons has come a long way since he first made the team at Lake Oswego Swim Club in 2012.
"The morning I was going to try out, I didn't want to, I was so nervous," he said. "But my parents were like, 'You can do it,' and they were supportive. I can't even believe it's been eight years since I tried out for the team. It's been a wild, but so-much-fun of a ride. I love it."