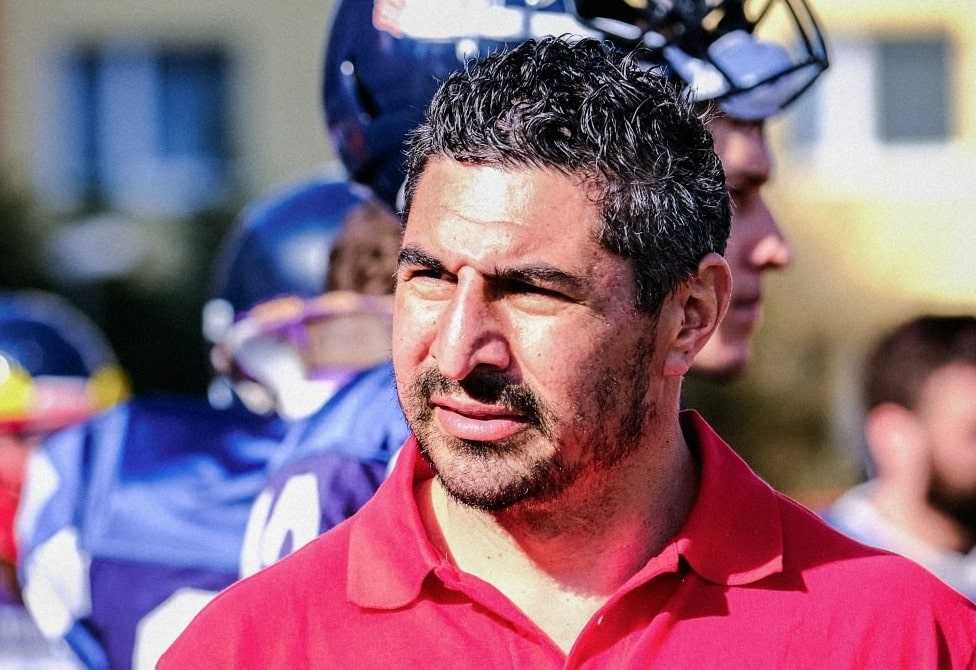 Jesse Thompson expected to coach special teams and defensive backs when he agreed to join the staff of newly hired Franklin football coach Chris Miller in May.
Thompson had coached with Miller with the XFL's Houston Roughnecks in the spring, and the two bonded as Oregonians.
"To be honest, I was coming on board just because of Chris," Thompson said.
When Miller pivoted and returned to his old coaching job at West Linn in July, he offered Thompson a spot on the Lions' staff, but also encouraged him to pursue the head coaching job at Franklin.
"He said, 'I think you'd be great.' I said, 'Let me think about it,'" Thompson said. "I reached out to some people about all the resources that Franklin has."
The former Lincoln running back decided to apply for the job, and he emerged from the process as the Lightning's new coach. He brings to Franklin 19 years of experience coaching pro, college and high school, including three stints as a head coach in Europe., where his Czech team won a championship in 2017.
"We feel very fortunate to have Jesse," Franklin athletic director Scott Santangelo said. "As much as we hated to lose Chris Miller, I think Jesse's going to stick around for a long time and build a program from the bottom up. We think we've got a great one."
The 1996 Lincoln graduate already had a soft spot for the Portland Interscholastic League. And it helped that one of his former high school teammates – ex-Lincoln coach Adam Grimes – was on the staff at Franklin.
"All of the sudden, it just made a lot more sense," Thompson said of the Franklin job. "I thought I could have a lot more value as a head coach at Franklin than I could possibly chasing a state championship at West Linn as an assistant, with a bunch of kids that were already established.
"This program, they're hungry to be coached. There's some talent there. It just felt like I could have a much bigger impact at Franklin, and do a lot more for the kids and the game."
Thompson played beyond high school at College of the Redwoods, Portland State and Southern Oregon, where he was a member of the 2001 team that was inducted into the school's hall of fame.
He has coached at Portland State, Southern Oregon and Lewis & Clark College. He assisted with Omaha of the United Football League (2011) and has coached in France and the Czech Republic, where his 2017 title team finished 12-1-1. He assisted with Houston of the XFL last season.
Thompson has assisted in high school programs at Westview and La Salle Prep. A high school head coaching job presents a new challenge for Thompson, who has worked in the Portland area as a private football trainer and substitute high school teacher.
"It's a long-time goal, long time coming," Thompson said. "I've been lucky enough to work with some really good head coaches, some former NFL guys. It's just kind of an opportunity to put all that knowledge together, and be able to lead some young men."
Santangelo said that all of Thompson's references "were very high on him."
"One of them even said, 'He's going to be the best head coach that people haven't heard of because he's behind the scenes, but he does an incredible job,'" Santangelo said.
Thompson's understanding of the PIL was a big plus for Franklin, according to Santangelo. In recent years, the PIL has made a concerted effort to build youth programs and upgrade facilities under district athletic director Marshall Haskins.
"Jesse understands from the bottom up the things we're dealing with on a daily basis," Santangelo said. "I think our league's in great shape from the standpoint of we have more resources than we've ever had because Marshall Haskins has helped build that. I think he's going to do an incredible job because he understands what the PIL is. And he wants to be here."
Franklin finished 1-8 the last two seasons under Wes Warren, who will remain on the staff as defensive coordinator. Thompson said he has yet to define the offensive coordinator role, but he will install a run-and-shoot offense similar to what was run by Houston in the XFL.
Thompson said the addition of Alex Linnenkohl – a former Oregon State offensive lineman who runs LinePro Football, which trains linemen – is a boost for the staff. Thompson and Linnenkohl coached together at Westview.
"I'm pretty stoked to get him," Thompson said.
Thompson has met Franklin players online but is eager to work with them in person.
"I've lived here, off and on, so I feel like I have a pretty good take on what these kids have been through, where they grow up, much more than I am in touch with the suburban-type environment," he said.