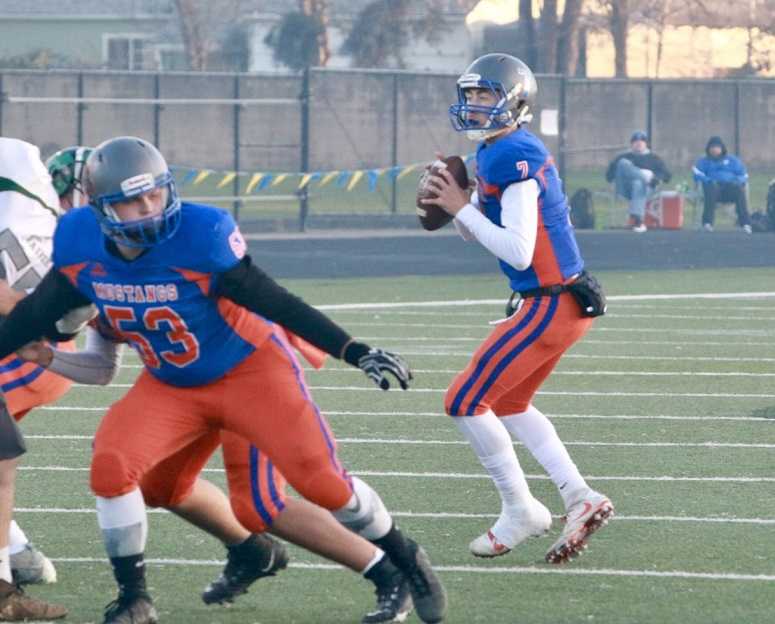 A surge of optimism swept through members of the Oregon high school sports community Wednesday after the OSAA released its revised calendar for the 2020-21 school year.
Moving forward, though, there is still much for them to digest about the plan, which will have condensed winter, fall and spring seasons – in that order – with the first contests in January.
"It's hard to wrap your head around how this is going to look," Kennedy volleyball coach Laura Beyer said.
In addition to the always-changing landscape of the COVID-19 crisis, much remains uncertain.
Will the additional "culminating week" provide an opportunity for state championship events? How will coaches and athletes be able to capitalize on the OSAA waiving out-of-season coaching limitations between Aug. 31 and Dec. 27? And what will schedules look like during a seven-week regular season?
"It feels like there's still a lot more questions than there are answers," South Medford girls basketball coach Tom Cole said.
Steve Pyne, coach of reigning 6A football champion Central Catholic, is ready to sort through the details.
"At least we have a framework now and we can start to plan and move forward," Pyne said.
To fill in the blanks, the OSAA will lean on input from contingency groups in each sport. Fall sports groups have been active since June. Groups from other sports are in the process of being formed.
Perhaps the most pressing task for the contingency groups is identifying an objective and format for the culminating week. A key will be determining the feasibility of a state championship event, a strong desire for coaches and athletes.
Beyer, whose Kennedy team won the 2A volleyball title last year, said a championship tournament is even more important this year considering the shorter regular season.
"It's going to be hard for the girls to get real excited about a season where it may not be competitive every night. That's why I like a playoff, at least," Beyer said. "It's hard for me to imagine not having regionals or state playoffs. It kind of takes the wind out of your sails. It sort of makes you feel like when you play intramurals in college. It's not quite the same, the level of intensity and excitement."
Cole's South Medford team, stymied last season when the 6A tournament was canceled in the semifinals, wants a chance to go after the title again.
"We have a great group of kids back. There was a lot of optimism," Cole said. "Is a short season better than no season? Yes. But I think probably every coach also is competitive enough – and so are the kids – to make it about the culmination of some goal that you're working toward."
Pyne is hopeful that football can devise some sort of playoff, whether it's a BCS-style No. 1 vs. No. 2 or a final eight created after five weeks.
"The OSAA has a little bit of time here to try to figure this out," Pyne said. "Listen to what the desires of the schools are, the coaches and players. I think at the end of the day, they want to play, but they want to play for something."
Rick Stupak, the football coach at 2A Lakeview, has drawn up a proposal for a season-ending bowl system that includes dividing teams into regional "pods." Stupak said that there would be plenty of support for a condensed playoff, if it were possible.
"Those programs are used to playing for something," Stupak said. "Any way you can have something, and still have those teams that have those ambitions get a chance for something at the end, I think it's good."
Sherwood senior Bryan Cuthbertson, a two-time 6A runner-up in wrestling and a 6A runner-up in the shot and discus, is among the many athletes who have unfinished business at the state level.
"I really don't want to say that the whole season is just for a state championship, because I wrestle to push my limits," Cuthbertson said. "But at the end of the day, you play high school sports to see where you're at. I feel like if we wrestle in an actual season, we should have a state championship tournament. It would be a big bummer if we didn't."
Cuthbertson, a standout linebacker on Sherwood's football team, also said it would be a "huge downer" to not have state football playoffs.
"But then we'll go to the next-best thing – a league championship, undefeated," he said. "Just because one thing is taken away, it doesn't mean we stop. We still push harder and harder."
Hidden Valley quarterback Sam Vidlak, who has committed to Oregon State, was holding out hope for a fall football season, but said, "At this point, I'm really glad if we get a season."
"Obviously I really want an opportunity to compete for a state championship with my team, so that's our main goal," Vidlak said. "But really, we just want a season. It's not something I'm going to throw a fit about. I think people that are throwing fits about that should realize the bigger picture and that we're not exactly in a situation where we can pick and choose.
"If we can't get a state playoff, I'm assuming that all the options to get one were exhausted, and it was a last resort to not get one. I'd be super bummed if we didn't get to try to play for a state championship. That's what you work your whole life for."
***
The order of the seasons, and the overlap between them, will be an adjustment for coaches and athletes.
Kennedy's Beyer expressed concerns about how the overlap with other sports will affect volleyball, an issue she has not encountered before.
"You wonder if the girls will be willing to do all three sports, or if they will be wanting to get ready for the sport that might be of their choosing," Beyer said. "That's a concern for the smaller schools because you need all those girls to come out for all the sports."
For three-sport athletes such as Cuthbertson, the condensed seasons present a physical test.
"It'll keep me busy," he said. "I get to play the sports I want to play. I get to compete. I still have my senior season for all those sports, and that's really what matters is getting to do the things I love."
Cuthbertson said he will need to change up his training regimen as he prepares to start off with wrestling. He typically plays football at about 245 pounds and wrestles at 220.
"Starting next week, I've got to get on a diet, going on runs," he said. "I have four months to get down 25 pounds."
Cole said he wonders how potential geographical restrictions could affect South Medford's league alignment and schedule. He lamented the loss of a nonleague schedule that included a visit to national power La Jolla (Calif.) Country Day and games against Benson, South Salem and West Salem.
"Knowing that that's not there, that obviously takes away from the competitive end of it," Cole said.
Beyer is hopeful of playing against some of the state's top teams outside of Kennedy's league.
"You want to play competitive matches," Beyer said. "You progress as well as the competition that you have. It's going to be hard for the girls to get real excited about a season that's shortened to where it may not be competitive every night. That's why I like a playoff, at least."
Coaches will be gauging how they can best approach the open period during fall. Even though the OSAA is waiving out-of-season coaching limitations during the period, programs still must comply with state restrictions.
"There's only so much you can do in Multnomah County right now," Pyne said. "Once we know what we can do, then we'll make a plan. My guess is we'll have some training on campus for the fall months. At some point those things will become more sport-specific."
Cole had a measured reaction to the open fall period.
"When I saw that, I thought, 'That's great, you have a dead period removed,'" Cole said. "But on the other hand, we've all been living in a dead period. We've had no competitive games since having our state tournament ended. You're still underneath a greater restriction about what you really can't do."
The prevailing hope is that those restrictions will loosen in the coming months, opening the doors to schools, and in the process, all the state's playing arenas.
"For what the situation is, if we can give all the kids in all the sports an opportunity to play for eight weeks, it's awesome," Pyne said. "It's better than nothing. I think people recognize the fact that kids being active and involved is a good thing. It keeps their minds, bodies and spirits right."