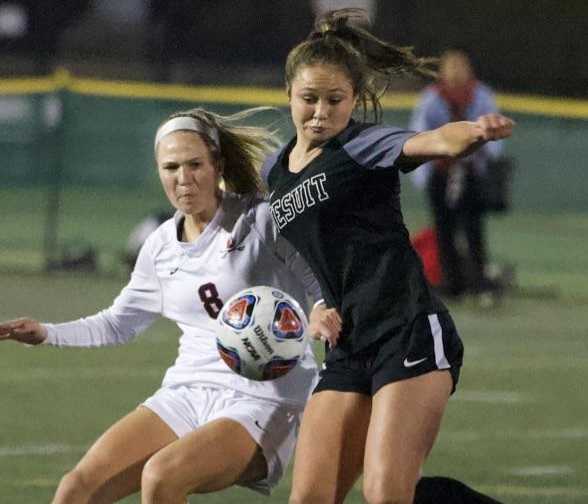 After taking an unexpected turn, Callan Harrington is feeling better about her college soccer future.
The former Jesuit star, who became the state's all-time leading goal-scorer in propelling the Crusaders to a 6A three-peat last year, committed to Washington in the spring of 2018 and signed with the Huskies last fall.
Following coaching changes at Washington and Oregon, though, she is headed to the Ducks.
"I'm really excited, especially with the new staff that just came in," Harrington said. "I'm looking to drive at Oregon, hopefully do well this year and refocus. Now I feel like I'm more settled down at Oregon and happier with the decision."
She signed with Oregon in late June after Washington released her from the national letter of intent.
"Adding a player with the technical and character qualities is a great signing for us," first-year Oregon coach Graeme Abel said in a release. "Callan knows she is coming into an environment where she can evolve as a student-athlete and maximize her potential."
Harrington, who owns state records for goals in a career (133) and season (55 as a senior), was rated as a three-star recruit and named second-team All-America by TopDrawerSoccer.com.
Coach Lesle Gallimore recruited Harrington to Washington, but she resigned last year after her 26th season and was replaced by Nicole Van Dyke, the former coach at Penn.
"With this new coaching change, I was pretty uncertain with my decision on whether I wanted to play there or not," Harrington said.
Harrington said that Washington gave her permission to look for another school, and in the meantime, she could enroll at Washington but would not be on the team.
"I pretty much re-opened my search process," she said.
Jesuit coach Steve Fennah said that Harrington drew plenty of interest.
"I think people created spots for her," Fennah said. "There was quite a lot of schools that had a spot open. I think it was a shock to everyone. Nobody could believe it. … Oregon was obviously excited to recruit her."
Harrington also was intrigued with Oregon. She was recruited by the previous coach, Kat Mertz, "but I didn't really vibe with her," Harrington said. She had a better connection with Abel, an assistant coach for the U.S. Women's National Team who was hired to succeed Mertz in December.
It also helped that she was familiar with several Ducks from her Crossfire United club team, including Rosie Larsen of West Linn and Mia Palmer of Grant.
Harrington will try to provide a spark for a team that finished 5-9-5 last season. Oregon brings back its top three goal scorers in junior Jordan Wormdahl, sophomore Ally Cook and junior Zoe Hasenauer.
"I think I have a lot to bring," Harrington said. "I think the talent on the team now is really, really strong and high. Me coming in with all those talented people, I think it'll be a great asset to the team. We'll definitely have success, I think."
Fennah, the Oregon State women's coach from 1998 to 2008, said he thinks Oregon is a "good move" for Harrington.
"I'm excited to see what she can do," Fennah said. "She is equipped athletically to be able to compete in that conference. There will be an adjustment period to college, but she does have the athleticism and physical strength to enable her to contribute right away."