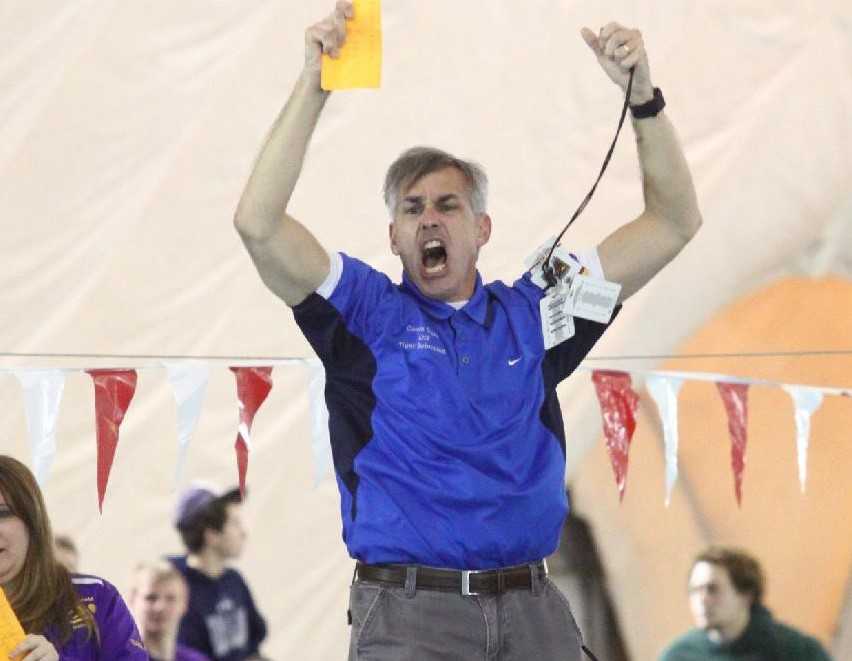 A California transplant, Darren Dutto knew next to nothing about La Grande swimming when he took over as the team's coach in 2005.
He had moved to the area the previous year to teach at Eastern Oregon University and was told about the opening by his supervisor, a team parent.
"He knew I had a swimming background," said Dutto, who swam in college at UC Davis. "He said, 'Why don't you throw your hat in the ring?'"
Now Dutto, 51, is looking back at a 15-year tenure as coach that netted 14 state trophies and included a 2016 boys state championship team that featured his sons, Keegan and Garren. He has decided to step down one year after Garren graduated from La Grande.
"I always wanted to coach until my kids had gotten through," said Dutto, who teaches exercise science at EOU. "That 15 years ended up being a nice, round number past that.
"I just felt it was time. It's been a good run. I was ready for my life to calm down a little bit. High school swimming was kind of extra. My regular job takes up a lot of time."
Dutto coached recreational and club swim teams and taught swim classes during his college years. But by the time he left a teaching position at Cal Poly Pomona for EOU – "We were looking to move to some place that was a little quieter," he said – he had drifted from the sport.
"I really didn't get to do too much coaching until I got to La Grande," he said.
Dutto inherited a La Grande girls team that had won four consecutive state titles. They won seven trophies under Dutto, including a runner-up finish in 2012. The boys also won seven trophies, the highlight being the 2016 title.
The 2016 team edged reigning champion Catlin Gabel 68-66 to finish first in the 4A/3A/2A/1A meet, the boys' first title in 12 years. In a dramatic finish, Dutto's sons each swam a leg on the winning 400-yard freestyle relay to put the Tigers over the top.
"Having them both swim together, and to be able to win a state championship, that was just phenomenal," Dutto said. "It was great to have both boys and then have such a great team, so we could pull off something like that. It was a lot of fun."
Both of his sons opted not to pursue college swimming careers. Keegan, a multi-time state placer, graduated from Oregon State this year. Garren, a five-time state champion, is entering his sophomore year at Oregon State.
Dutto reflected on the team's sustained success during his tenure.
"I think what I'm most proud of is the development of the kids and the culture into one where it wasn't just about swimming, it was about being good people, and if you're good people and you work hard, good things happen," he said. "I think that's the legacy I want to leave."
Dutto decided to coach one more season in part to help the girls team chase after a state title. La Grande finished third in the state meet, scoring 49 points to place behind Catlin Gabel (78) and Sweet Home (65).
"I wanted to come back and have that season for them," Dutto said. "I had a lot of fun. I'm glad I did it. They were hoping to do better than third, but you can't control the other teams around you. We did the best we could, and we were happy with that."
Moving forward, Dutto said he will focus more on his research: the movement dynamics of piano playing.
"It's going to be nice to only have to worry about one job for a while," he said. "I'm kind of ready to step back and not have life be quite so crazy."
He sees a return to coaching in his future.
"My wife and I have talked about it," he said. "As I get through my career, and I get a little closer to retirement, it'll be time for me to pick coaching back up again, when I don't have to overlap and make things too messy."