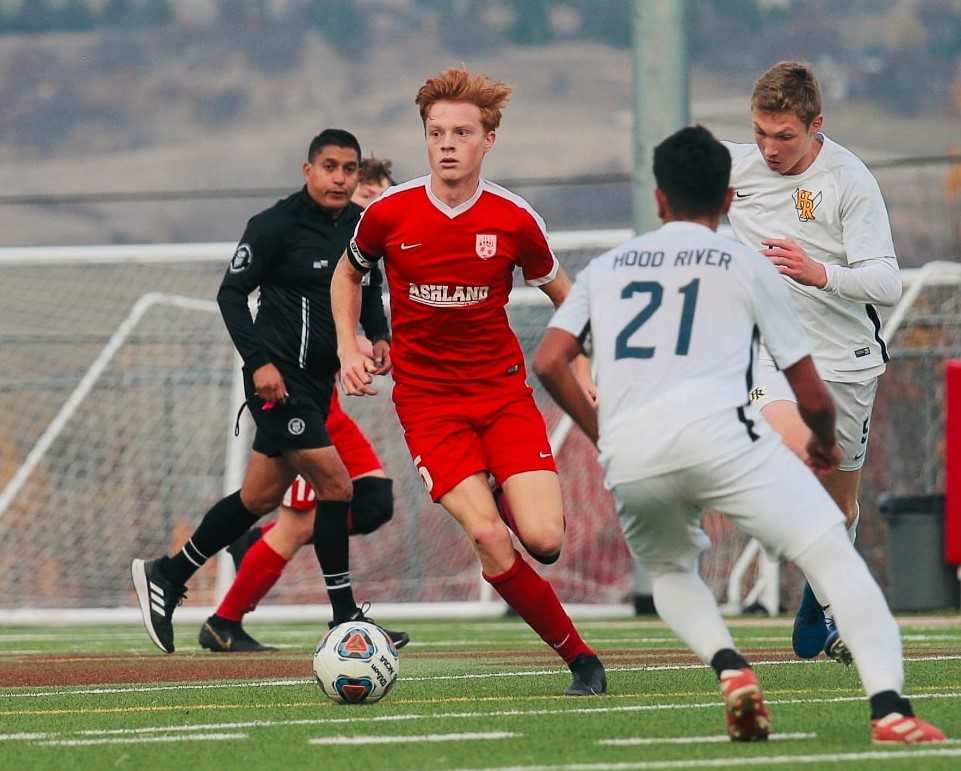 From the time he first spotted Scott Gustafson kicking a soccer ball in the park with a friend as a sixth-grader, Ashland coach Abdiaziz Guled sensed something special in him.
"I thought, 'This could be the future of the Grizzlies,'" said Guled, who gave Ashland Grizzlies t-shirts to Gustafson and his friend, Sam Austin.
As it turned out, Guled's instincts were spot-on. Both players became foundational to Ashland's success in the last four seasons, helping the Grizzlies go 41-12-8 in that span, and Gustafson emerged as a star.
Gustafson was a two-time 5A first-team pick, the Midwestern League player of the year as a senior and landed a Division I scholarship to the University of Washington.
The 6-foot, 160-pound midfielder added the crowning achievement to his decorated high school career this month by being named the Oregon Gatorade Player of the Year for 2019.
"I'm still speechless about it," Gustafson said. "It's so unheard of from our town. It's so far south, and away from all the action. It's really a big thing for our community.
"It meant the world to me. I've been working so hard throughout my high school career, pushing with my team and trying to accomplish our potential, and the Gatorade award just kind of came with my whole high school journey. It's just reassurance that I've been doing everything right and that I should keep going and make Ashland proud."
It's a fitting reward for a player who set a high bar for himself and his teammates, according to Guled.
"He does the job before he speaks," Guled said. "Everything that we do, he was the best at that, so everybody just says, 'I better catch up with this guy.' He led with actions."
Gustafson finished his career with 24 goals and 29 assists. He had 11 goals and seven assists as a senior for the Grizzlies, who went 11-3-3, won the Midwestern League and advanced to the 5A semifinals, recording their first playoff wins in five years.
Guled said that Gustafson personified the team motto of "Out of many, one."
"Some players get into their head that they're too good to be with other kids, but this guy never had that," Guled said. "And he is amazingly skilled. He's a great human being that collected everybody, that magnet, from soccer to personality to being a great student."
Gustafson was an anchor at midfield but filled in all over the field, playing every position but goalkeeper for Ashland.
"He controlled the game," Guled said. "Wherever I needed him, he would go there. Whenever he had the ball, we were in our comfort zone, and we'd just say, 'We've got it.' He helped a lot of kids to play that way.
"He played out of love for the game. He took care of everybody."
Gustafson said that with the level of coaching he has received, he felt a responsibility to share it with the Grizzlies during his career.
"I brought that motivation," Gustafson said. "I thought it was important for me to bring that to the team at Ashland High School to make an impact, so we could go as far as we could."
Gustafson, a 4.0 student, had the same selfless mindset off the field. He helped freshmen acclimate to high school as a counselor for Ashland's FreshStart Program. He was a player-coach for the school's Unified Sports soccer team, sponsored by Special Olympics. And he was an organizer for the Grizz Pageant, a fundraiser for the prenatal intensive care unit at a local hospital.
Gustafson was among 23 players from birth year 2003/2002 picked to the U.S. Youth Soccer Olympic Development Program national training camp in Tampa, Fla., in January. He proved himself in the ODP process despite living five hours from a major population center.
"I'm just really proud of him because it's an uphill battle when you live far away," said his mother, Kristin Fontana."You have to do more than people who live in closer proximity."
Gustafson has been working out to prepare for his freshman year at Washington, where he will compete for a spot at outside back. Guled said he believes that Gustafson, who has shown a knack for raising his level of play against tough competition, is ready to meet the challenge of major-college soccer.
"A college coach told me, 'We don't know his ceiling. We don't know how far he can go,'" Guled said. "His skill is just unbelievable. Quick moves and agility, that's the thing he has the most. So flexible and agile.
"I had a high school coach tell me, 'You're lucky you have that player on your team.' I know Washington is going to have a great player. I can't wait to see him there."
If there was no shutdown, Gustafson would have spent part of his summer playing for the Portland Timbers U23 team. He regrets missing out on the opportunity.
"That would've been a great thing to have before I head up to UW, to play at that high level," said Gustafson, who was born in Hermosa Beach, Calif., and moved to Ashland when he was four years old. "It's going to be difficult to go from not even playing to intense, high-level soccer."
Regardless, Gustafson has developed the confidence that he can hold his own against elite competition. It's in the family -- his mother played at UCLA and his aunt, Katharin Gustafson, played at California.
"It's easy to get nervous going into such a high level and not knowing what it's going to be like, and if you're going to be good enough," he said. "Especially being from a small town, it's easy to get caught up in that.
"But I'm not nervous anymore at all because I think I've had a great year of soccer. I've developed and I've been growing a lot, and the coaches have seen that. I'm through-the-roof excited to go there and play soccer."