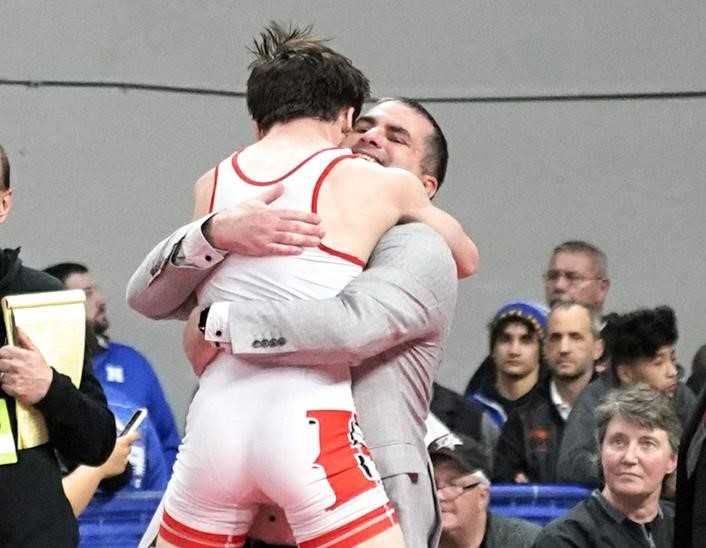 The past month has been bittersweet for Bo Hampton.
Hampton, who coached Reedsport to the 2A/1A wrestling title this year, landed the job at 4A Marshfield of Coos Bay, his alma mater. He was eager to return to the Pirate wrestling room and work with his old high school coach, Wayne Van Burger, who had lobbied for him to get the job.
Van Burger – part of Marshfield's program for 30 years, 21 as head coach – had been a mentor to Hampton since he graduated in 2001. But tragedy struck when Van Burger, 71, died of a heart attack while out for a jog last month.
"I had stayed in touch with him all the way through," said Hampton, who started his coaching career as an assistant to Van Burger. "He was kind of the one that guided me through. So I was super excited to get the job, and he was super excited about it. I was really hoping he was going to be there and be a part of things.
"He was going to come in and help me out here and there, just running ideas off him. The things he had done throughout the years with wrestling, it's amazing."
Hampton said that Marshfield will honor Van Burger by naming its mat room after him. And Hampton will carry forth the same coaching philosophy employed by Van Burger, who was a part of nine league championship teams.
It's the approach that was so successful for Hampton in his six-year tenure at Reedsport, which ended with him being selected as coach of the year by the Oregon Wrestling Association.
"We're just inviting each kid in the school to come in and give us a chance and see if they like it or not," said Hampton, who succeeds Tyler Strenke as the Pirates' coach. "Just letting them know they can compete with anybody. It doesn't matter when they start wrestling. When Van Burger was the coach, he just invited every kid to come in and give it a chance."
Hampton made that appeal to Reedsport students when he took over the program. In short time, he turned a group of inexperienced wrestlers into a state-championship unit.
"Most of them started in high school," Hampton said. "Three years ago, I just came in the mat room and I said, 'Look, guys, the only way we're going to do this is we're going to have to wrestle all spring and summer, and we're going to have to go to Fargo and take our beatings at the national tournament. And it'll pay off.' And they all kind of got together and said, 'OK, that's what we want to do.'"
Reedsport had high hopes for the 2019-20 season, but after placing fifth in the Oregon Classic and fourth in its district meet, knocking off six-time reigning champion Culver in the state tournament seemed like a longshot.
But everything came together for the Braves, who pulled out several key matches on the second day to overtake Culver by 3.5 points and win their first title since 1967.
"It was pretty amazing," Hampton said. "The tournament had to go just perfect. We had to win matches that weren't expected. Each kid had a match that decided whether we were going to win the state championship or not."
Hampton said it will be difficult to leave Reedsport, but the chance to coach in his hometown was too good to pass up. He still lives in Coos Bay, where he works as an educational assistant at Millacoma School, and he was commuting 45 minutes each way to Reedsport.
"That was kind of taking a toll on my family, driving up there every day," said Hampton, who has three daughters.
The Marshfield program is in his blood. His father, Rod, coached the Marshfield Mat Club for 15 years and assisted at the high school. He plans to draw on his connections in the program for coaching assistance, including his brother Brady, a 2004 state runner-up, and Andrew Dewater, a 2005 triple crown winner.
"There's a lot of people that I wrestled with in the community," Hampton said. "I have a lot of different people that are going to buy into a day or two a week, and come in and teach their technique. I think it's really good for the kids to see different techniques."
Hampton said "it's pretty amazing to be back home."
"It's a goal I've had since I was a kid, wrestling for Van Burger," he said. "I always wanted to be a coach like he was, and be coaching at Marshfield, and coach in that amazing arena. It's pretty cool in there."