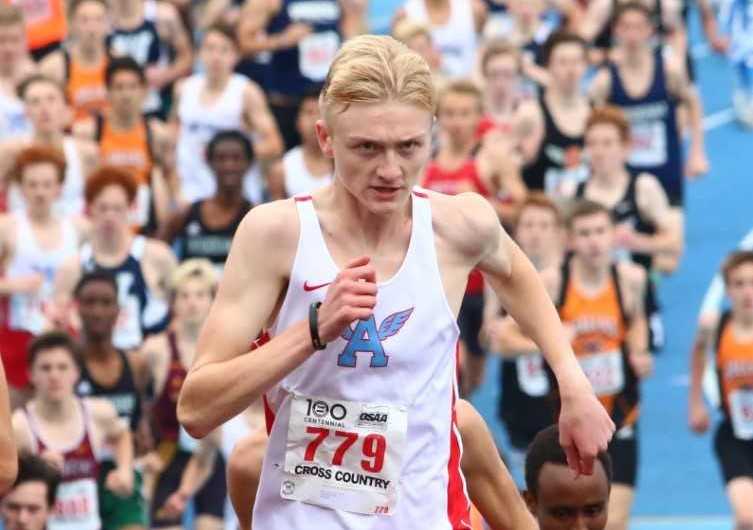 EJ Holland seemed unstoppable heading into 2020.
The Ashland senior was coming off a brilliant 2019 track season that he punctuated by clocking a personal-best in the 1,500 meters at the Portland Track Festival, No. 2 on the state's all-time list. And last fall, he set the cross country state-meet record in repeating as the 5A champion.
"I was hoping to capitalize off that momentum," Holland said.
It was all laid out for him in his final high school track season before starting a college career at Oregon. He planned to push himself by running unattached in two high-profile meets in California. He was going to chase the 1,500 state record and a first title in the 800. And his big goal was to make the U20 World Junior Championships this summer.
Before the coronavirus pandemic shut down the season in March, the 6-foot-3 Holland was right on schedule.
"I had some great workouts," Holland said. "I was getting into really good speed shape. Aerobically, I was really fit. I think my initial goals coming into the season would've been attainable. That was the hardest part. It wasn't like I would've had to really fight to try to meet my goals. I thought I was on track to be able to do them."
In November, Holland ran 14 minutes, 30.4 seconds in the 5A championships, the best time ever on a 5,000-meter state course in Oregon. It was 15 seconds faster than Summit's Matthew Maton in 2014 and 25 seconds faster than Central Catholic's Galen Rupp in 2003.
He also led Ashland to its first state title since 1993 as the Grizzlies had four of the top five finishers.
"EJ made much of that happen," Ashland cross country coach Hans Voskes said. "His performance there, and his performance all year long, it kind of went viral within the team. Everyone improved."
The 1,500 state record was next on Holland's list. With a PR of 3:46.59 in the event, he was in position to break the mark of 3:45.3, set by Rupp in 2004.
"I definitely wanted to get the 1,500 state record," said Holland, 5A champion in the 1,500 and 3,000 the last two years. "I felt that it was definitely attainable."
Holland was looking to make a push for the record in mid-April at the Bryan Clay Invitational in Azusa, Calif. His personal-best performance in the Portland Track Festival last year showed him what was possible against a fast field.
"I felt like if I was in a race I didn't win and I got pulled along all the way to the finish, I could have taken off two or three more seconds," Holland said. "It was a really good race for me, and I felt like it was pretty comfortable. I wasn't absolutely dead at the end. I thought I had a little bit more in me last year."
Holland's schedule also would have included the Jesuit Twilight Relays, the Payton Jordan Invitational at Stanford, the district and state meets, the Portland Track Festival and the USATF U20 Championships in Florida in June.
"I was really hoping to have a full summer, a full schedule of racing and training," Holland said.
The big carrot for Holland was a berth in the U20 World Junior Championships in Kenya in July. To qualify in the 1,500, he figured he needed to run near 3:40.
"I thought that was in my wheelhouse," he said.
If he had qualified, Holland and his family had planned a trip to Saint Moritz, Switzerland, where he would have spent a few weeks preparing at a training center at nearly 6,000 feet in elevation.
As far as the high school season, Holland was going to forgo a chance at a third title in the 3,000 to focus on the 800. Even though he isn't far off from the state record in the 3,000 – his best of 8:13.10 ranks fourth all-time, 10 seconds behind the mark held by Rupp (8:03.67, 2004) – he said the shift in events "would serve me better in the long run."
"I think ultimately, at least my short-term future will kind of be in the middle distance, rather than longer, so I said, 'Let's try to get some faster 800 times down, and really work on that speed and turnover,'" he said.
He ran the 800 in 1:53.84 last year and would have pushed to beat 1:50 this season, something only three runners have done in state history.
"What EJ was developing a little bit later on was that turnover, definitely in a finishing kick," Voskes said. "He became so fit, and then with his developing speed – which I think is going to improve even more – EJ is so versatile."
Holland got a sense of his conditioning last month when he won the men's division of the Virtual Pear Blossom Run, finishing his self-designed 10-mile course in 52:51. The performance included a 10K personal best of 31:50.
"I did it more as a workout than just a race, just a long tempo," Holland said. "I thought it could kind of help me get into the swing of things and help my progression towards running some fast two miles, and miles."
Holland had what he called a "minor flareup" in his Achilles tendon after the race, and after consulting Oregon associate head coach Ben Thomas, it was decided that he would take a more conservative approach to getting ready for his freshman cross country season.
The increase to 8K and 10K courses for college cross country will require an adjustment for Holland. Also, switching coaches from his father, Neil, to Thomas has been a "big change."
"It's fun because the training is completely different," he said. "It's a different philosophy for base and off-season mileage than I've had before.
"I'll take an extra month and get ready. I think he really wants me to try to make an impact next year, similar to what Cole Hocker did his freshman year last year at U of O."
Photos of state championship events are available online from Northwest Sports Photography at 4nsp.com