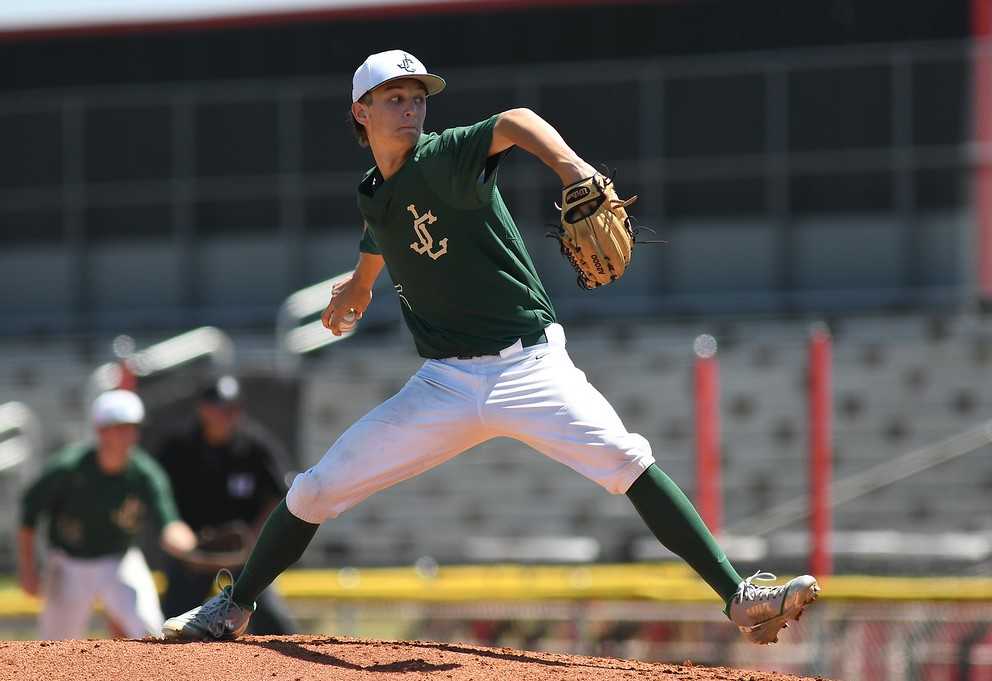 As dominant as Jesuit pitcher Mick Abel was as a junior, when he helped lead the Crusaders to the 6A baseball title, he was poised to reach another level as a senior this season.
Not only did his fastball hit 99.5 mph in a workout this year, but the 6-foot-5, 198-pound right-hander added nearly 20 pounds, fine-tuned his slider, developed his curveball and was ready to unleash a devastating change-up.
"That change-up, I was really excited to utilize this year," Crusaders coach Colin Griffin said. "It's about a 12-mph difference. We could've played fastball-change-up against teams for three times through the lineup."
Considering he went 10-0 with a 1.26 ERA as a junior, the prospects for his senior season were more than a little intriguing. Unfortunately, the coronavirus pandemic wiped out the senior season of one of the most highly touted pitchers in state history.
The big question now is where Abel will face his next batter. He has signed with Oregon State, but he is a virtual lock to be selected in the first round of the MLB Draft June 10-11. Abel and Texas right-hander Jared Kelley are widely regarded as the best high school pitchers available.
Abel is likely to be the seventh Oregon high school player ever to be selected in the first round, and the first since 1994, when the Royals picked Grants Pass pitcher Matt Smith. He is keeping it all in perspective.
"You look at all of the stuff that everyone says – rankings and whatever – but none of that matters in the long run," Abel told KPTV.com. "None of those guys are drafting me. But I think from what I have talked to the scouts about, my in-home meetings and everything like that, I think I still have a pretty good shot at going."
Abel will decide between Oregon State and going pro.
"He's got smart people to advise him about those things," Griffin said. "Mick's got a real heady family that is very much aware of what's going on. They're extremely humble about this whole process.
"They were hoping for a season, just to actually play baseball and get away from all of this hype that he's receiving, but their whole mentality is, 'We'll just see what happens.'"
Abel finishes his Jesuit career with an 18-3 record and 1.98 ERA. In 150 2/3 innings, he allowed 83 hits, struck out 213 and walked 70. Opponents hit .150 against him.
Abel spent much of his sophomore year ironing out mechanics and became a much more efficient pitcher as a junior. Since pitching for the USA Baseball 18U team last summer, he has blossomed physically and become more polished, setting the stage for a monster senior season.
"He's made a ton of progress," Griffin said. "He hasn't taken any time off."
Instead of leading a Jesuit repeat bid, Abel is staying in shape through virtual workouts with ROKKE Performance Therapy and is throwing bullpens with former Oregon State pitcher Kevin Gunderson at The Bat Company facility in West Linn. He has brushed up on his slider, which MLB scouting departments voted as the best among high school seniors.
"I feel like I can throw it in any count now. It feels like I'm throwing a fastball," Abel told Baseball America. "For me, I found the grip pretty early, but finding the consistent release point and slot to throw it from, it was a process. There was a lot of video (work). Throwing it and throwing it and throwing it. It was a daily grind."
The break has allowed Abel to train with former Sherwood and Oregon State star catcher Adley Rutschman, the No. 1 overall pick in last year's MLB Draft by the Orioles. Count Rutschman impressed.
"It's crazy to me to catch him and reflect on it afterward. 'That's a high school guy? It doesn't seem like a high school guy,'" Rutschman told Baseball America. "You rarely see an arm that good. To see the kind of stuff he's got. He's electric. It's a very impressive arm action. It's smooth."
Griffin said that Abel is a "complete package."
"He's athletic as heck on the mound, so he's able to manage the running game," Griffin said. "He handles his position very well with bunts and come-backers. And then just the fact that he can totally dominate the strike zone. I haven't seen a pitcher with that type of spin rate that Mick has where he can elevate fastballs so well."
Griffin marvels at how Abel has been able to tune out the noise and quietly go about the business of refining his craft.
"Since he's been in high school, he's had so much hype behind him," Griffin said. "Mick is definitely a kid who is what people talk about times 10.
"He's never complacent, never satisfied. Every day he wakes up, he has a plan, a routine, and doesn't make an excuse for not achieving his goals for the day. He's very mature for his age. It's quite impressive."