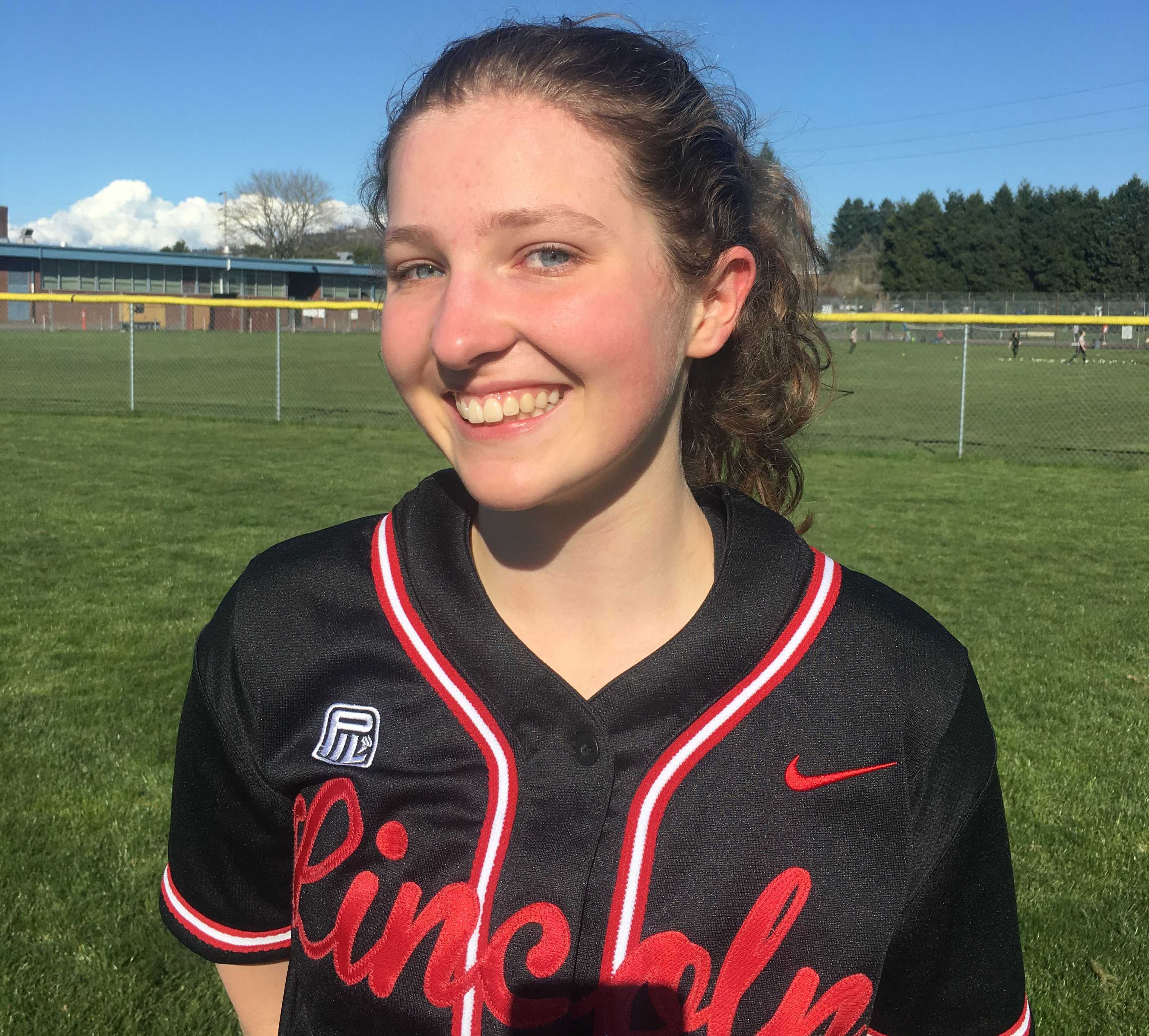 [Editor's note: "Take Five" is a recurring feature designed to offer a quick look at some of Oregon's most interesting high school sports standouts. This spring, Take Five will focus exclusively on seniors, whose final high school seasons have been canceled by the coronavirus. Today, we meet senior Rachel Haughton. Haughton was a starter in center field all of her years at Lincoln. She was Second Team All-League as a sophomore and junior and was named team captain starting in her junior year. Haughton also was heavily involved in community outreach, like working with younger players at Lincoln's annual clinic for young players and representing Lincoln Softball at back to school night and 8th grade night. We asked Haughton to answer five questions from the 25 we posed to her. Here's what we learned…]
OSAAtoday: What's the wisest thing a coach ever said to you?
Rachel Haughton: My coach consistently asks our team, "What's the most important play in softball?" and we're expected to reply, "The next one." It's always reminded me to keep moving forward in the sport. If you make an error in the field or you have a bad at-bat, you shake it off and get ready for the next play. There's no room in any sport to waste time thinking about what you did; you should only think about what you can do in the future. I think that's an important lesson for life, too.
OSAAtoday: What was your first big success as an athlete and how did it impact you?
Haughton: The summer between my sophomore and junior years, I was playing club softball. I had never been considered a "power hitter," and so my sophomore year, I had decided to work harder on my hitting with the help of my hitting coach. I worked all year, and about a week or two into the summer season I hit my first over the fence home run. In the next three weeks, I hit a total of 7 home runs. It was the first time that I felt like I got real proof of what happens when I work hard, and the first time that I had a really successful season at the plate. I use this success as motivation to keep working hard, because I know that I'll be rewarded at the end.
OSAAtoday: If you HAD to go on a reality show, which would it be and why?
Haughton: I would go on Survivor. I love the scheming, strategy, and craziness of it all. I want to see how far I would go. I would love to meet new people, challenge myself, and eat nothing but rice and beans. Who wouldn't want to spend a month on a beautiful island?
OSAAtoday: You can blink and be transported to any place in Oregon for a day. Where do you go and why?
Haughton: I go to the summer camp that I work at: Camp Westwind. It's my favorite place in the world and I have so many memories with friends and campers. It's by the beach, so you get sand everywhere -- your clothes, your hair, your mouth. I love it. You can sleep under the trees and the stars and hear the waves crash as you dream.
OSAAtoday: What's the single funniest thing you've ever seen in your spring sport?
Haughton: I was playing center field when a girl hit a pop fly. I was running back to get it, and I was so focused on the ball that I didn't see where I was running. On our home field, we have one of those mesh fences that look pretty bouncy, like if you ran into it you might just rebound. Well, I flipped over the fence as ungracefully as I could and landed flat on my back. I got the wind knocked out of me pretty bad and had to step out of the game for the rest of the inning. Looking back on it, it was hilarious.
Read other Take Five articles published in connection with the 2020 spring season:
Monroe softball pitcher Tyler Warden
North Salem sprinter Maliyah Thompson
La Grande catcher Logan Paustian
Lake Oswego thrower Parker Williams
Lakeridge netter Nicole Rogers
Westside Christian sprinter Alvin Lai
Stayton softballer Emma Heuberger
Westview outfielder Maddie Curaming
Central Catholic utility Brianna Perkins
East Linn Christian hurdler Jacob Johns
La Salle Prep sprinter Mary Gach
Brookings-Harbor baseball player Jason Vanginderen