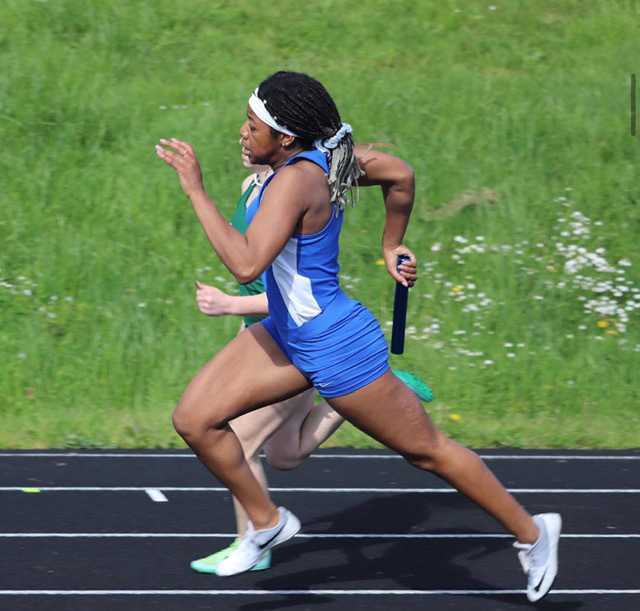 [Editor's note: "Take Five" is a recurring feature designed to offer a quick look at some of Oregon's most interesting high school sports standouts. This spring, Take Five will focus exclusively on seniors, whose final high school seasons have been canceled by the coronavirus. Today, we get to know Mary Gach, a senior at La Salle Prep. Gach plays volleyball in the fall and runs track during the spring. One of the track captains, Gach is a sprinter and has been part of the Falcon varsity since her freshman year. She has been most successful when part of a sprint relay team. Her 4x100 relay team placed among the top seven at the 5A state meet in both her sophomore and junior years. We asked Gach to answer five questions from the 25 we posed to her. Here's what she had to say…]
OSAAtoday: What kind of coach gets the best out of you as a player?
Mary Gach: As a multisport athlete I've had good and bad coaches over the years; however, I've come to learn that the coaches I work best with are the ones who have patience. When I am learning something new it can take some time before I perfect it. When my coaches focus on the mistakes I make within the process instead of the effort I'm putting in to learn I feel defeated and start to feel hopeless and less confident in my abilities.
OSAAtoday: What is your favorite class in school and why?
Gach: My favorite class is Spanish because I think that it is really important and beneficial to learn another language. I feel more connected to people and it makes me put forth my best effort because I know that there is no short cut to learning how to speak fluently in another language.
OSAAtoday: When the lights are out and you're just about to fall asleep, what do you think about?
Gach: I always feel like hundreds of thoughts race through my mind right before I fall asleep, but the most consistent one is where I like to plan out or make a checklist for the next day. This includes: what I'll wear, the time I need to wake up in order to finish my morning routine on time, if I finished all of my homework, and what I'll pack myself for lunch.
OSAAtoday: What Olympic sport do you think you'd be the worst at and why?
Gach: I know for sure that I would not be good at figure skating because it's something I've only done once and ended up in the emergency room afterwards. Also, I have no flexibility, grace, poise, and balance to prevent myself from getting hurt.
OSAAtoday: What about going to college scares the bejeebers out of you?
Gach: Personally, I am most scared of getting a bad roommate or having to pay money in order to retake a class that I failed. I practically get along with everyone I meet and if I get a roommate that I don't get along with it might create some friction within my college experience. I have always considered myself to be a good student and I have always taken school seriously, but I know that some of the classes I plan to take will be hard. And I would hate to have to spend more money on a class that I couldn't pass.
Read other Take Five articles published in connection with the 2020 spring season:
Monroe softball pitcher Tyler Warden
North Salem sprinter Maliyah Thompson
La Grande catcher Logan Paustian
Lake Oswego thrower Parker Williams
Lakeridge netter Nicole Rogers
Westside Christian sprinter Alvin Lai
Stayton softballer Emma Heuberger
Westview outfielder Maddie Curaming
Central Catholic utility Brianna Perkins