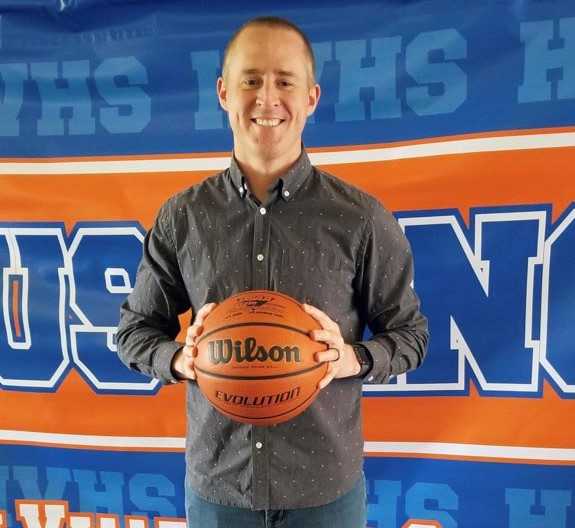 Hidden Valley boys basketball has reconnected to its championship past with the hiring of Jordan Kasler as coach.
Kasler was a senior captain on the Mustangs' only state title team in 2006. He assisted in the 4A program briefly before spending the past eight seasons as the freshman coach at 6A Grants Pass.
It is the first head-coaching job for Kasler, who teaches social studies at North Middle School in the Grants Pass School District.
"I'm coming home, and it's a full-circle kind of thing," Kasler said. "It's been in my blood. When you create those kind of memories as an athlete at that school, you're always drawn to what's going on at that place. So when that opportunity came, and it kind of fit the dynamics of my family, I just couldn't miss it."
Kasler embodied the hard-nosed mentality of the 2006 title team, finishing first on the team in charges taken and second in steals and assists. A defensive stopper, he often guarded the opposing team's best player.
He will tout the same defense-first philosophy that was so successful for the Mustangs, who averaged 23.3 wins during a seven-year period that ended in 2010.
"We had a really strong identity as a program," Kasler said. "We were just a very physical, tough-minded, in-your-face, man-to-man defensive team. We always took pride in trying to lead the state in defensive scoring. Always trying to keep teams under 40."
Those teams also were deliberate on offense, forcing teams to play at their pace.
"What we were really good at is no high school team wants to play in the halfcourt very long," Kasler said. "We had a motion offense that ran you through screens, and it forced you to play hard on defense. So we'd win games like 50-20, 45-30. We weren't setting the world on fire, but it was a dominant style of play."
Hidden Valley has increased its win total in each of the last three seasons, from 5-17 in 2017 to 14-11 last season, when it lost in the first round of the 4A playoffs to North Marion.
The Mustangs have four starters eligible to return in forwards Lawrence Matusik and Jeremiah Noga, guard Matthew Iwamizu and post Gabe Burchfield, all seniors. The 6-foot-4 Matusik and 6-3 Noga were all-state receivers on the 3A runner-up football team last year.
"It's a loaded class, athletically," Kasler said.
Kasler grew up as a coach's son in Skagway, Alaska. His father, Jeff, was a head coach for nearly three decades in Alaska before the family moved to Grants Pass when Jordan was a sophomore.
"I grew up being his towel boy and watching him coach," Jordan Kasler said. "I've always wanted to be a head coach."
Jeff Kasler was an assistant coach at Hidden Valley under Norm Hayter during Jordan's playing career. The Mustangs lost to eventual champion Wilsonville in overtime in the 2005 quarterfinals and came back the following year to go 27-1 and win the title, losing only to Ponderosa (Calif.).
"What was the big characteristic of our team, especially my senior year, is we knew our roles, and we were committed to it," Kasler said. "It was really cool, because we all came from different places. We're all pretty good friends ever since. It was a special time, that's for sure."
As a student at Western Oregon University, Kasler assisted Mustangs coach Robert Jackson in summer league and helped out part-time during the season. After college, he spent one season as Hidden Valley's JV coach before moving over to Grants Pass.
Hidden Valley has had 17 coaching changes in the program's 43-year history, including eight since the state championship. Hayter stepped down after the 2006 season and moved to Utah, where he coached Wasatch to 3A titles in 2010 and 2011.
Kasler plans to stick around for a while.
"The hope is you build something there that's going to last, and you set roots in," Kasler said. "I'm hoping that's the case, for sure."
Kasler and his wife, Haley, have a 13-month-old son, Coen.