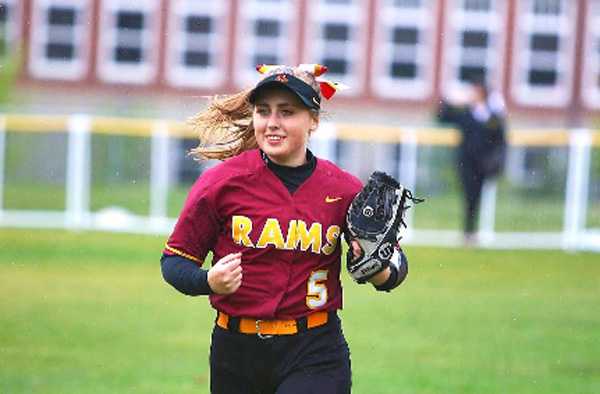 [Editor's note: "Take Five" is a recurring feature designed to offer a quick look at some of Oregon's most interesting high school sports standouts. This spring, Take Five will focus exclusively on seniors, whose final high school seasons have been canceled by the coronavirus. Today, we chat with senior Brianna Perkins, a starter on the Central Catholic Rams since her freshman year. Perkins was an Honorable Mention All-League pick as a freshman infielder and repeated the honor her junior year as an outfielder. Perkins also was a team captain as a junior. We asked Perkins to answer five questions from the 25 we posed to her. Here's what she had to say…]
OSAAToday: What's the wisest thing a parent ever said to you?
Brianna Perkins: My parents told me to "be who you are, even if others are different. Life is too short to be like everyone else, and do what makes YOU the happiest." I used to be shy and approach life in a way that was typical for my age group. Whether it was clothes, activities, or speech, I tried to fit in the best I could. But that wasn't what made me the happiest. After I heard those words from my parents, I decided that I would do what made me happiest, despite if it wasn't seen as "popular." Life is too short to not be the way that makes you happiest, and that has become the foundation to my success.
OSAAToday: What is one interesting or unusual thing people don't know about you?
Perkins: I hunt. Hunting has been a tradition in my family that has been passed down for generations. I began hunting when I was around eight. It has been a way to become closer to my dad and grandpa. I have developed a love for it and it has been influential to who I am today. A big part of hunting is the camping aspect, and I found I enjoy camping with all the excitement it brings. Being that I live in the city and that I am female, it is not something I have in common with a lot of my peers. Through hunting, I have been able to go to several places throughout Oregon and have been able to appreciate the beautiful state. I plan on continuing hunting in college and when I get out.
OSAAToday: You can blink and be transported to any place in Oregon for a day. Where do you go and why​?
Perkins: I would go tithe town of Joseph. I have been going to Joseph almost every year since I was nine, and every time I go I always have a fun time. My family goes to a place about 40 miles away from the town every year to hunt, and it is one of the most beautiful places I have ever gone. There isn't any cell service there, which allows me to feel free while I'm there. While too many don't understand how I could love a place so much without the customs of the city, it is one of my favorite places to be and I would love to be there as much as I can.
OSAAToday: Who is your celebrity crush and why?
Perkins: My celebrity crush is Niall Horan. Ever since One Direction came together, I fell in love with them and their music (like many others my age). I was dedicated to the fandom and even went to one of their concerts. When they broke up, I still listened to all their solo music. I have always had a "crush" on Niall and listened to his music more than the others. Last summer, I got VIP tickets to his concert. For my car keys, I even have a Niall Horan lanyard. A lot of people think my love for him is too much, but it's a connection towards my childhood obsession to One Direction.
OSAAToday: What about going to college scares the bejeebers out of you?
Perkins: The campus itself. Throughout my life, I have been directionally challenged. If a person could get lost somewhere, it would be me. I am scared that I will somehow get lost on campus and not be able to find my way back. From this comes the inability to find classrooms, dorms, or even other people. Some might find this fear "strange," but I've gotten lost far more times than someone my age should have. I even have to drive with navigation on 24/7 because somehow I manage to get lost in places I have gone a thousand times. So, going to college on a campus very unfamiliar will pose a fear of getting lost again.
Read other Take Five articles published in connection with the 2020 spring season:
Monroe softball pitcher Tyler Warden
North Salem sprinter Maliyah Thompson
La Grande catcher Logan Paustian
Lake Oswego thrower Parker Williams
Lakeridge netter Nicole Rogers
Westside Christian sprinter Alvin Lai
Stayton softballer Emma Heuberger
Westview outfielder Maddie Curaming