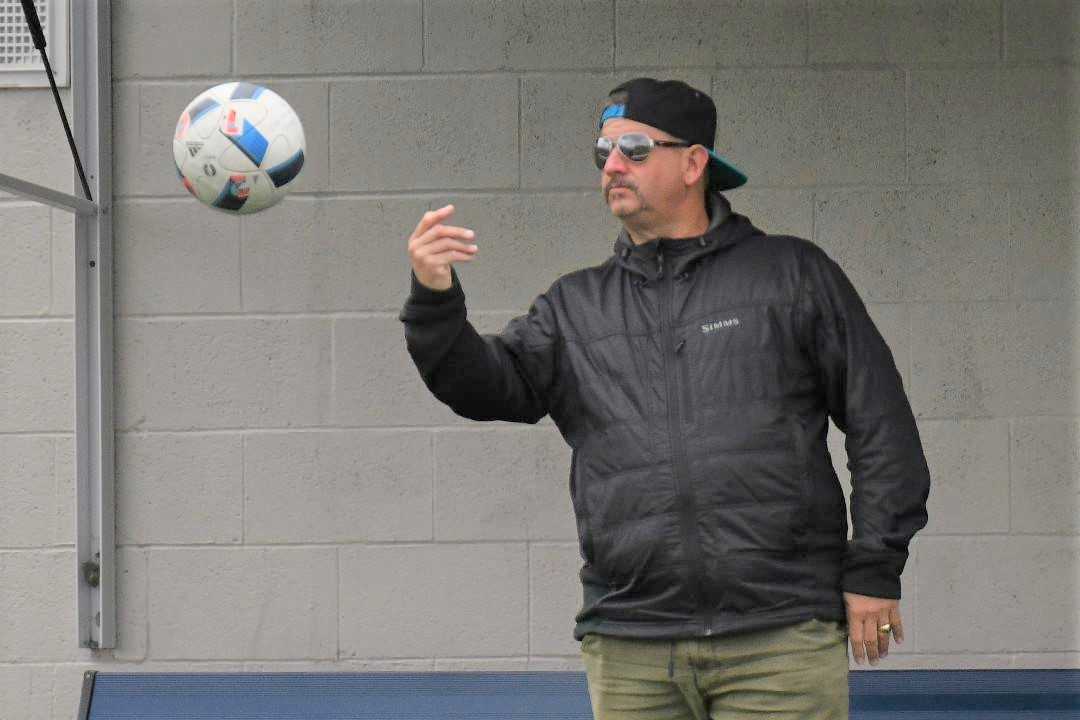 As the owner and CEO of a drive-through coffee empire that boasts 385 locations in seven states, and the father of four boys, Travis Boersma has learned a thing or two about managing people.
And now, after 11 years of coaching club soccer with the Oregon Football Academy, he gets a chance to employ some of his wisdom with a high school team. Boersma, 49, has been hired as the boys soccer coach at Grants Pass, where he will succeed Lowell Anderson.
"It's been quite the journey," said Boersma, who co-founded Dutch Bros Coffee with his late brother Dane in 1992 with a push-cart in downtown Grants Pass. "I've been coaching in business and in life, and I think that's what I bring to the table more than anything else. I care about young people designing their life and living their dream."
Boersma grew up in Grants Pass and graduated in 1989 from North Valley High School, where he played football, basketball and baseball. He has coached all four of his sons in club soccer, including Payton and Porter, who are heading into their senior and sophomore years, respectively, in the Grants Pass program.
"If someone would've told me when I was a young buck that I"d be coaching soccer, I would've laughed," Boersma said. "But that's what my kids acclimated to. I've got to tell you, I really have become a fan of the game. I continue to learn and I really have become a student of the game."
Grants Pass went 8-4-3 last season and shared the 6A Southwest Conference title with South Eugene. Anderson resigned after going 81-70-15 in 11 seasons, taking the Cavemen to the state semifinals in 2014 and quarterfinals in 2017.
"He and I have had a great working relationship over the years," Boersma said of Anderson. "He decided it was time to step down after a great run, so I was just like, 'Why not throw my name in the hat?'"
Boersma counts Grants Pass legend Tom Blanchard, 71, as a mentor and role model. Blanchard, a Grants Pass native who played quarterback at Oregon and was a punter in the NFL, was the Grants Pass athletic director for 24 years and coached football and softball. He now serves as the executive director of the Oregon Football Academy.
"He's kind of been through it all," Boersma said.
Blanchard said that Boersma is highly qualified for the job based strictly on his soccer knowledge, but when his intangibles are considered, he is a "wonderful, awesome hire" for Grants Pass.
"What I really like is what he brings to the table with his mentoring," Blanchard said. "Travis is going to help these kids make good decisions on their lives moving forward. That's really, really a strength of his, and I think that's why his company has been so successful.
"He's a wonderful motivator and an excellent speaker. He can speak to the level of the high school athlete. I'm really amazed. I used to think that I communicated well with kids, but his communication skills are second to none."
Boersma believes that many of the same principles of success from the highly competitive field of business also apply to athletics. Under his direction, Dutch Bros has grown into the largest privately held drive-through coffee chain in the United States.
"It's just another game, and it's a game that I've enjoyed playing for many, many years," Boersma said. "I'm still captain of the ship there, and still making decisions.
"I'm fortunate enough to be in a position where I can allocate the time to make an impact, not just with soccer, but with sports in general, and be a good leader in our community, and make a big difference with Grants Pass High School."
Boersma has been a regular contributor to the booster club at Grants Pass. Two years ago, Dutch Bros teamed up with the booster club and Evergreen Bank in a project to replace the artificial turf at the high school stadium.
Also, the Dutch Bros' foundation has spearheaded a three-year project to build a sports complex at the Josephine County Fairgrounds. The project, which includes two FIFA regulation artificial-turf soccer fields in the center of the horse-racing track, is expected to be complete by late summer.
"We're going to be able to host tournaments," Blanchard said. "Our kids just have a facility now – there's nothing better."
The site previously was used as the home football field for North Valley and Hidden Valley before the high schools built their own stadiums. It was Boersma's home field in high school.
"We took land that was just kind of sitting there and hadn't been utilized for anything for a lot of years," Boersma said. "It's quite a project that everyone in the community can benefit from. It's a real shot in the arm for the fairgrounds."
Blanchard praised Boersma for his philanthropy.
"He gives it back to the community so much, and not just financially, he gives it back with his own time and energy," Blanchard said. "As an old athletic director and working with kids all my life, it's really, really nice to see what he's doing for the athletic community down here."
Boersma also is breathing life into the horse-racing industry in Oregon. With Portland Meadows being sold and the land redeveloped, he secured a license from the Oregon Racing Commission to stage the state's commercial race meet at Grants Pass Downs.
The track ran its first commercial meet in the fall. The spring meet was canceled, but the track's summer meet is scheduled to begin June 20.
"Horse racing was kind of blowing in the wind in the state," said Boersma, a race horse owner. "It's something that I've enjoyed since I can remember. To see that on the fritz and at risk of going away in our state, I put a real effort into trying to revitalize it. We're going to give it a run to see if we can not only stabilize it, but allow it to ascend and have something that's pretty magical."
Boersma, who last year coached a U18 winter team to the Presidents Cup state title, is hopeful to bring some magic to Grants Pass boys soccer, too.
"It's a nice segue-way," he said. "I'm pretty ecstatic about the opportunity that lies ahead. I care about these kids' lives and where they go and what they do. And soccer serves as a building block in their life."