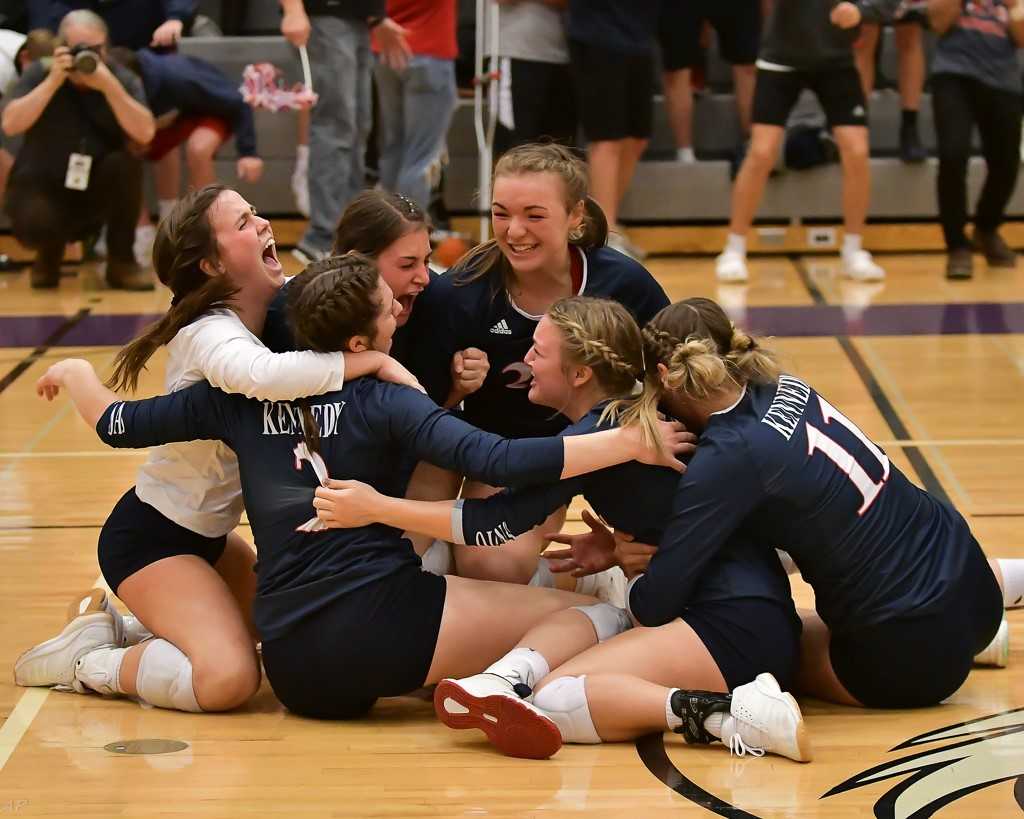 The Kennedy girls redemption express was going full steam ahead in 2019-20.
After losing in the 2A semifinals in volleyball and basketball the previous year, the Trojans won state championships in both sports. They had one final stop to make, a trip to Eugene to snag the 2A/1A softball title after finishing as runners-up last year.
"Softball definitely was next," senior Sophia Carley said. "We were really hoping to be able to make it to that state championship. It is what it is, I guess."
Due to the coronavirus crisis, however, Kennedy's girls were stopped from adding to their impressive collection of blue trophies. In addition to the two championships they won in 2019-20, the Trojans claimed basketball and softball titles two years ago.
Four of them can boast state championships in three sports in Carley and juniors Ellie Cantu, Elise Suing and Hailey Arritola. It's been a wildly successful ride for the quartet, who have been a part of teams that have a combined record of 215-26 in the last three years.
"I'm super amazed," said the 6-foot-1 Carley, who has been the 2A player of the year in volleyball and basketball. "We go to a small school, so a lot of people play multiple sports. And especially my teammates, those three girls, very talented in all three sports. Just great athletes."
Kennedy girls basketball coach Kerry Hall said the group "had a big chip on their shoulder" after coming up short in 2018-19. They went 33-1 in volleyball and 26-4 in basketball.
"They came highly motivated for this season, and took care of volleyball, and took care of basketball," Hall said. "I think it was a huge stress relief for all of them."
The Trojans set the bar high for themselves, raising expectations at the school and in their hometown of Mt. Angel.
"They have the weight of the town on their shoulders, and I don't think everyone realizes that," Hall said. "That's a lot of pressure to put on teenage girls, and they handled it with grace. Even in losses, they handled it well, and showed that much more determination not to have it happen again. I think everyone is so proud of them and everything they've done."
Carley said she couldn't have imagined it turning out the way it did.
"I never thought, 'Oh, we're going to be state champions,' because when we were little kids, that was so cool. And here we are," she said.
Hall said much of what the Trojans accomplished was due to their year-round dedication.
"Most of them are doubling up during their in-season sport," Hall said. "And during the summer, they're all go, go, go, doing extra things. Their parents are driving them every which way. Their parents are incredible, too. They know what it takes to win a title."
Kennedy beat Pilot Rock/Nixyaawii 10-0 in five innings to win the 2018 softball title, but lost to North Douglas 15-6 in the 2019 final. With much of their team back – including the experienced battery of senior pitcher Grace Schaecher and senior catcher Emily Cuff – the Trojans believed they had a good shot to reclaim the trophy.
"We were going to be really good," said Carley, who became the starting first baseman as a junior. "Softball is not my strong suit, but my teammates, they're really good at softball."
Schaecher and junior Rylie Newton were part of softball and basketball title teams. Freshman Meah Carley, Sophia's sister, won championships in volleyball and basketball and was on the softball roster.
Kennedy will have plenty of talent returning in 2020-21, but the Trojans must cope with the loss of Carley, who is headed to Chemeketa Community College to play volleyball and possibly basketball.
"She's incredible," Hall said. "She's humble, which is a rarity with all the success she's had. She's just been a great leader for the community. Other kids really look up to her. She's really going to be missed as far as that role model."
Carley lamented the anticlimactic finish to her decorated prep career.
"This was going to be the last time I got to play on a team with them," Carley said. "That was the toughest thing for me. I'm going to miss softball, but knowing that I'm not going to get to play with them again, that was the hardest part."