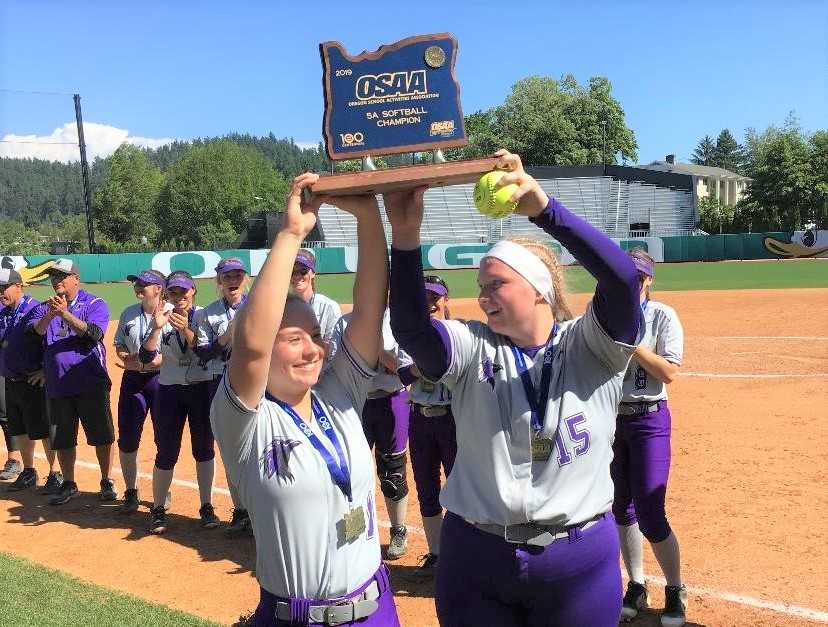 Sandy Fischer has coached softball long enough to know that championship windows can open and close in a hurry.
They also can be exceedingly rare, "especially in Central Oregon, because the talent is spread so thin," said Fischer, the coach at 5A Ridgeview of Redmond.
The Panthers capitalized on a prime opportunity last year, winning the first state championship since the program started in 2013, and believed that their window was still wide open this year.
Of course, that was before the coronavirus outbreak wiped out the season.
"It's heartbreaking for all teams, but I think when the stars align, ever so rarely, it's hard," said Fischer, the coach at Oklahoma State for 23 seasons before coming out of retirement to start the Ridgeview program. "I feel very, very sad for the team to not have had their chance to defend their title. And they knew in their hearts that they could."
The Ravens had six starters back from last season, including the reigning 5A pitcher of the year in Allicitie Frost, the only senior on the roster. The Portland State-bound Frost, who struck out 15 to beat Dallas 5-1 in last year's state final, was ready to dominate.
"During the offseason, I developed my dropball very well," Frost said. "I felt like I could've used that more than my riseball and just mixed it up more. Also, I had a different mentality than last year because this was my last year, and I wanted to go all out for my team and just have fun before I go to college."
Junior outfielder Sage McVay, first-team all-state last year, was back as the leadoff hitter. Other returning starters were junior shortstop Kiana Nakamura, junior second baseman Marley Sargent, junior center fielder Ally Henry and sophomore Teeghan Reams, who had moved from third base to catcher.
"Our anticipation was we were going to make a hard run at the state championship again," said Fischer, who is 148-34 in seven seasons at Ridgeview, including 24-2 last year. "From Minute 1, the team had it in their head, and our coaches, too, that, 'Hey, we're going to go back and do this again.'"
The Ravens lost two four-year starters in first-team all-state first baseman Natalie Hill and left fielder Taylor Smith, as well as catcher Lorena Vasquez, but believed they had capable replacements.
"We wanted to win another one, and we had the fight in us to win another one," said Frost, who along with Henry played on the state champion volleyball team last fall. "I think our confidence, not just after the state championship, but from the playoffs, knowing what it felt like, we just knew we could win another one."
For what it's worth, Ridgeview was voted No. 1 in the preseason OSAAtoday 5A coaches poll.
"At least we can say we went out as No. 1," Fischer said with a laugh.
The Ravens had one practice with the entire team before the season was suspended and later canceled.
"We didn't even get closure," Fischer said. "We didn't have a chance to say goodbye. We didn't have that moment to celebrate what we had done, and to cry together. I think that was a really hard piece.
"The majority of them are coming back, but they're disappointed. They wanted this for Allicitie because she's heading out to Portland State. There's a good core coming back, but it's such a shock to the system."
Fischer had the players hold onto their uniforms with the hope that they could eventually take a team photo. Losing the season made the Ravens appreciate last year's title even more.
"At least we have that one, and they have their memories, and they knew they could do it," Fischer said. "It's so fun to know that they have that lifetime memory forever. The thought of them being able to win it twice, and being the best team all-time in Ridgeview history, winning back-to-back championships, it just sends a chill down your spine."
Frost, who transferred from Bend as a sophomore, credited Fischer for helping her grow as a player.
"When I moved, I wasn't of a very confident mindset that I could be who I am today," Frost said. "She helped me a lot. We always had long conversations about how I could be so much more, and how she sees a lot in me.
"It feels good when a coach like that tells you that. I appreciate what she has done for me, and for what I've become today. If it wasn't for her believing in me, I'd be different, for sure."