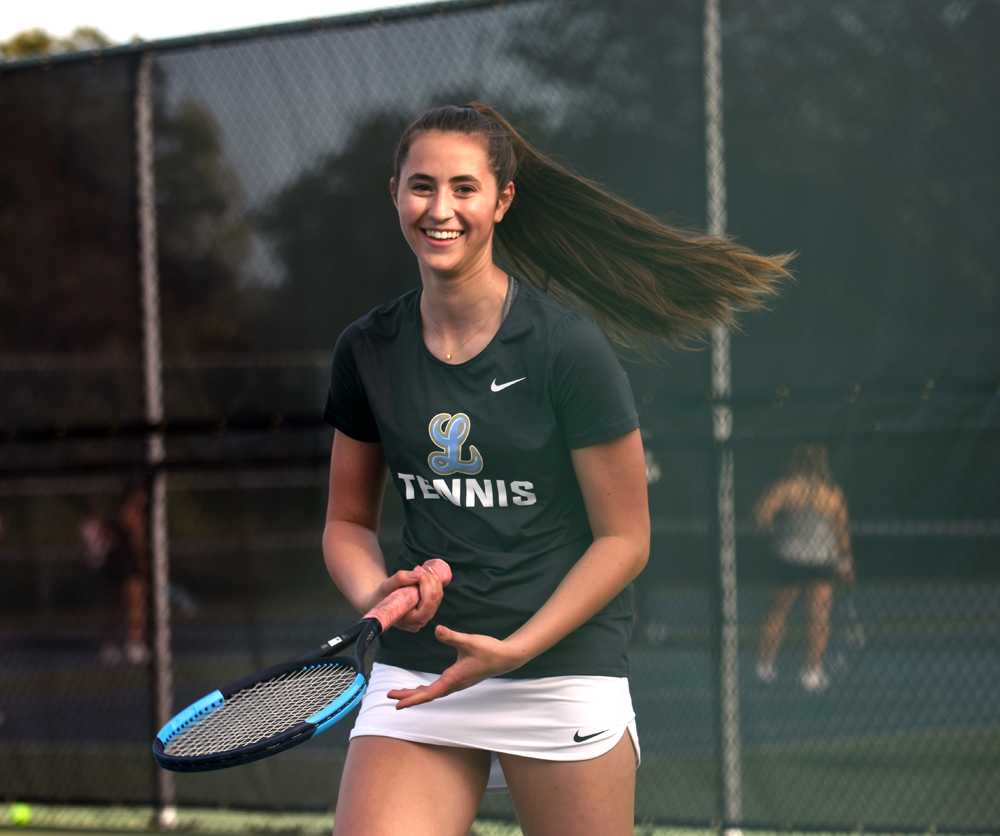 [Editor's note: "Take Five" is a recurring feature designed to offer a quick look at some of Oregon's most interesting high school sports standouts. This spring, Take Five will focus exclusively on seniors, whose final high school seasons have been canceled by the coronavirus. Today, let's get to know Lakeridge senior Nicole Rogers, who has been a part of Pacer tennis every year she's been in high school. Rogers occasionally plays singles but specializes in doubles and has made it to Districts every year. We asked Rogers to answer five questions from the 25 we posed to her. Here's what she shared…]
OSAAtoday: What is your favorite class in school and why?
Nicole Rogers: My favorite class in school is my Calculus BC class. There are only 16 students so it has become a relaxed and collaborative class. My teacher, Mrs. Chase, is also amazing and helps us turn math from just the 'right answer or wrong answer' mindset into something much more creative. It is a class that both challenges and supports me and a great start to the day.
OSAAtoday: What's the single funniest thing you've ever seen in tennis?
Rogers: For some background, my tennis team loves to have fun and we love to do it while playing tennis. So it was no surprise that the giant number balloons that were purchased as a decoration for senior night got put to use in a more creative manner. One of my friends stood inside of the '0' as if it were an inner tube and proceeded to play with me and a few other teammates. It was silly and brought all of us to tears from the intense bursts of laughter.
OSAAtoday: What was your first big success as an athlete and how did it impact you?
Rogers: While not my first big success overall, my first big success in tennis was making it to Districts my freshman year. Tennis had always been a sport I dreamed of playing, but between basketball and club soccer I never had the time or opportunity until high school. Making it to Districts proved that despite not having years of experience, my dedication, passion, and going out after every practice to hit balls on my own paid off. To sum it up, it showed that experience is not everything. Just because something is new is not a reason not to put your all into it.
OSAAtoday: You can blink and be transported to any place in Oregon for a day. Where do you go and why?
Rogers: I would go hiking at Opal Creek! The scenery is supposed to be absolutely stunning and it has been on my bucket list for years but the long drive makes it more difficult to actually get there and accomplish it. Once there, I would hike all day and enjoy some of the best of Oregon's beauty.
OSAAtoday: What's the wisest thing a parent ever said to you?
Rogers: Two sayings, one by each of my parents: My dad says "Don't believe everything you think," which is so true, especially in sports. It's too easy to let one negative thought snowball into an ingrained belief. Understanding that your thoughts can be wrong is life changing. The other wisest message I received was "Get Jiggy." It's a saying that my mom made up back when I was in elementary school to inspire my sister and I to do more than just chat with teammates before soccer practice. It originally meant to jog, juggle, and jump but it has become more of a reminder to use every moment to get better and not waste time.
Read other Take Five articles published in connection with the 2020 spring season:
Monroe softball pitcher Tyler Warden
North Salem sprinter Maliyah Thompson
La Grande catcher Logan Paustian
Lake Oswego thrower Parker Williams