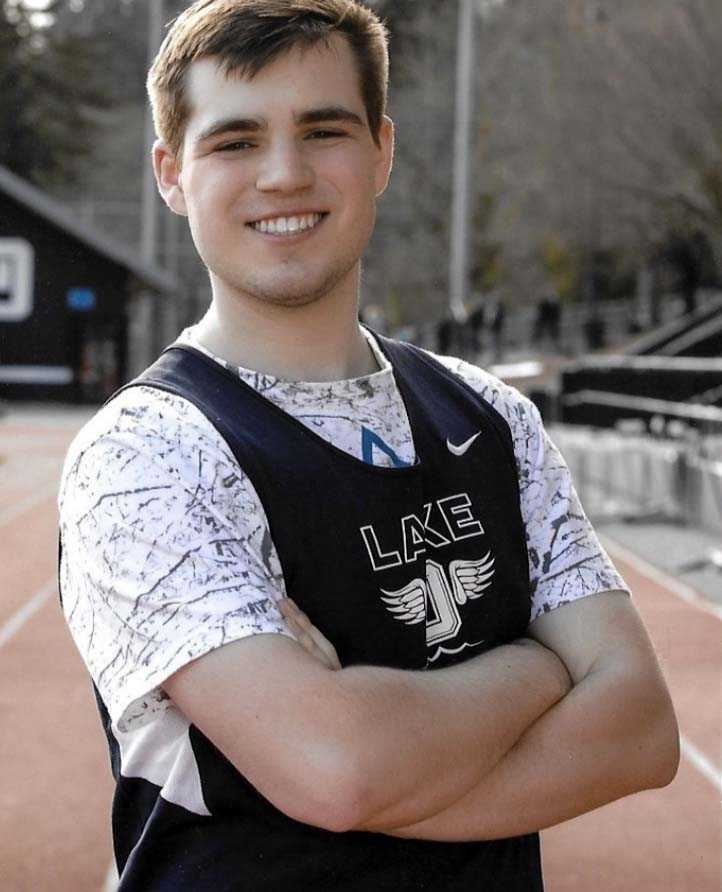 [Editor's note: "Take Five" is a recurring feature designed to offer a quick look at some of Oregon's most interesting high school sports standouts. This spring, Take Five will focus exclusively on seniors, whose final high school seasons have been disrupted by the coronavirus and may never actually occur. Today, we meet Parker Williams, a Lake Oswego senior who is passionate about his sport as he is most things. Williams, who has focused on this sport for seven years, has thrown 44-3 in the shot put and 128-6 in the discus. One of seven team captains, Williams was hoping to improve both marks significantly this spring. We asked Williams to answer five questions from the 25 we posed to him. Here's how he responded…]
OSAAtoday: What was your first big success as an athlete and how did it impact you?
Parker Williams: Before my sophomore year I spent months in the off-season doing club training. I basically broke down and rebuilt my throwing technique. In that process, I improved by nine feet in shot put and 38 feet in discus from my freshman season to sophomore season. Throwing that much farther in less than a year completely changed my attitude towards track and field, and at the end of my sophomore year, I decided to train year-round to improve even more.
OSAAtoday: What is one interesting or unusual thing people don't know about you?
Williams: Although now I am really interested in robotics, a lot of that interest sparked from building Lego MOCs (My Own Creation) with one of my best friends. I used to build whatever I wanted on my own, but we built much bigger and better things together than I ever could have on my own. It was one of the first times I worked collaboratively with someone over a long period of time, and it definitely improved my teamwork skills.
OSAAtoday: If you could be any professional athlete for a week, who would it be and what would you do?
Williams: I idolize Ryan Crouser as one of the best throwers, both shot put and discus, to ever live. He is the second best shot putter in the USA, but his high school career was just as impressive, as he holds the Oregon high school record in shot put at 77'2" and is the US high school national record holder in discus at 237'5". I would love to learn not only how it feels to throw professionally, what with all his raw strength and phenomenal athleticism for his size (he is quite large but very flexible), but I also want to know the feeling of throwing over 75 feet with a 16 pound shot. I would also make a trip to the discus ring and see how far he can still throw it, after being "retired" from that event for a few years.
OSAAtoday: What's the most interesting or unusual thing about you?
Williams: I love history so much that I collect it. I have been an American coin and currency collector for around five years, and although it's a very specific lane of history to be interested in, the hobby has allowed me to learn more about both the American and global economies over time.
OSAAtoday: You may ask and answer ANY ONE QUESTION not on here….Parker asks and answers..."What were/are your goals for senior year outside of improving in your sport?"
Williams: Multiple people have asked me why I care about track and field so much, or why I wanted to become team captain, especially on a team that has been financially neglected by our school. I suppose the reason is because I'm motivated to succeed while helping others, regardless of what team I'm on. My motivation to lead others, which has developed through both track and robotics, hit its maximum when I became team captain. I was looking forward to being a role model to younger athletes, to new throwers that just wanted to become better and work on their technique and strength as I have, and even to athletes my age. I wanted to remind everyone that even though our program sometimes struggles to provide resources for both the athletes and coaches, we can still try our best to improve on the track and the field, and to become better people, too.
Read other Take Five articles published in connection with the 2020 spring season:
Monroe softball pitcher Tyler Warden
North Salem sprinter Maliyah Thompson