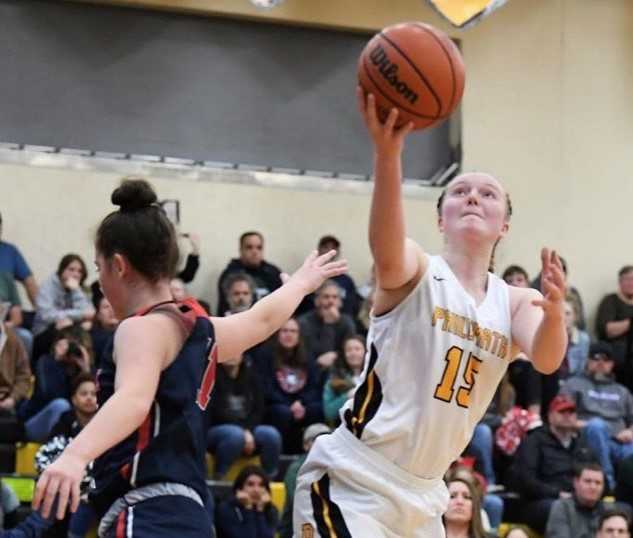 The 2019-20 basketball season will go down as one without a final chapter, the year the coronavirus kept the OSAA from crowning champions in 6A, 5A and 4A.
But the season was filled with historical achievements, from the prolific three-point shooting of Sherwood's boys to the individual exploits of Philomath's Sage Kramer to coaches reaching milestones for victories.
The following is a rundown of those who cracked the top five in 2019-20. The record books are updated for boys and girls.
Boys
Individual
Games – 2. Payton Richardson, Western Christian, 124
Points in quarter – 1. Asher Krauel, Sherwood, 30
Field goals, season – 5. Matt Eidler, Trinity Lutheran, 272
Three-pointers made, game – T4. Asher Krauel, Sherwood, 11; T4. Mason Westerholm, Knappa, 11
Three-point attempts, career – 1. Conner Marchant, Toledo, 792; 2. Alex Nicoli, Western Christian, 750; 4. Jesse White, Barlow, 737; 5. Keaton Hull, Western Christian, 669
Three-pointers made, career – 1. Conner Marchant, Toledo, 316; 2. Alex Nicoli, Western Christian, 313; 3. Bryan Tapia, Newport, 265
Free throw attempts, career – 1. Zach Young, Monroe, 643; 5. Matt Eidler, Trinity Lutheran 586
Free throws made, career – 5. Matt Eidler, Trinity Lutheran 470
Blocked shots, game – T3. Trevahn Foster, St. Mary's, 17
Blocked shots, season – 4. Mo Hartwich, Columbia Christian, 185
Blocked shots, career – 3. Nate Bittle, Crater, 352
Team
League winning streak – 1. Wilsonville, 67 (current); 4. Toledo, 44 (current)
Largest lead after first quarter – 1. Sherwood, 34 (38-4 vs. McMinnville)
Three-pointers made, game – 1. Sherwood, 23 (vs. McMinnville); T4. Silverton 19 (vs. Crescent Valley)
Three-point attempts, season – 1. Sherwood 733
Three-pointers made, season – 4. Sherwood 270
Steals, game – 1. Trinity Lutheran, 31 (vs. Prospect)
Coach
All-time wins – 4. Gary Hull, Western Christian, 671-216 (32 seasons)
600-win mark – 8. Tom Johnson, Barlow, 607-322 (37 seasons)
500-win mark -- 16. Kelly Bokn, Churchill, 515-224 (28 seasons)
300-win mark -- Dave Hancock, South Eugene, 301-206 (19 seasons); Bill Westerholm, Seaside, 301-245 (21 seasons)
Boys records courtesy of Cutting Down the Nets, by Tom Rohlffs
Girls
Individual
50-point game – Elli Kent, Trinity Lutheran, 51 (16th 50-point game in state history)
Most points, game, sophomore -- 1. Elli Kent, Trinity Lutheran, 51
Most points, season, sophomore – 1. Cali Denson, Milwaukie, 754
Most points, half – 1. Sage Kramer, Philomath, 30
Most points, quarter – T1. Sage Kramer, Philomath 23
Field goals, career – 4. Aaronette Vonleh, West Linn, 592
Field goals, game – T5. Aaronette Vonleh, West Linn, 18
Field goal percentage, game (most at 100 percent) – 1. Sage Kramer, Philomath, 16-16
Three-pointers made, game – T2. Kiersten Haines, Sutherlin, 11
Free throw percentage, game (most at 100 percent) – T4. Natalie Lathrop, Tualatin, 14-14
Rebounds, career – 3. Shelby Blodgett, Clatskanie, 1,316; 5. Cameron Brink, Southridge/Mountainside, 1,209
Rebounds, game – T4. Shelby Blodgett, Clatskanie, 30
Team
Three-pointers made, season – T2. La Salle Prep, 212
Three-pointers made, game – T2. La Salle Prep, 15
Coach
All-time wins – 2. Dave Wakefield, Damascus Christian, 614-127 (28 seasons); 4. Mark Stevens, Cascade, 555-214 (30 seasons)
500-win mark – 7. Mike Crawford, Enterprise, 500-259 (31 seasons)
400-win mark – 17. Josh Grotting, Sutherlin, 419-101 (19 seasons); 20. Sean Coste, McMinnville, 401-308 (28 seasons)
300-win mark -- Jason Johnson, Vale, 310-152 (18 seasons)
Girls records courtesy of Doug Calvert