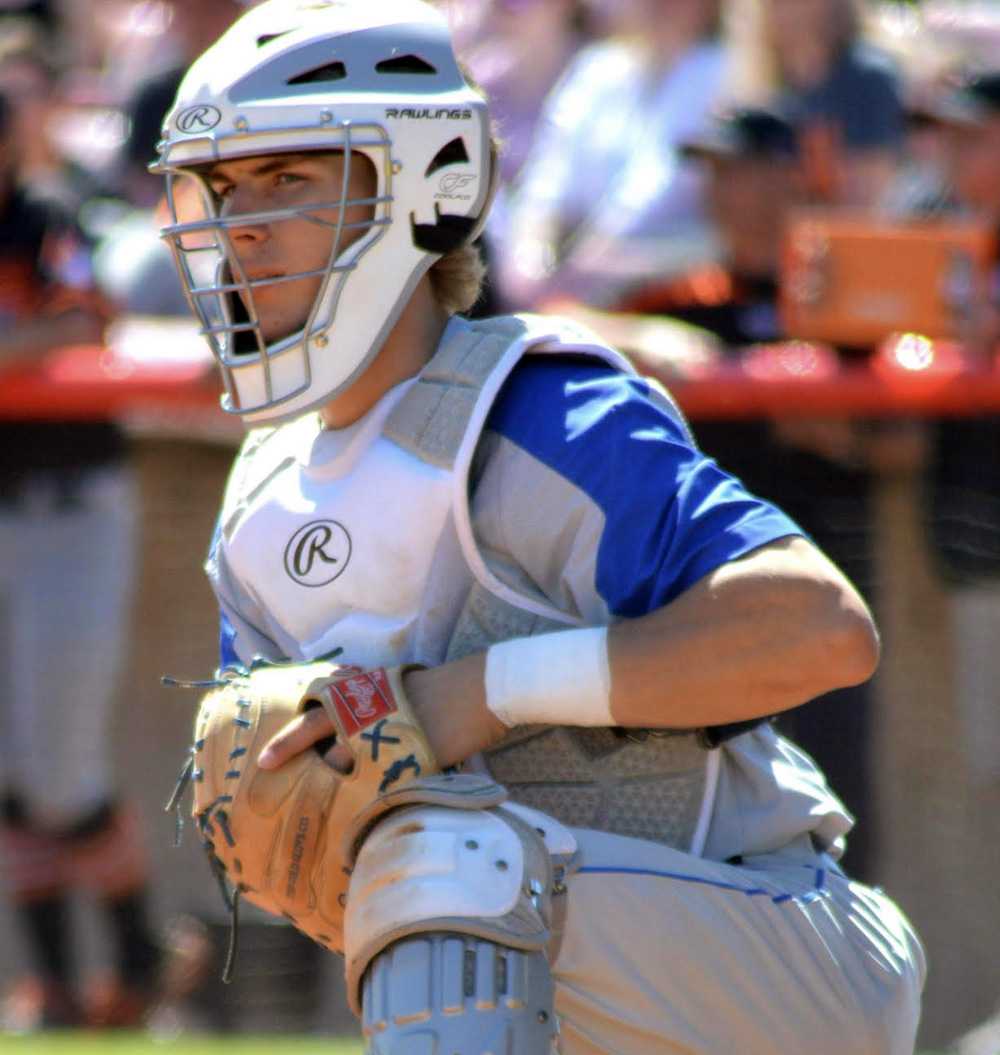 [Editor's note: "Take Five" is a recurring feature designed to offer a quick look at some of Oregon's most interesting high school sports standouts. This spring, Take Five will focus exclusively on seniors, whose final high school seasons have been disrupted by the coronavirus and may never actually occur. Today, we take a peek at Logan Paustian, an All-State senior catcher at La Grande and an Arizona State recruit. He helped the Tigers win a 4A state championship his freshman year, the second title in baseball for the school all-time. Paustian has long been one of the top catching prospects statewide and nationally. He missed his junior season due to labrum surgery and, with the pandemic, is facing the prospect of a second straight year without high school baseball. We asked Paustian to answer five questions from the 25 we posed to him. Here's how he responded…]
OSAAtoday: What was your first big success as an athlete and how did it impact you?
Logan Paustian: My first big success as an athlete was being selected a member of the Inaugural Perfect Game Select Baseball Festival. This event was for the top 40 14-year-old baseball players in the country. This event was aired on national television and showcased us to Division l schools across the country. It was a good reminder that hard work pays off at some point, no matter what. I was very proud to represent Oregon with Mick Abel (Jesuit HS).
OSAAtoday: What's the wisest thing a coach ever said to you?
Paustian: Our coach, Parker McKinley, always tells us, "Be where our feet are." I believe this quote is so much deeper then it seems. Thinking about this statement, you see how it fits into each of our lives, especially in this current time with the coronavirus. It shows you how much time we spend worrying about things instead of being where our feet truly are and enjoying each and every moment we are in. This has taught me to truly let the outside things go, especially in big moments on the baseball field. This has helped me with my success both on and off the field. I also feel it brings the team together because it reminds us to be present in every moment of the game and work together as a team.
OSAAtoday: Would you rather be famous on Instagram, YouTube or twitter? Why and what would you be famous for?
Paustian: I would choose to be famous on YouTube. I chose this because it would allow me to meet famous people as well as get myself known outside of YouTube. Those same people who subscribed to me on YouTube would follow me on other media outlets like Instagram and Twitter, making YouTube the best choice. I would be famous for making vlogs of my baseball friends and our adventures on and off the field. I would like to bring positive humor to the world and show good moments in life.
OSAAtoday: You can blink and be transported to any place in Oregon for a day. Where do you go and why?
Paustian: I would blink and transport to Cannon Beach. My aunt and uncle have a beach house there, and I would spend the day out on the water surfing with my cousin if I could. This has been a place for me to take a break from my regular life, and just enjoy the moment. When not surfing, I would spend much of my time on the beach watching the waves.
OSAAtoday: You may ask and answer ANY ONE QUESTION not on here….Logan asks and answers..."Who is your biggest inspiration?"
Paustian: My biggest inspiration in my life is my older brother, Hunter Paustian. He is a two-time cancer survivor and a heart transplant recipient. He is an unbelievable individual and the living embodiment of adversity. He is truly one of a kind and a very special story to all. He is now 22 years old, works full-time and spends his extra time at the gym staying in shape. He shows his respect for the gift of life by keeping himself healthy and making good life choices. His hard work and will to survive has taught me many things in how to approach my work in the game of baseball and has helped me become the player I am today. He has also helped me appreciate how blessed I have been.
Read other Take Five articles published in connection with the 2020 spring season:
Monroe softball pitcher Tyler Warden
North Salem sprinter Maliyah Thompson